Holiday Special: Thanksgiving Oaxacan Spiced Turkey, Mushroom Leek Stuffing and Brown Sugar Roasted Yams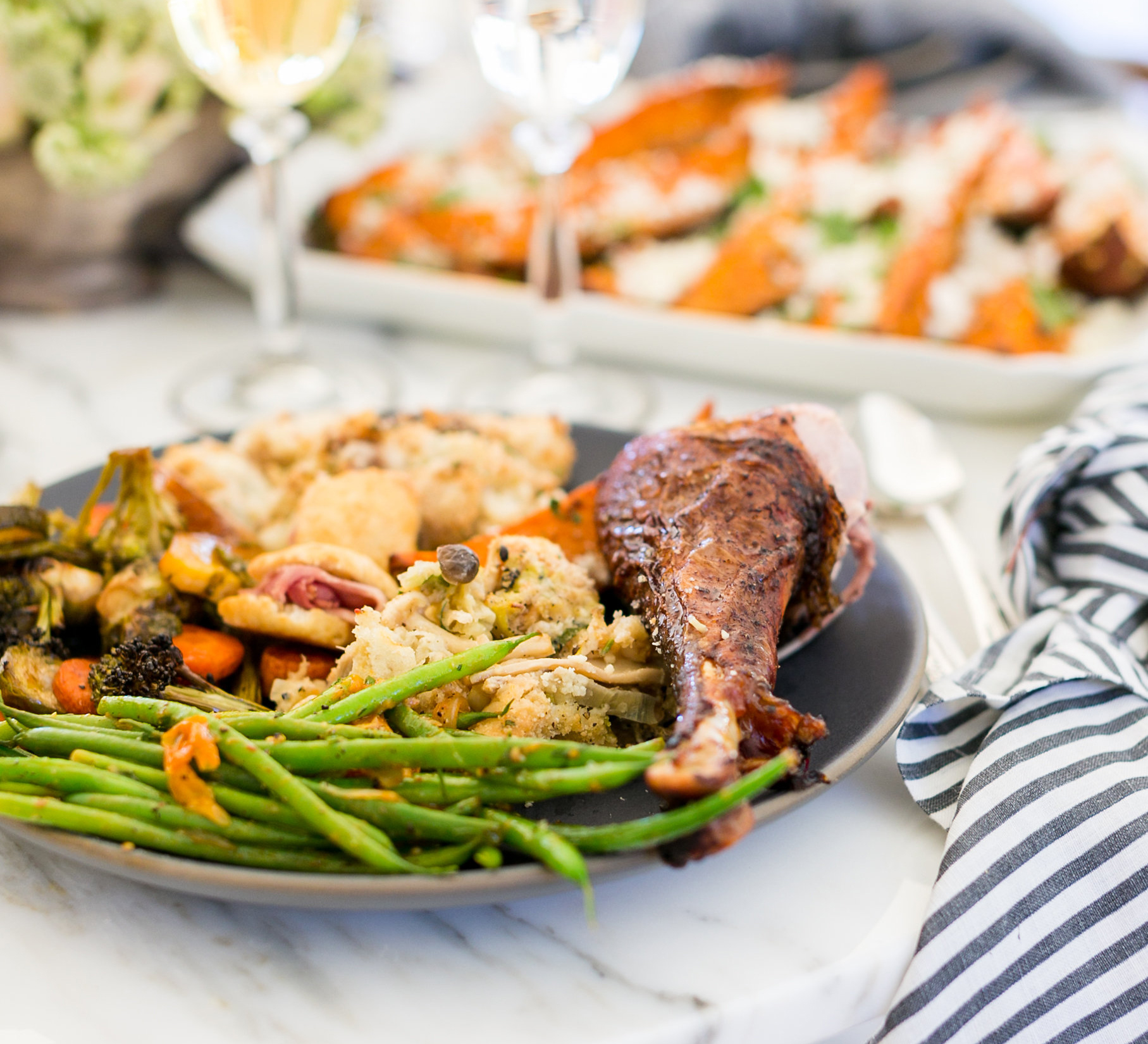 When it comes to cooking a fabulous Thanksgiving dinner, a juicy turkey, savory stuffing and sweet potato casserole are classic staples that really capture those true flavors of the holiday. And, just like many of you, we have our go-to recipes for these dishes that we pull out of our recipe box each year. And while they are a guaranteed crowd pleaser, we do believe that sometimes it's good to shake things up a bit. Old traditions are made better with new twists along the way… Don't you agree? This brings us to today's post, which involves adding a few new and interesting flavors into your traditional turkey, stuffing and yam dishes. With this idea in mind, we talked to our friends over at Urban Palate, who always whip up creative dishes that leave you wanting more. Their three recipes we'll be sharing today are no exception.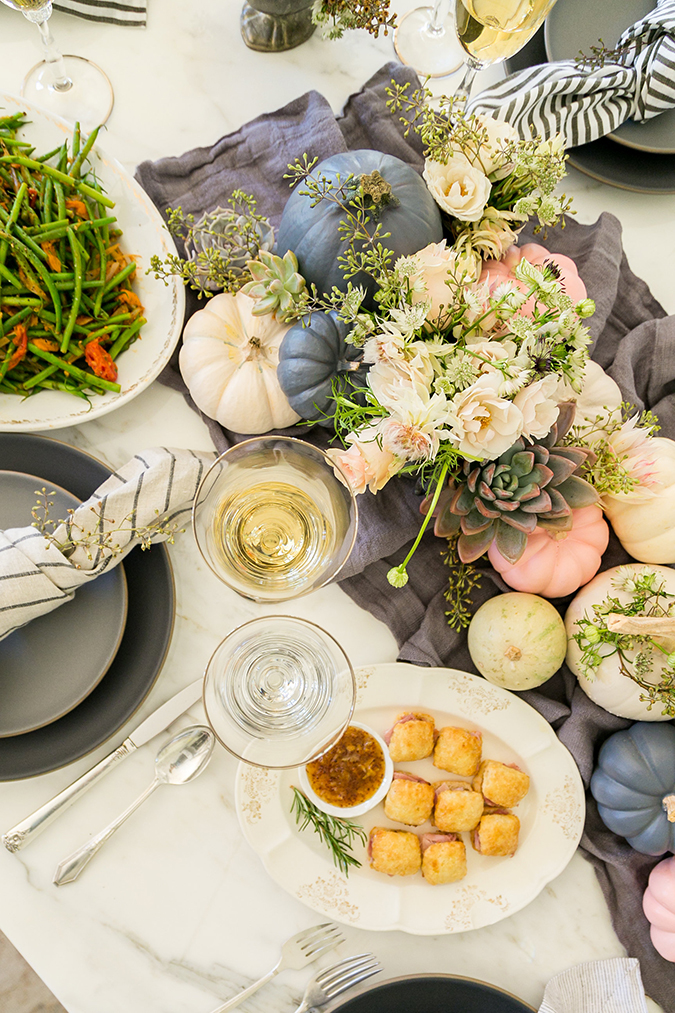 Cooking a turkey is by far the most time-intensive and difficult feat of your Thanksgiving prep, but the aromas that will fill your home while this Oaxacan spiced turkey with cumin honey and tomatillo serrano gravy cooks makes it all worth it. Urban Palate's savory mushroom leek stuffing is so flavorful, thanks to the touch of Gruyere cheese and fluffy ciabatta bread, that it just might become a staple on your menu for years to come. And, don't even get us started with these brown sugar roasted garnet yams—the cotija cheese adds the perfect hint of Spanish flavors. Without further ado…


Oaxacan Spiced Turkey with Cumin Honey and Tomatillo Serrano Gravy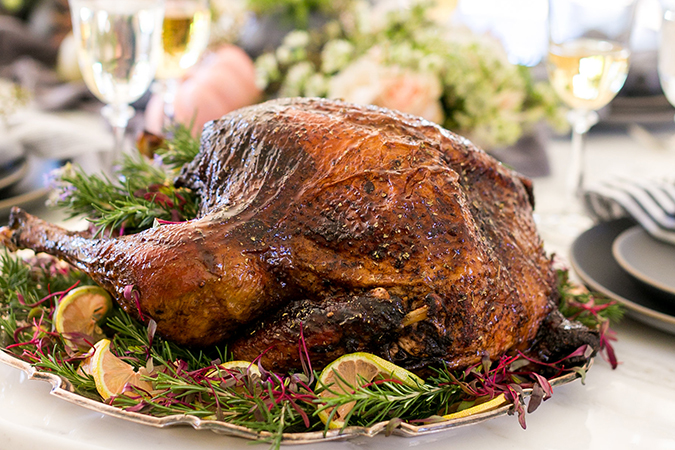 2 cups light brown sugar
¼ cup ground chili de arbol
¼ cup cocoa
¼ cup onion powder
¼ cup garlic powder
1 tablespoon coriander
1 tablespoon cinnamon
2 tablespoons salt
1 tablespoon pepper
1 white onion peeled and quartered
1 orange quartered
cumin oregano honey
1 cup honey
1 tablespoon oregano
1 tablespoon cumin


1. Combine ingredients in a sauce pan. Bring to a boil and turn off.


2. Heat oven to 500° and place rack in bottom third of oven. Season inside of turkey with salt. Rub turkey with chili rub and stuff with onions and oranges; transfer turkey breast side up to a rack set in a roasting pan. Roast for 30 minutes; lower heat to 325° and cook for 30 minutes more.


3. Remove turkey from oven and, using kitchen towels to protect your hands, flip turkey breast side down. Roast, basting occasionally with cumin oregano honey, until an instant-read thermometer inserted into a thigh but not touching the bone registers 160°, about 3 hours total for a 12-lb. turkey.


4. Lower oven to 150°. Transfer turkey, breast side up, to a baking sheet; return to oven to keep warm. Remove turkey from oven 15 minutes before serving.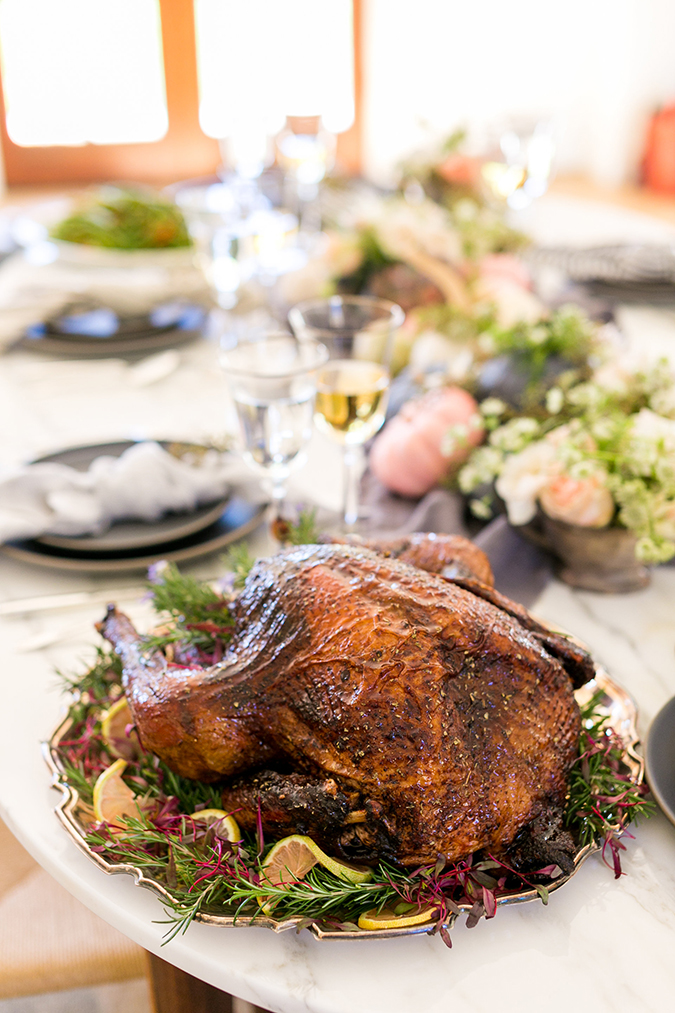 For the tomatillo serrano gravy 


¼ cup olive oil
¼ pound butter
2 pounds tomatillos peeled and quartered
2 serrano peppers seeded and diced
3 cloves garlic peeled and minced
1 white onion chopped
2 tablespoons flour
1 quart turkey stock
1 bunch cilantro chopped
¼ cup lime juice


1. Place a 2-quart sauce pan over medium heat add oil and butter to pan. When butter is melted add tomatillos, onions, garlic and serrano peppers.


2. After 5 minutes, sprinkle flour over mixture and stir in. Reduce heat to low and cook another 5 minutes. Add 1 quart turkey stock Simmer for 5 more minutes. Add cilantro and lime.


3. Take off heat and add to a blender. Puree until smooth.


Ciabatta Mushroom Leek Stuffing with Gruyere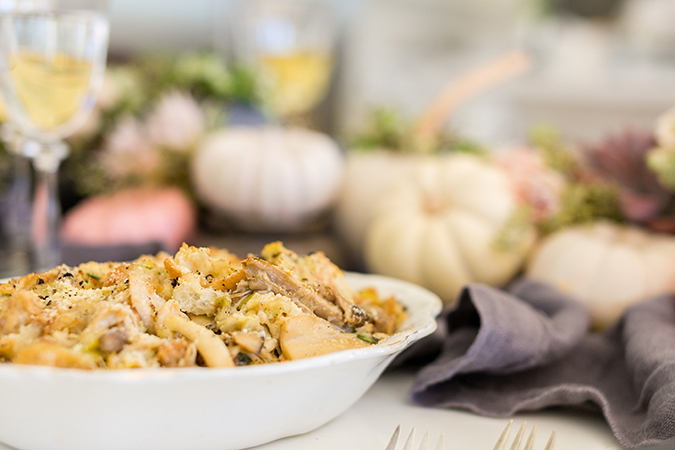 8 cups 1-inch bread cubes, Ciabatta
8 tablespoons unsalted butter
2 cups diced leeks (make sure to wash well)
6 cups chopped mixed mushrooms (shitake, crimini, enoki, maitake)
2 cups grated gruyere cheese
2 tablespoons dry white wine
2 tablespoons chopped flat-leaf parsley
2 eggs beaten
1 cup cream
1 tablespoon kosher salt
1 teaspoon freshly ground black pepper
2 cups chicken stock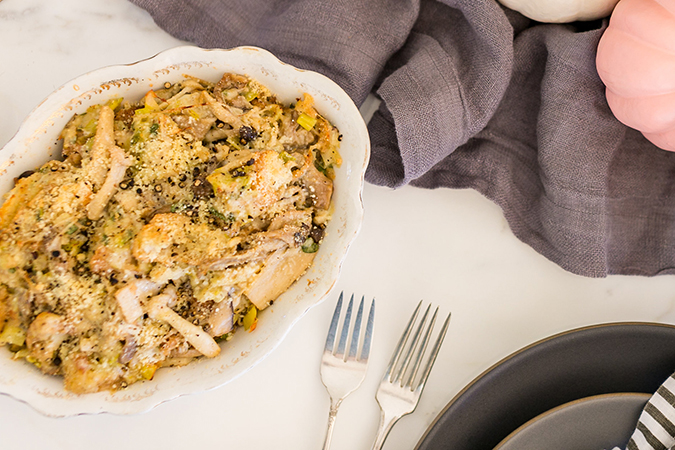 1. Preheat the oven to 300 degrees F. Place the bread cubes in a single layer on a sheet pan and bake for 7 minutes. Raise the oven temperature to 350 degrees F. Remove the bread cubes to a very large bowl.


2. Meanwhile, in a large sauté pan, melt the butter and add the leeks, mushrooms, parsley, salt and pepper. Sauté over medium heat for 10 minutes, until the vegetables are softened. Add wine.


3. Beat eggs and add the chicken stock and cream. Add to the bread cubes and sautéed vegetables. Then fold in Gruyere, reserving ½ cup for the top.


4. Pour into a 9 by 12-inch baking dish. Bake for 30 minutes, until browned on top and hot in the middle. Serve warm.


Brown Sugar Roasted Garnet Yams with Guajillo Chili Brown Butter and Cotija Cheese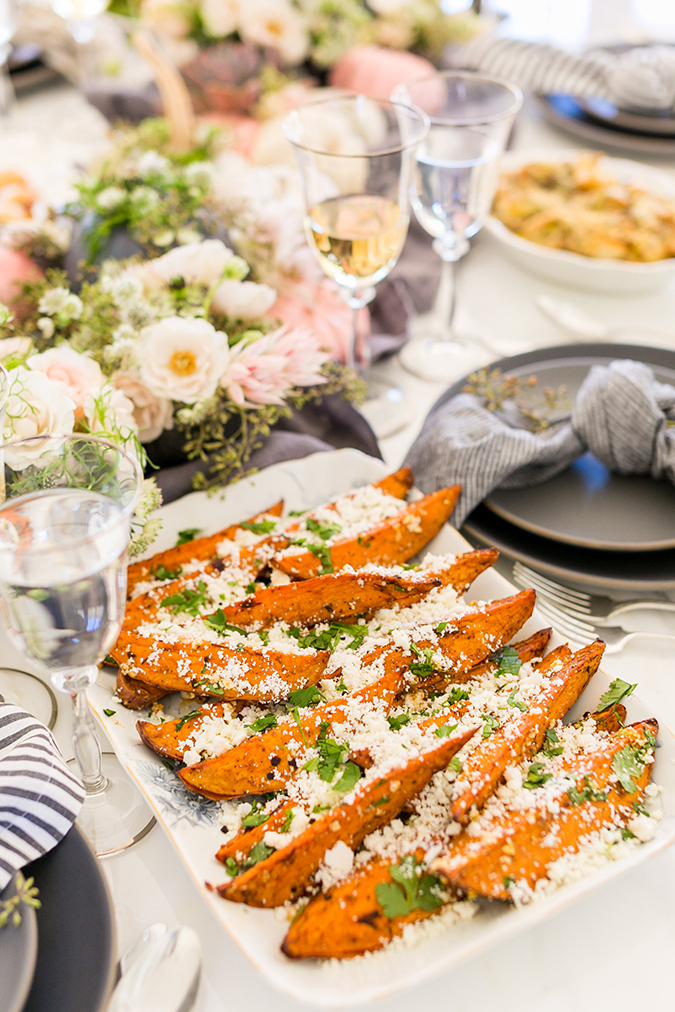 4 garnet yams, un-peeled and cut into quarters
1/4 cup extra-virgin olive oil
salt and freshly ground black peppers
8 tablespoons of brown butter
¾ cup brown sugar
2 tablespoons of guajillo powder
1 cup cotija cheese
1 lime zested and squeezed


1. Preheat oven to 375 degrees F. Lay the yams out in a single layer on a roasting tray. Drizzle the oil, salt and pepper over the potatoes.


2. Roast for 25 to 30 minutes in oven or until tender.


3. Meanwhile, sauté brown butter, brown sugar and guajillo chili until incorporated (about 2 minutes). Take yams out of the oven and transfer them to a serving platter. Toss with melted butter, sugar and guajillo mix. Top with cotija. Then put in baking dish and broil for 5 minutes.


4. When it comes out of the oven, sprinkle with lime zest and juice.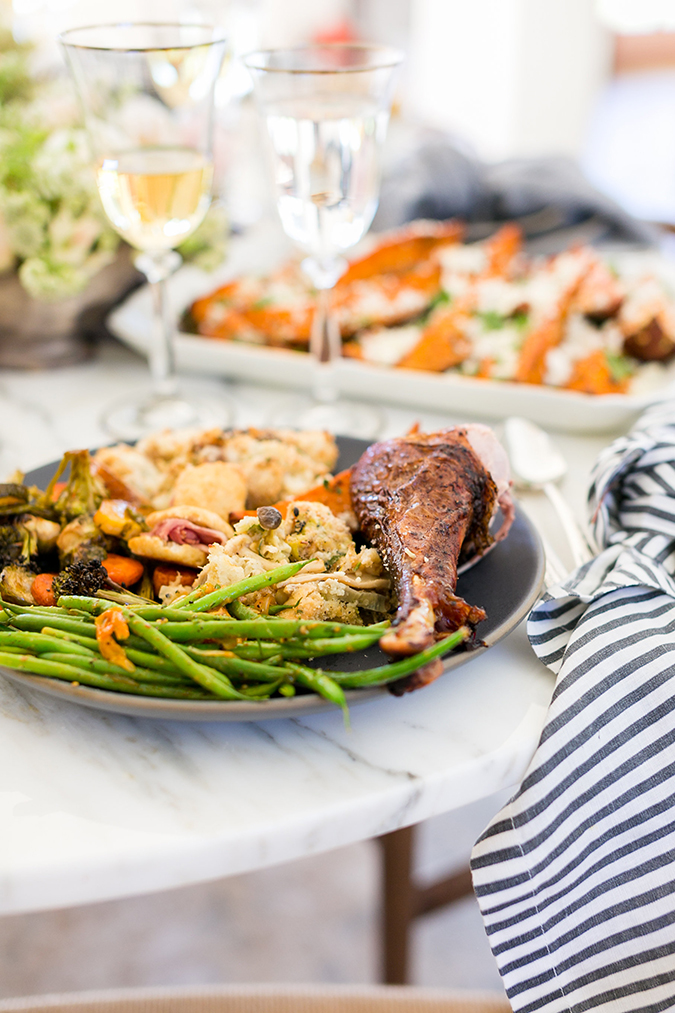 These look pretty delicious, don't you think? A big thanks to our friends at Urban Palate for creating these recipes for us to share with all of you! We hope you like them.


Will you put a fun twist on your traditional Thanksgiving recipes this year?