Lovely Libations: BOO-berry Moscow Mule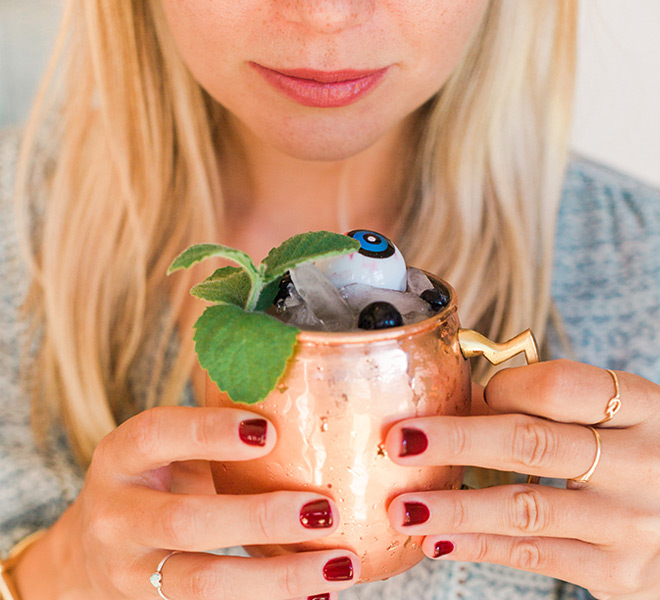 A classic Moscow Mule is one of my all-time favorite drinks. In fact, it's my go-to when I'm at a bar and can't decide what to order (or didn't get a chance to look at the cocktail menu). They're always delicious and refreshing, with the perfect combination of sweet and spicy from the ginger beer and tart and tangy from the lime and mint. I often like to take traditional drinks and put a twist on them based on seasonal flavors or holidays. And today, I'm doing just that with this festive Halloween BOO-berry Moscow Mule. I added muddled blueberries to my favorite Moscow Mule recipe for an extra burst of flavor, and placed spooky eyeballs on top. And while blueberries are known as a summertime fruit, you can still find them at most grocery stores around the country (lucky for us Southern Californians, they're still making appearances at our farmers markets, too!). Without further ado, here are the steps for making this spooky sip…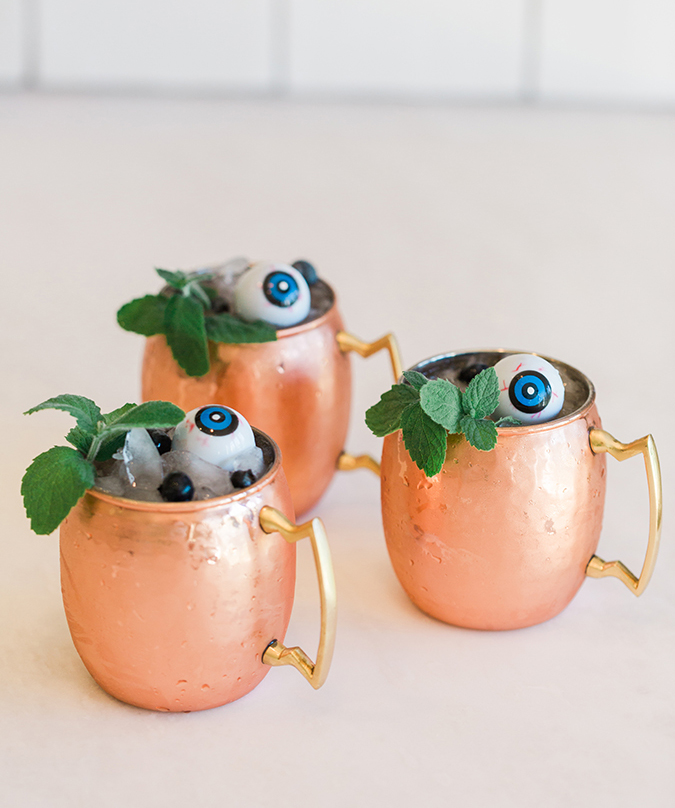 ginger beer (I usually buy the kind that comes in individual bottles
vodka
1 small carton of blueberries, about 10 berries per drink
fresh mint sprigs
4 limes
crushed ice
floating plastic eyeballs, optional for Halloween (I used these ones)


First we're going to start by muddling the blueberries in our cups. Pour about ½ a bottle of ginger beer into each Moscow Mule cup, then place about 10 berries into each cup. Using a pestle, crush the blueberries into the liquid until they are smashed and the juice of the berries is mixing with the ginger beer. If you don't have a pestle, a fork or spoon should work as long as you can crush the berries with it.


Then, pour about 1 shot of vodka into each glass (or more if you prefer stronger). Pour ginger beer into each cup until just about 2/3 full, and top off with the juice of half a lime in each. Stir until mixed thoroughly.

Fill the remaining third of each glass with crushed ice. Add a sprig of mint, a lime wedge and a blueberry or two on top for garnish. And don't forget your spooky floating eyeball for the final BOO-berry effect!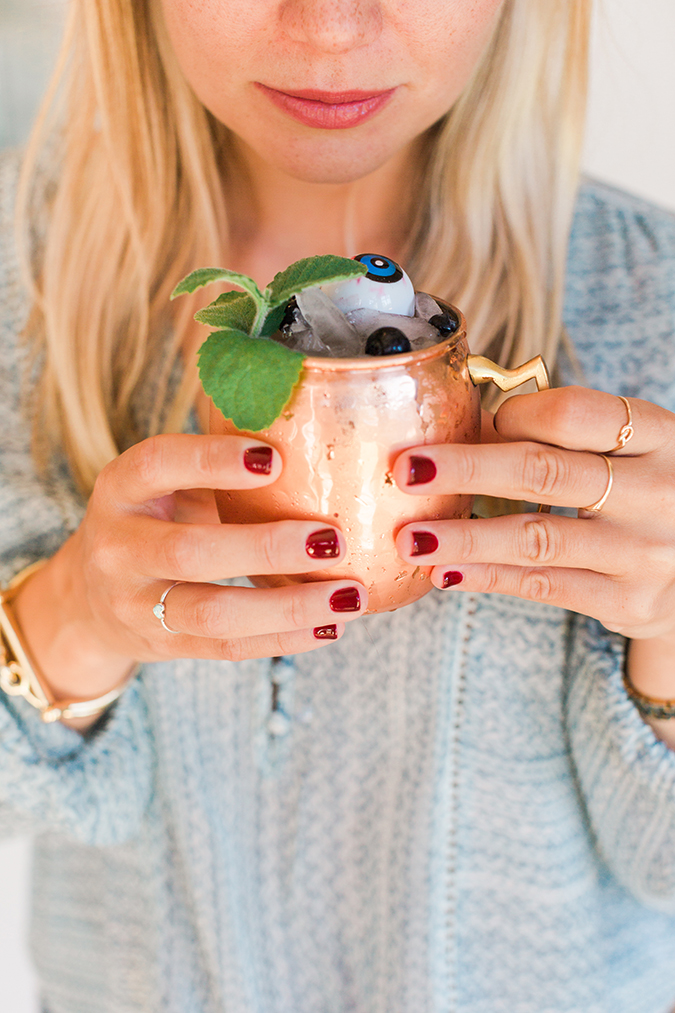 It's scary how delicious this drink is. Get it?


Will you give this cocktail recipe a try for your upcoming Halloween festivities?


I highly recommend it… It's simple as 1, BOO, 3!