Hocus Pocus: Stuffed Bell Pepper Jack-o-Lanterns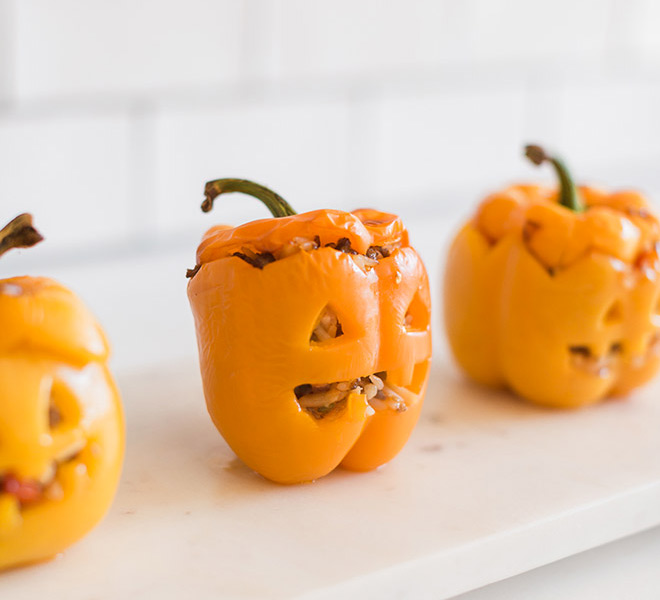 When the weather cools down you can always bet that my kitchen is heating up. I don't know about you, but fall and winter flavors are some of my absolute favorites. One of my go-to recipes this season has to be stuffed bell peppers. Not only are they pretty simple to whip up, but you can also bet on little to no clean up since you can essentially eat the bowl! I've made this recipe a time or two but it's always way more fun around the holidays since you can put a festive spin on them. I now introduce you to stuffed bell pepper Jack-o-Lanterns!
If you're looking for a little pumpkin carving practice, these bell peppers are for you. I have to admit, they're way easier to carve than the beloved gourds and they turned out just as cute. The next time you try your hand at making stuffed bell peppers, I encourage you to give your veggies a spooky smile. Trust me when I say that your guests will be impressed! Keep scrolling to see how I made my stuffed bell pepper Jack-o-Lanterns…


6 bell peppers
4 sausages
1 large onion
1 cup halved cherry tomatoes
1 cup brown rice
2 tablespoons butter (or olive oil)
salt and pepper to taste


1. Heat oven to 350 degrees.


2. Set one cup of brown rice to cook on the stove.


3. Chop up the onion and put it into a pan along with the butter and cook on medium high until the onion begins to brown.


4. While the onions are cooking, cut a cup of cherry tomatoes into halves.


5. Once the onions are starting to brown, stir in tomatoes and cook for 2 minutes. Stir constantly. Remove from heat and set aside.


6. Remove the sausage meat from the casing and break into small pieces. Cook meat for several minutes until brown. Meat should be almost completely cooked through.


7. Combine rice, onion, tomato and sausage pieces in a large bowl and mix together. Add salt and pepper to taste.


8. Cut the tops off of your bell peppers and remove all of the seeds. Cut out a cute or scary face, just like you would on a Jack-o-Lantern!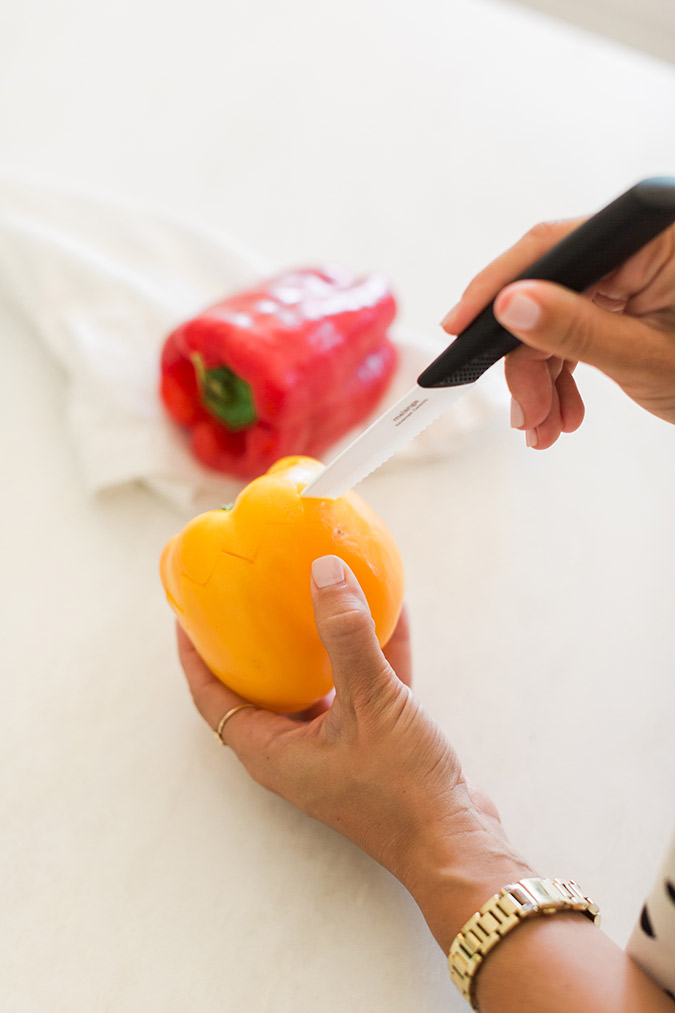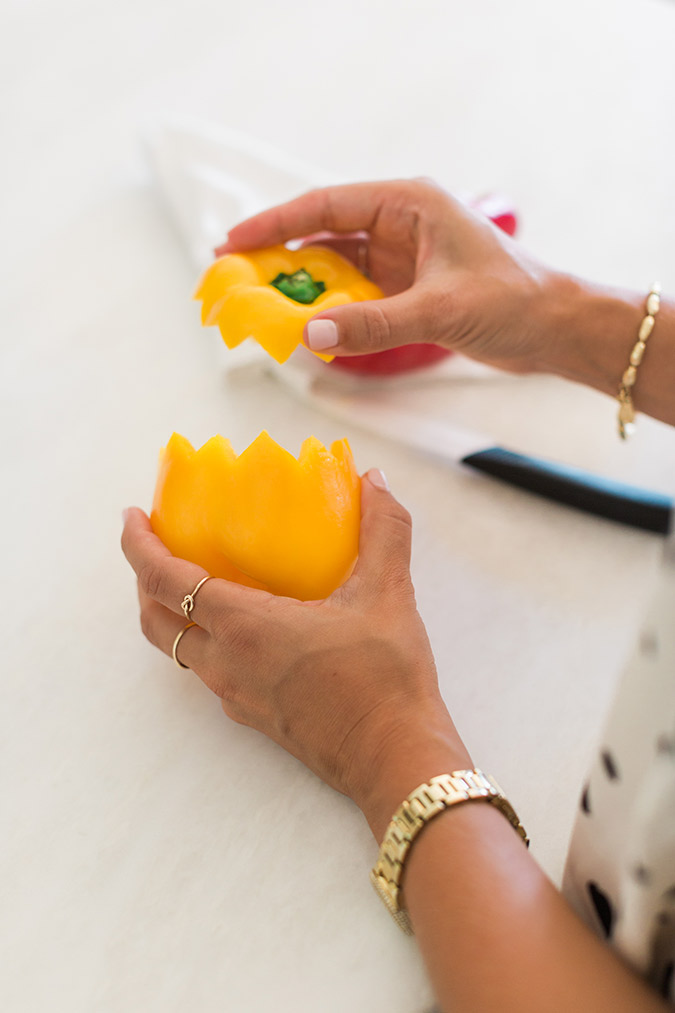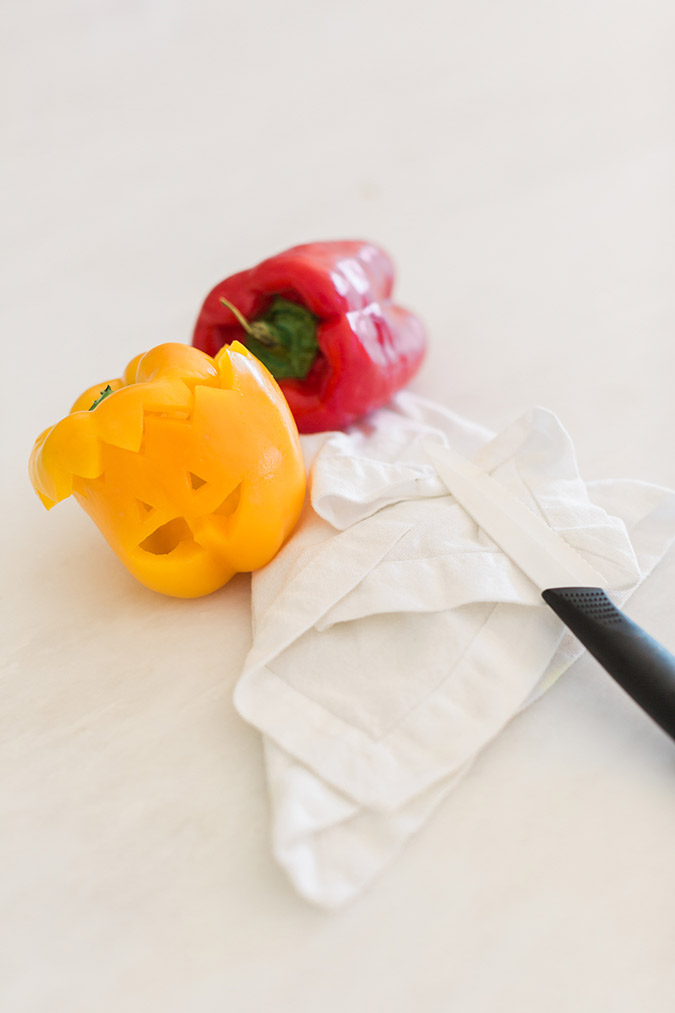 9. Fill the bell peppers with the mixture and set into a glass casserole dish.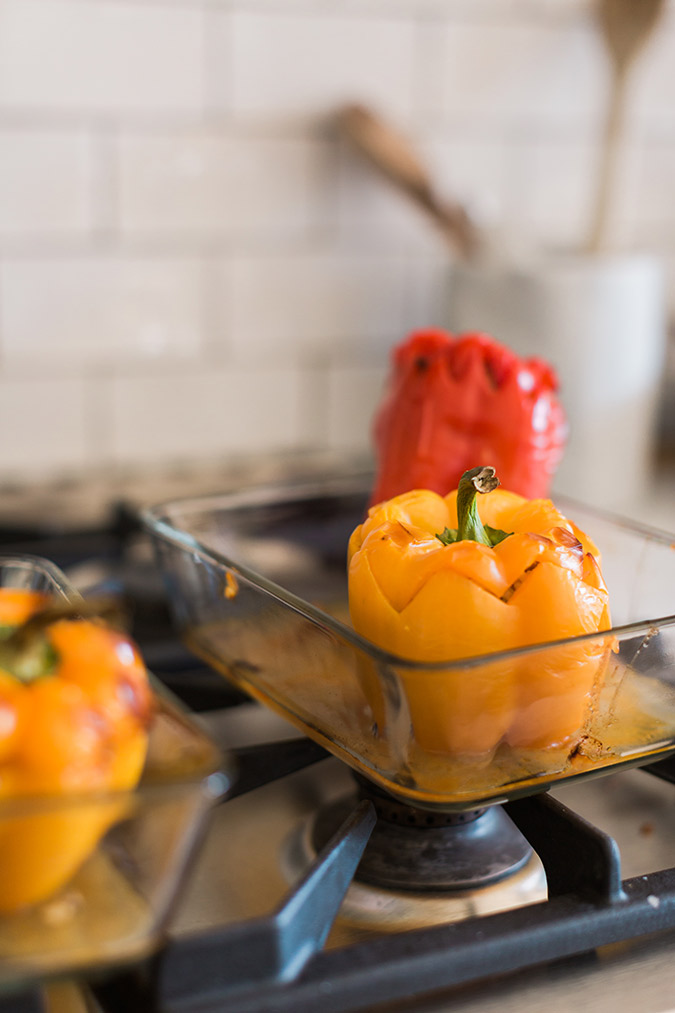 10. Bake for 30 minutes and enjoy!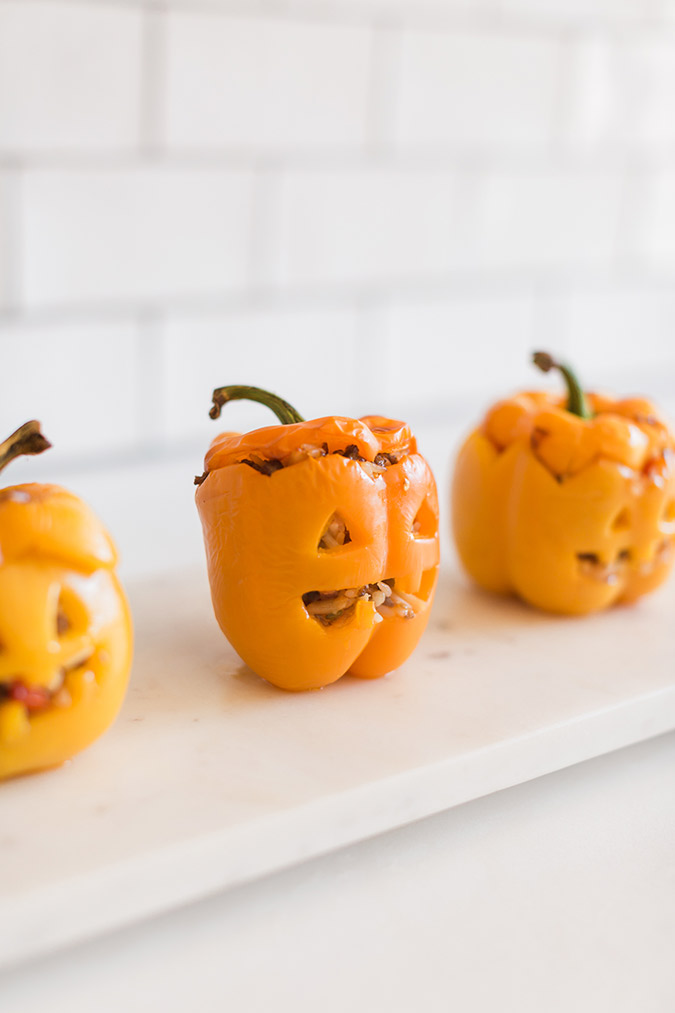 This gives a whole new meaning to playing with your food. I hope you enjoy these stuffed bell peppers as much as I do!


Will you be recreating these stuffed bell pepper Jack-o-Lanterns?


Let me know if you do in the comments!