Party Planning: A Kitty Cat Kids Birthday Party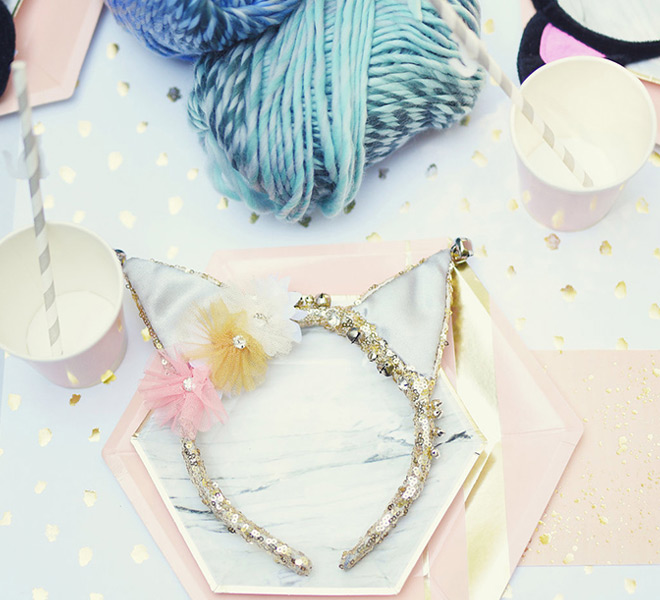 As I'm sure my fellow mamas will understand, watching your kiddo turn another year older is a bittersweet moment. On one hand, you wish you could slow down time, which always seems to be moving way too fast. But it's also an excuse to celebrate this amazing little person, who is your pride and joy. And I do love any excuse to plan a party! To celebrate my toddler's second birthday last month, we had a kitty cat-themed backyard bash. I was pretty pleased with how it turned out (and the little ones seemed to love it too!) so I thought I'd share some photos and party planning tips here today…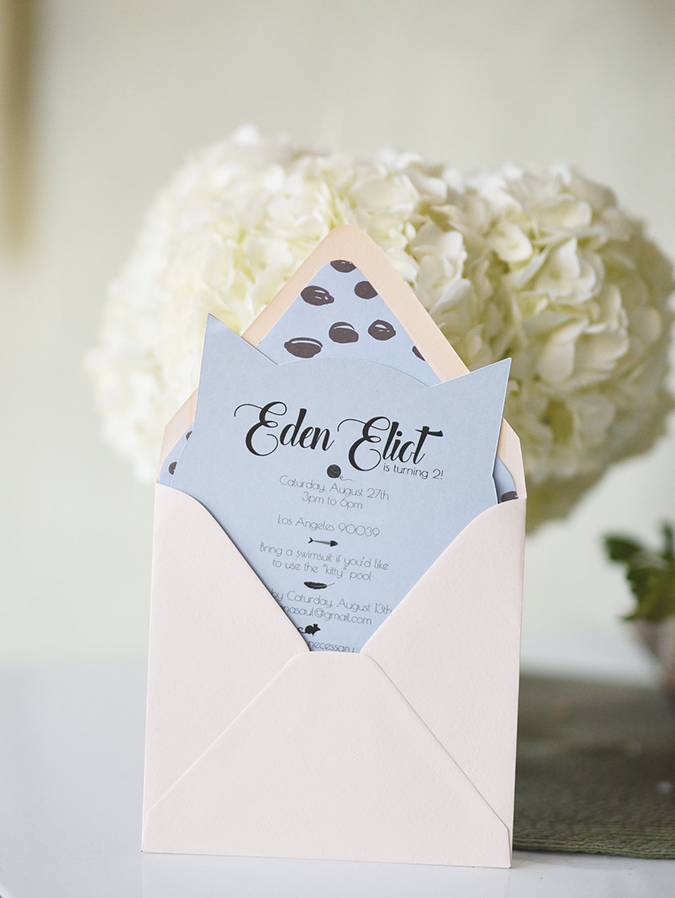 Paperless Post is usually my go-to for my own birthday, but I couldn't resist breaking out the Cricut cutting machine for Eden's birthday. It's nice to have a paper invitation that we can hang onto as a keepsake, and I figured other kids would like getting an actual invite to hold. My husband Mark and I designed these invitations in the shape of a kitty head, and I couldn't resist adding a couple kitty cat puns to the wording…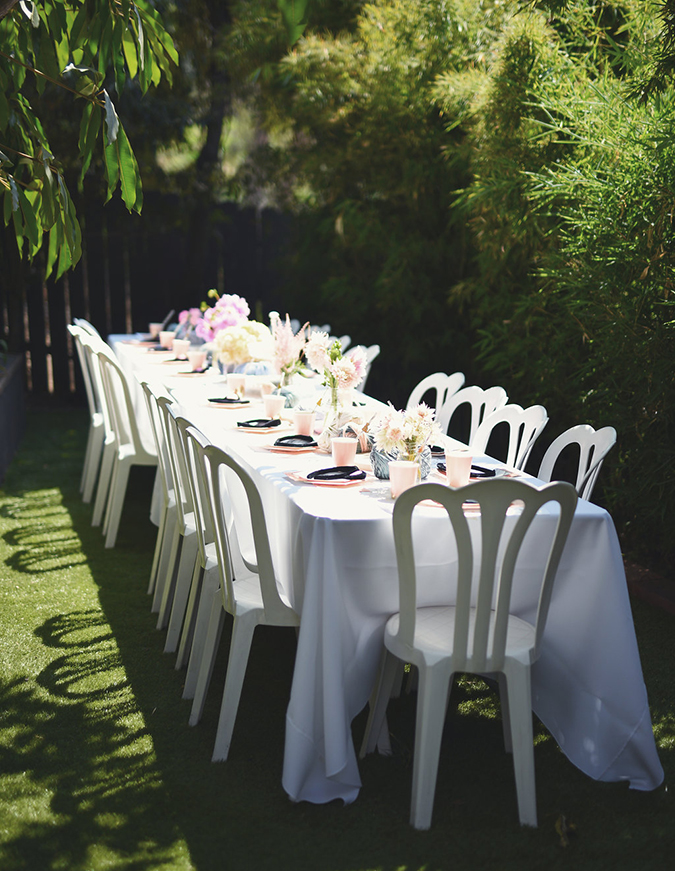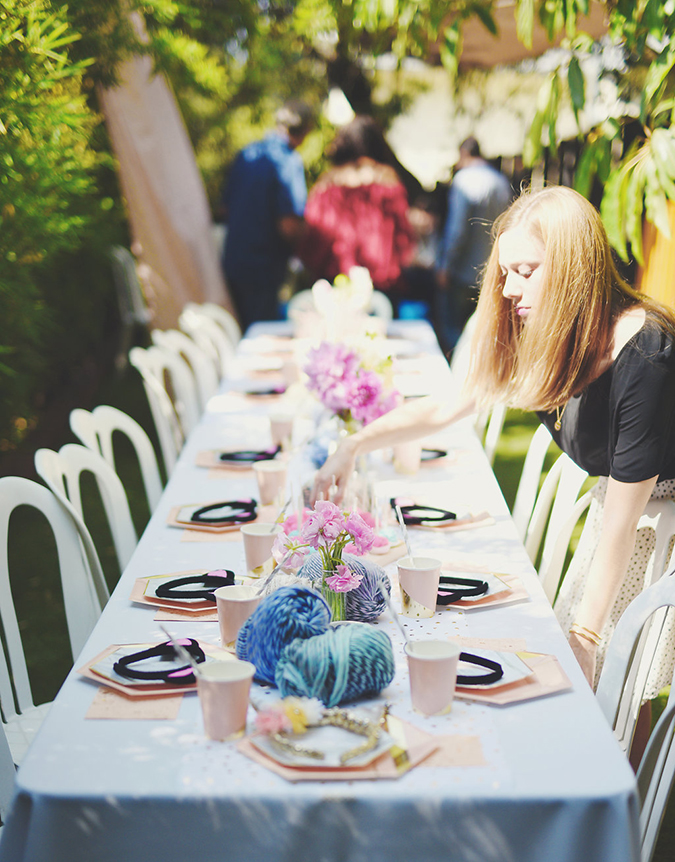 Throwing the party in our own backyard made setup and breakdown a breeze. It also gave the kids space to run around and have fun. In order to make sure I had enough seating, I rented tables, chairs, and linens from a party rental company. If you haven't worked with a rental company before, you might be surprised by how easy and affordable it is! For less than a couple hundred dollars, we were able to have a whole dining area for our guests.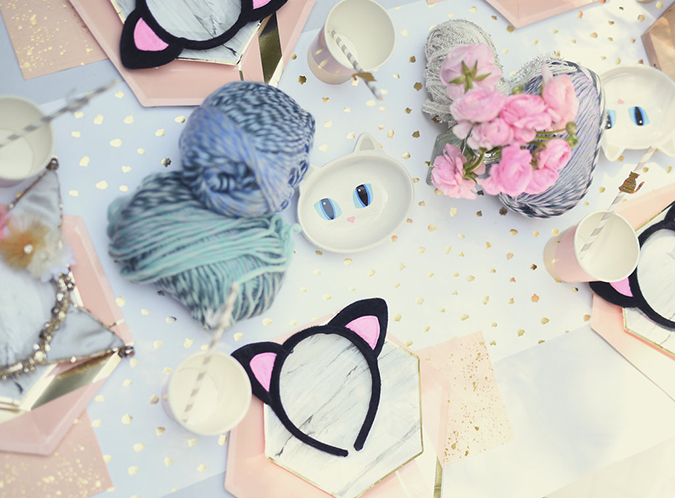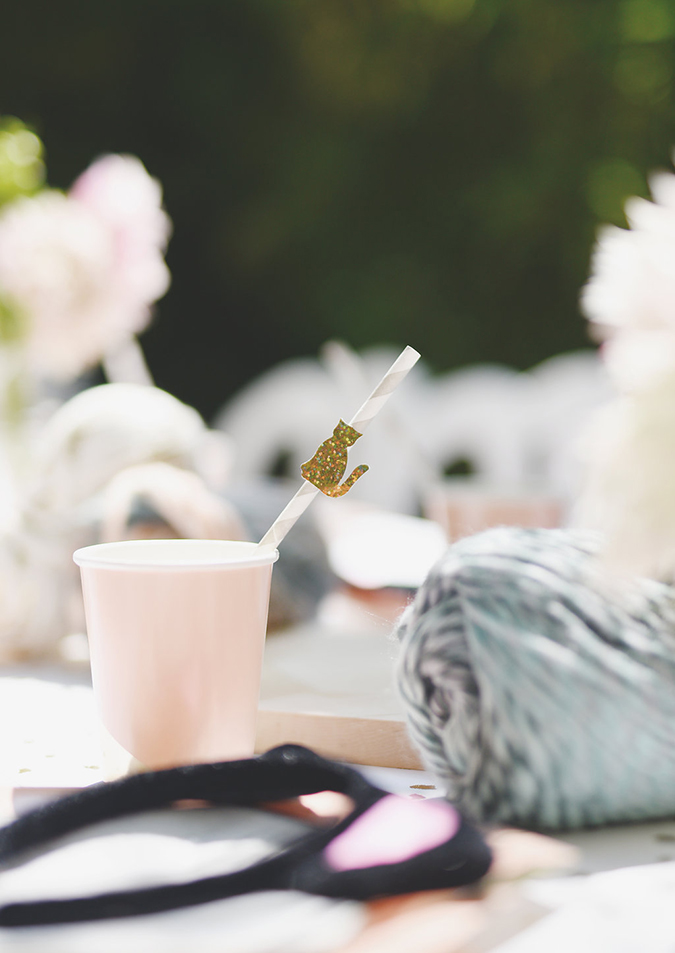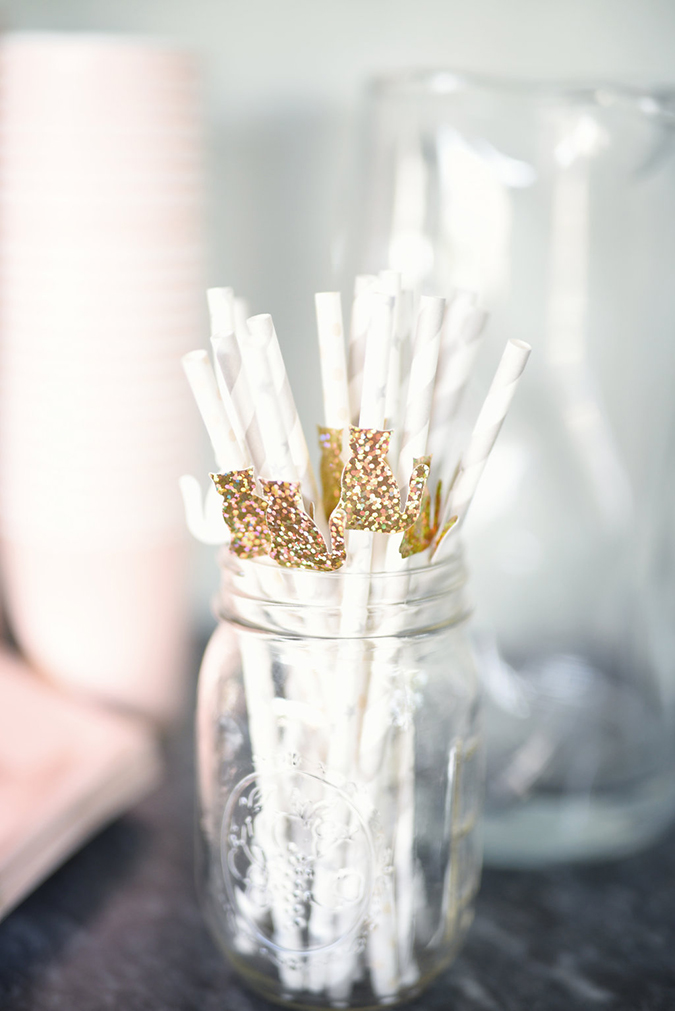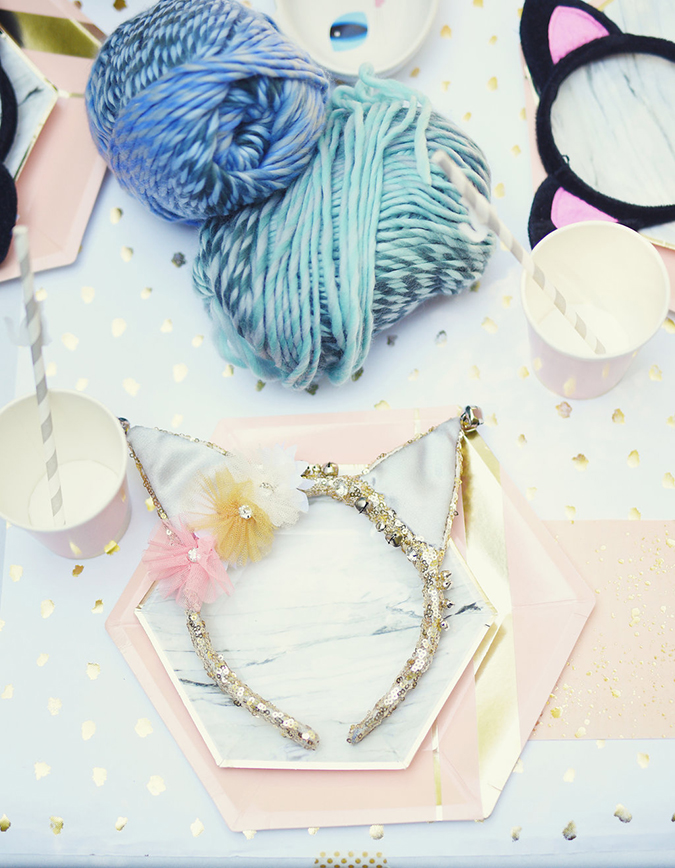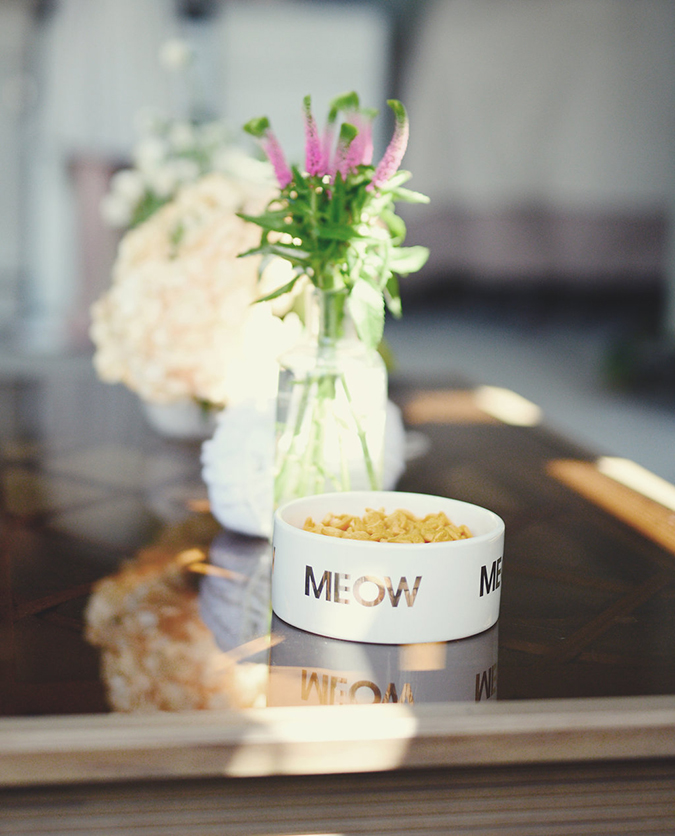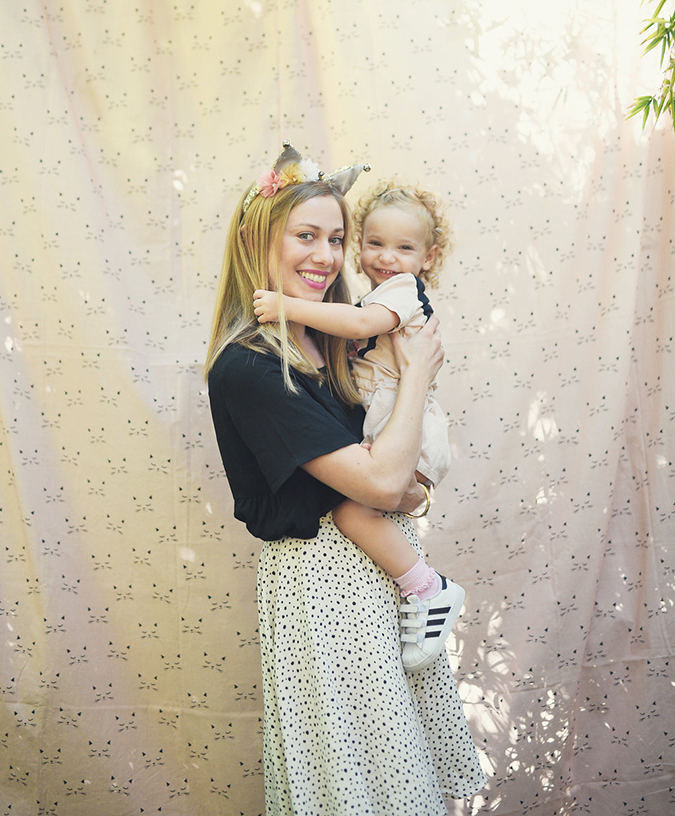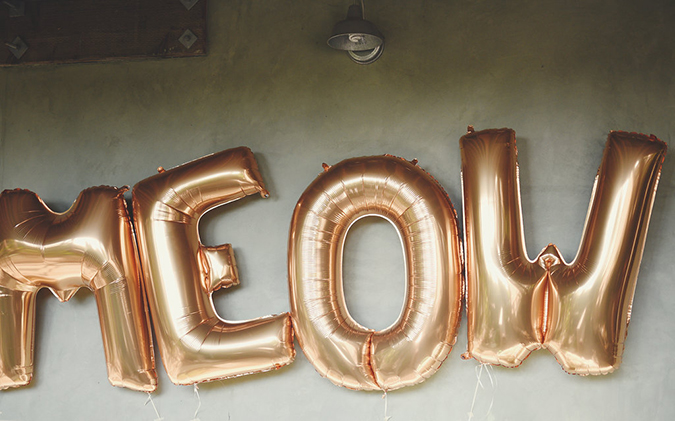 I'm a firm believer that kids' party décor can still be chic. I went to the flower mart and picked up plenty of fresh blooms, just as I would for any adult event. I sourced the table runner from Minted, and the blush and marble plates, cups, and napkins are by Harlow & Gray. Any of these items would look great at an adult gathering, but they still felt fun and unfussy enough for kiddos.
I also had a lot of fun with the kitty cat theme. Along with all the fresh flowers, I lined the center of the table with balls of yarn in coordinating colors. I also set out berries and crackers in the most adorable cat food dishes that I picked up at an actual pet store. I made the appetizer picks and straws by ordering a kitty cat-shaped hole punch off of Etsy and then hot-gluing the punched out kitties onto the toothpicks and straws. We also strung up a length of blush fabric with a kitty cat print that I ordered off of Spoonflower to serve as a photo booth backdrop. And let's not forget giant gold mylar balloons spelling out the word "MEOW."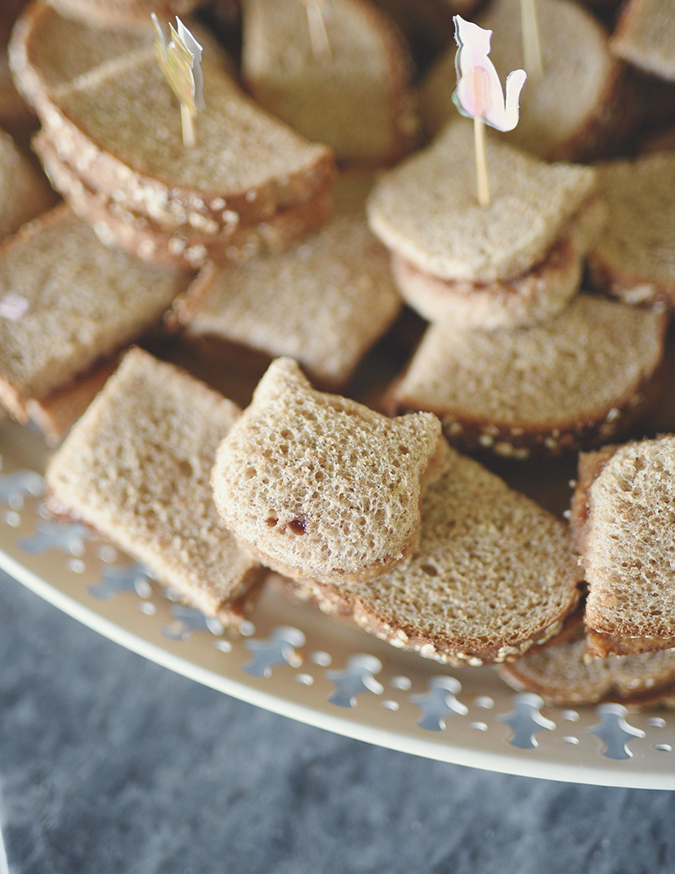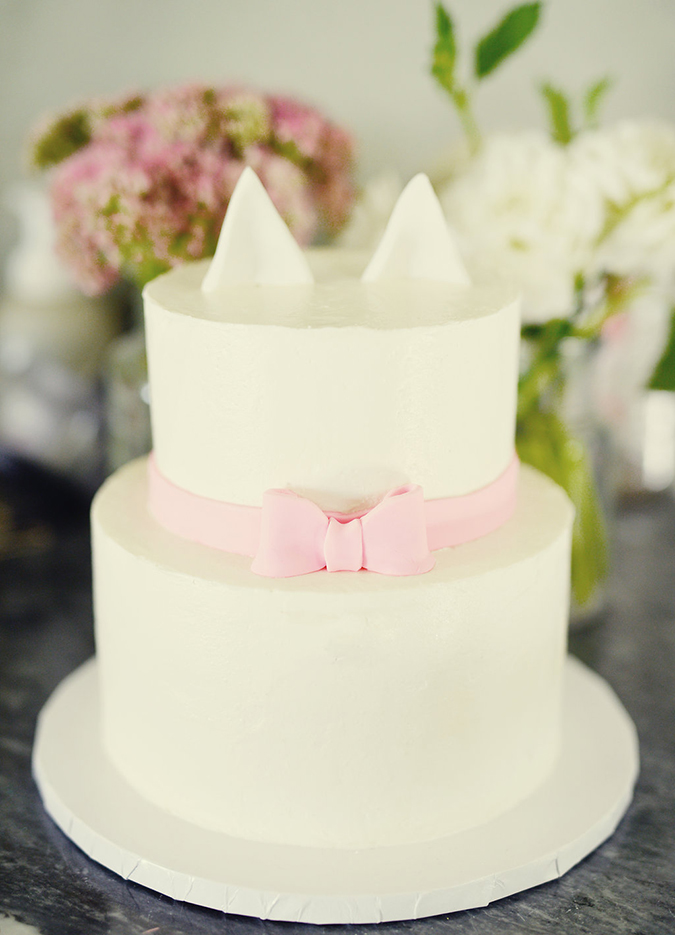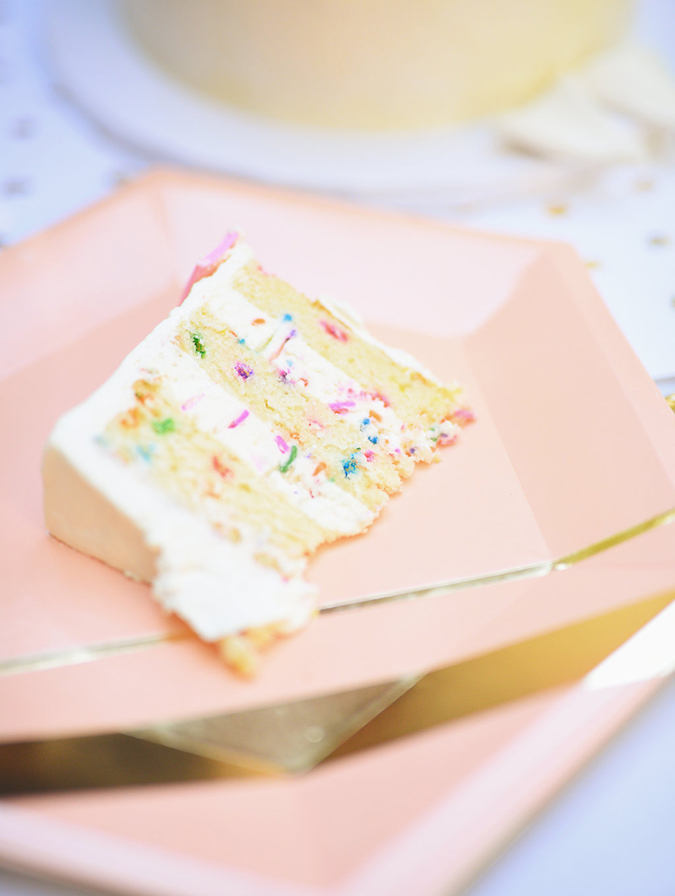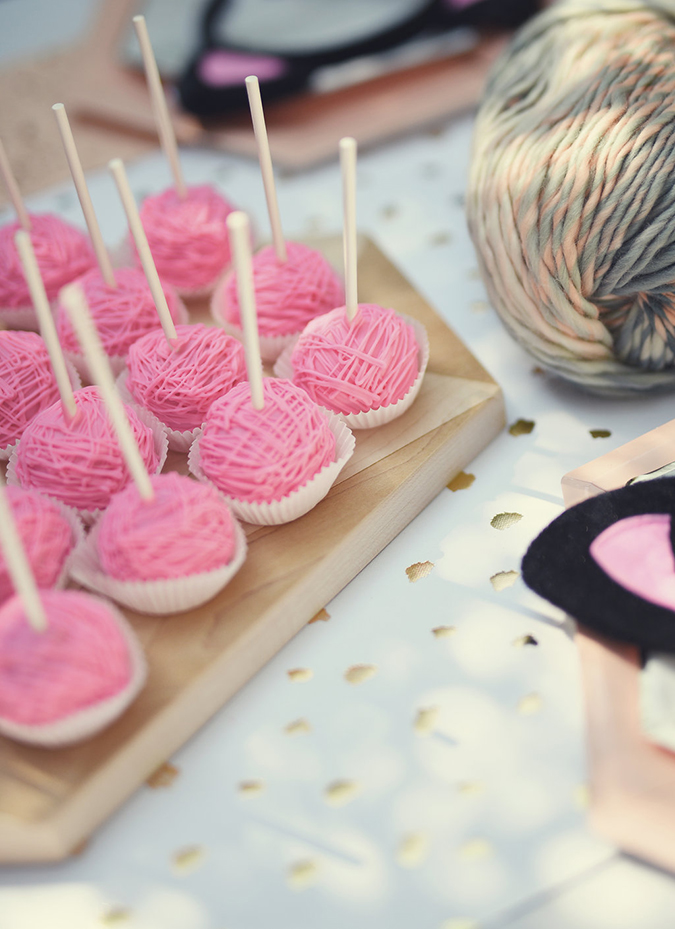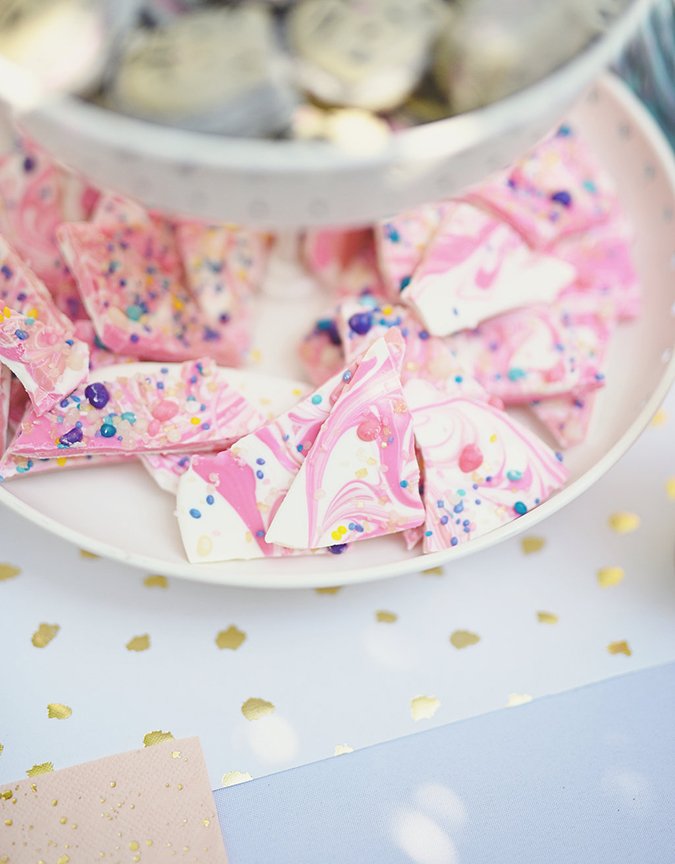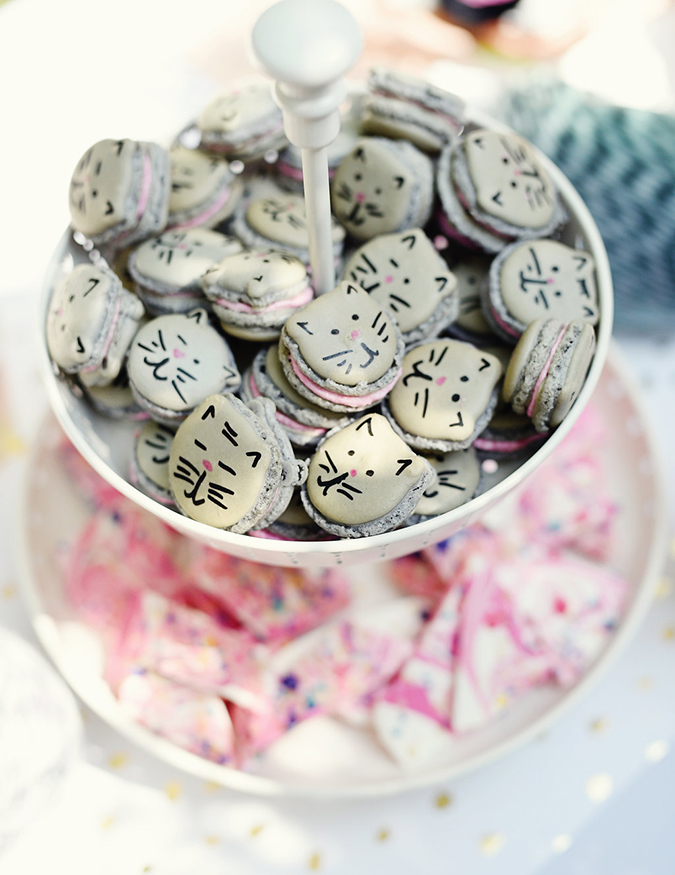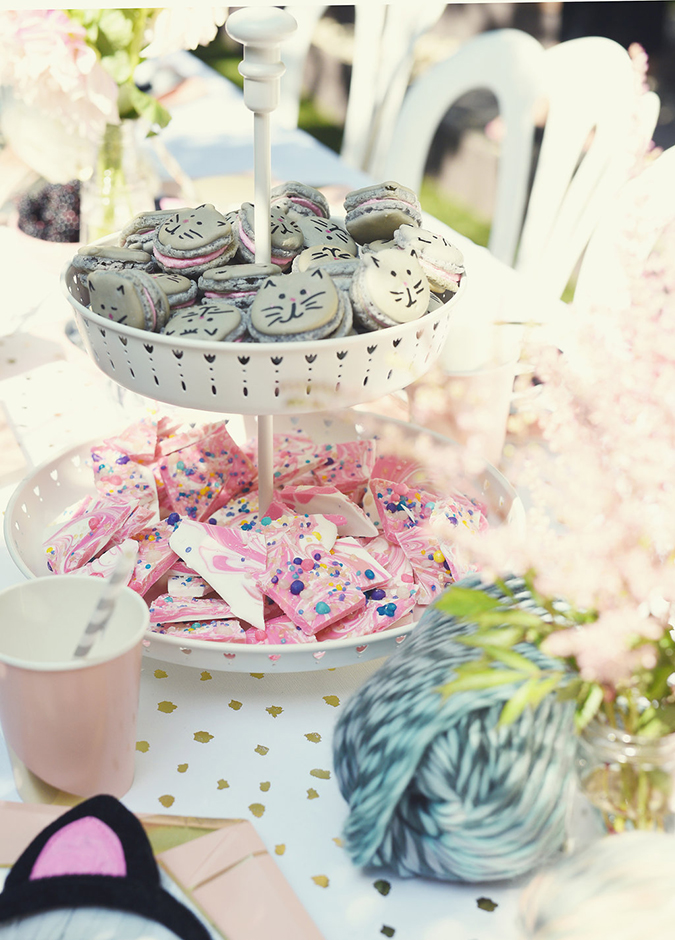 The party was in the late afternoon, so the fare called for snacks and sweets rather than a full meal. The food menu consisted of a variety of tea sandwiches (some of which we cut out with a kitty-shaped cookie cutter), fruit, veggies with hummus, and goldfish crackers for the little kitty cats to snack on. Instead of catering, I had a couple family members help out assembly line-style to make the sandwiches. It went by pretty quickly! For dessert, I enlisted Lindsay of Sprinkles for Breakfast to make unicorn bark, kitty cat macarons, yarn cake pops, and a kitty cake. Her desserts were the big hit of the party, and certainly made for some Instagram-able moments!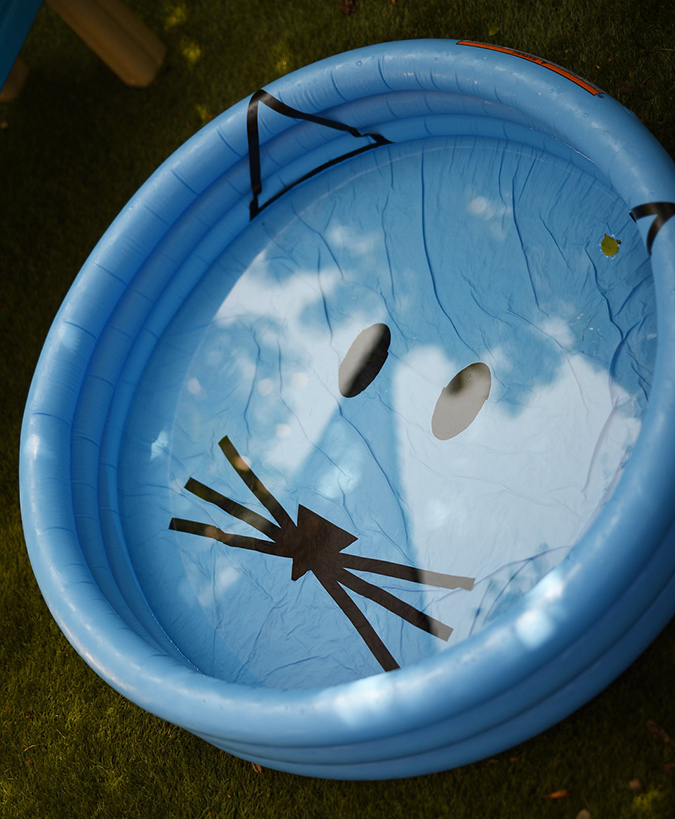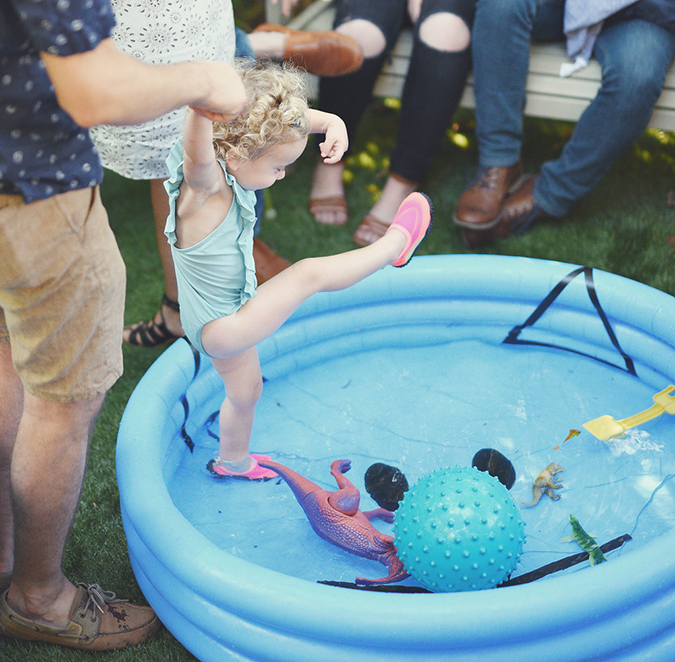 Along with having plenty of toys out for the kids to play with, we had a "kitty pool" for the little ones who wanted to take a dip. My husband Mark made the cat face out of vinyl and stuck it on an inflatable pool. Since the party was in the heat of August, it was essential to have some water to splash around in!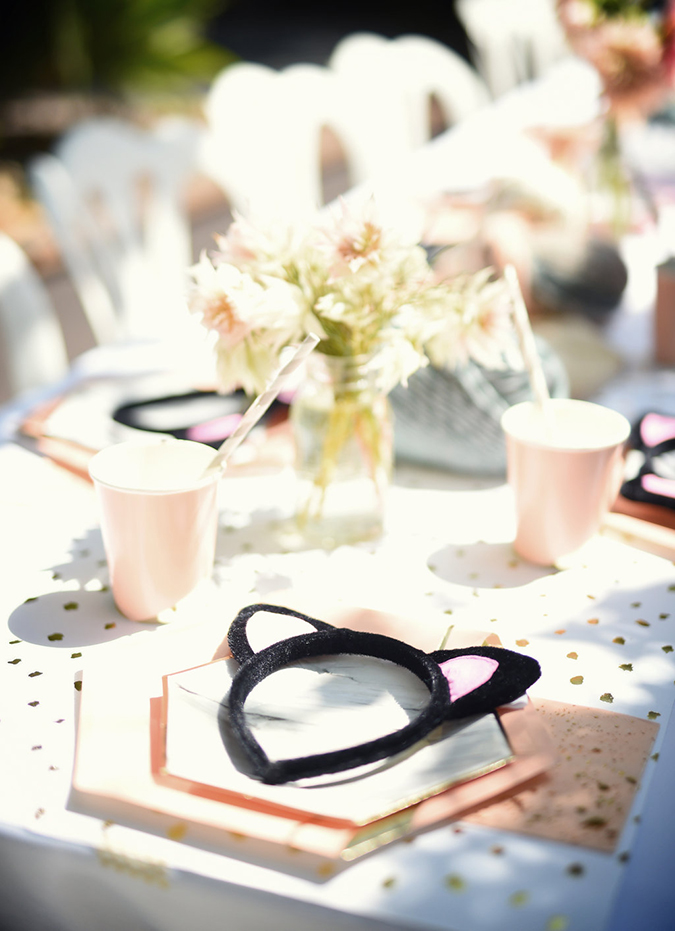 We had a pair of cat ears at every place setting for the kids to take home with them. Everyone also got a lot of use of them while they were still at the party since both kids and adults put them on while they used the photo booth!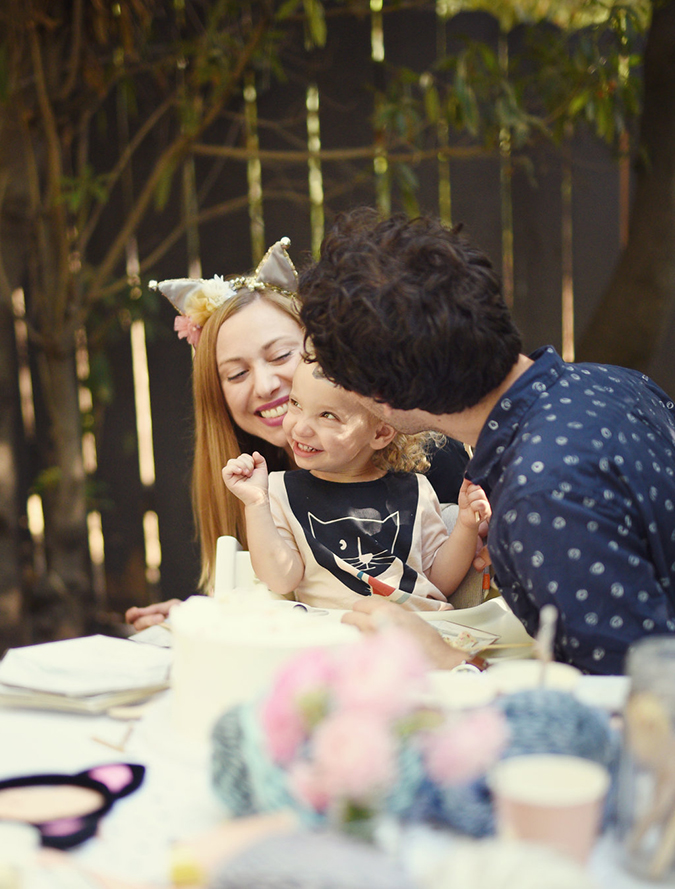 I said this last year too, and I still firmly believe it—hiring a photographer is the best gift you can give yourself as a parent for your kiddo's birthday. Since I didn't have to worry about snapping photos, I actually put my phone down for once and just enjoyed the party. And now I have gorgeous professional photography by Emma Feil to frame.


Do you have any parties you're planning right now?


Let me know what you thought of this kitty cat-themed bash in the comments below!