Edible Obsession: Homemade Kumquat Lollipops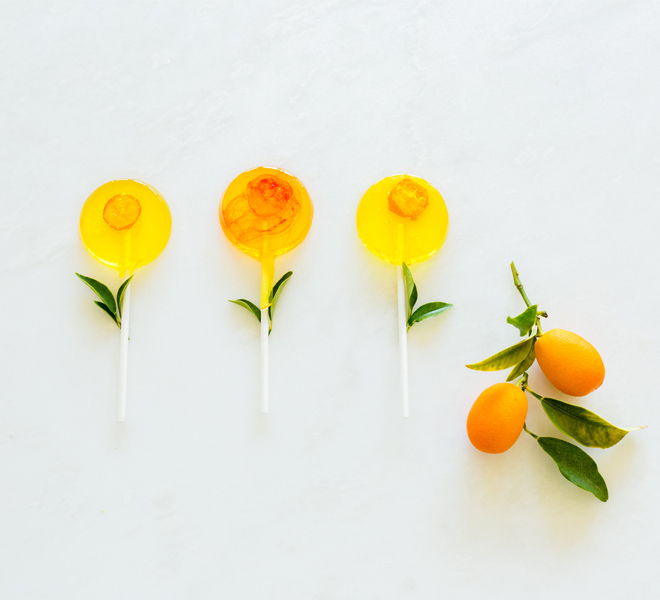 Every time I pass by the kumquat trees growing in my garden, they cheer me up. Kumquat trees are pretty easy to grow, and they add such a bright, cheerful color palette to any outdoor area. Lately, mine have been producing fruit like crazy, which has me inspired to find new ways to incorporate kumquats into cocktails, recipes and even party décor (they can be gorgeous in a bouquet!). It didn't occur to me, however, to make kumquat-flavored candy until I saw these picture-perfect lollipops made by my good friend and our resident LaurenConrad.com baker, Lauren Lowstan. I had never made homemade lollipops before trying this recipe, and it was something I was initially intimidated by. But, the instructions are was surprisingly easy! See for yourself by scrolling down for Lauren Lowstan's recipe, and give this cheerful, summery recipe a go…



¼ cup + 2 tbsp. water
½ cups sugar
¼ cup corn syrup
1 tsp. clear vanilla extract
½ tsp. fresh kumquat juice
orange or yellow gel food coloring
8 fresh kumquats (4 sliced, 4 juiced)
nonstick spray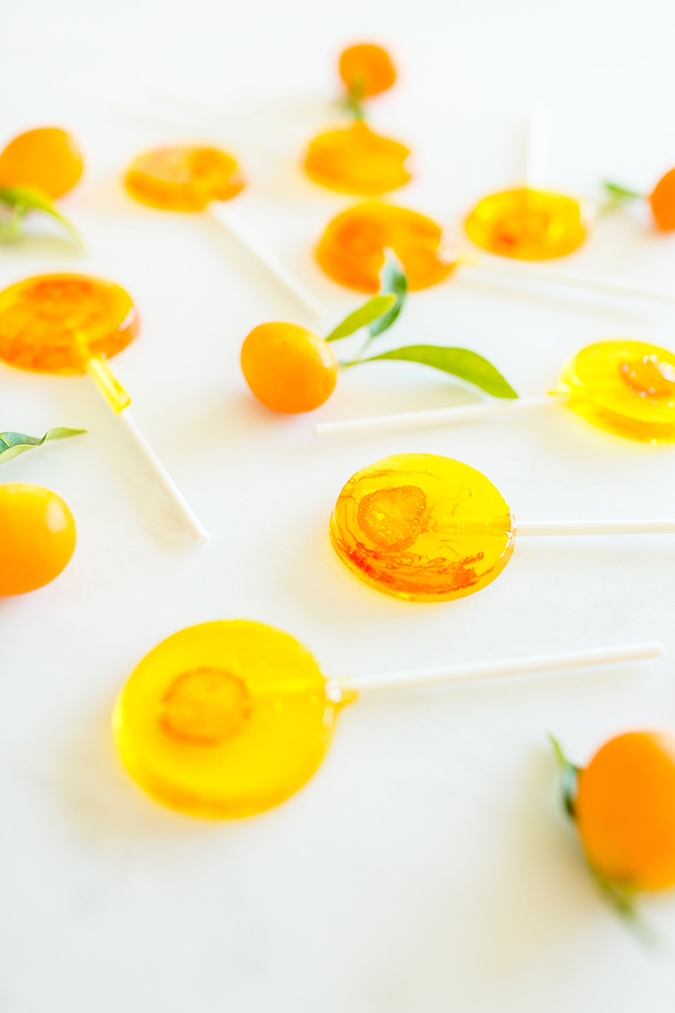 1. Eight hours before: Slice your kumquats horizontally and place in a dehydrator* for about 4-6 hours, until completely dry.


2. Once your kumquat slices are dry, it's time to make your pops! Spray your lollipop molds with nonstick spray.


3. Place the water, sugar, and corn syrup in a small pot set over medium high heat. Whisk to combined and let the mixture come to a boil. Make sure not to whisk or stir the mixture again. Set your candy thermometer into the sugar mixture, and let boil until the temperature reaches 290 degrees.


4. Immediately take off the heat and add in your kumquat juice, vanilla extract, and yellow food coloring.


5. Working quickly, pour the sugar mixture into each mold and top each with a stick. Add a kumquat to the middle the mold and press down gently. Make sure to work fast (but safe!) so the sugar mixture does not harden on you. If it does harden, you can place it back on to a low heat until melted again.


6. Optional: If you want to make an orange swirl in some of the lollipops, dip a toothpick in the orange food coloring and swirl the toothpick in a circular motion around the kumquat.


7. Let them cool and harden completely, about 20 minutes.


*If you don't have a dehydrator, don't worry! You can use your oven. Instead, place the sliced kumquats onto a lined baking sheet, place into the oven (preheated to the lowest temperature), and bake for about 6 hours, or until kumquat slices look dried out.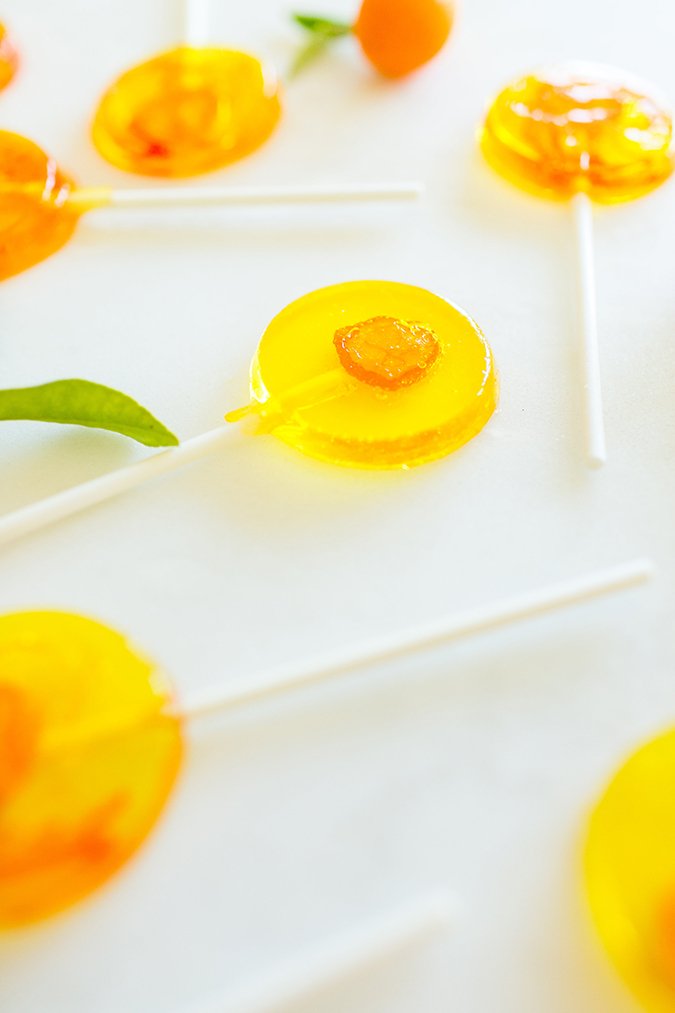 These kumquat lollipops are super unique treats to have on display at a party or even for a homemade gift for a friend who loves candy.


Have you ever made homemade candy before? What flavors would you put into your lollipops?


Let me know how yours turn out in the comments below! And thanks again to Lauren Lowstan for making these beautiful treats.