Celebrate Sneak Peek: The Anatomy of an Appetizer Board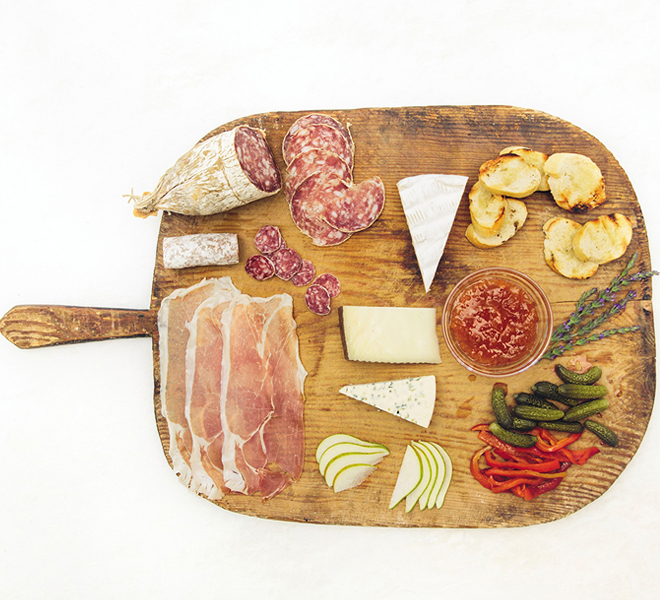 Earlier today, I shared sneak peeks of
two party planning DIYs
from my new book
Celebrate
, which is in stores tomorrow. But as everyone knows, DIY décor is only one half of the equation. Because what would any party be without the grub? So to give you a first look at all the fun recipes and menu planning ideas that you can also find in the book, I decided to share my tips for building the perfect appetizer board to impress your party guests.
In my opinion, there's nothing tastier than a well-constructed appetizer board—whether it's charcuterie, artisanal cheese, or antipasto. I prefer to assemble a board showcasing elements of all three. Not only is it a popular party favorite and easy to pull together in a pinch, when thoughtfully arranged, it also can be truly beautiful (and double as party décor).
Your board can be as decadent or as simple as you want it to be and is, therefore, an appropriate offering for most occasions. Depending on the elements you choose, it can be "dressed up" or "dressed down" (particular gourmet cheese, specialty cured meats, and even the inclusion of swanky fare like pâté can elevate your board for more formal events). My advice is to begin with the essential elements (which I go over in great detail in my book!) and then make it your own—tailoring it to your specific tastes and the theme or mood of the event. So with that in mind, here are a few favorite appetizer board options that cater to all different tastes and occasions. 
Here are a few ways to make an appetizer board your own…
If you are a vegetarian or opting out of serving meat, consider adding crudités and hummus to your tray. It's an easy swap that still packs in the protein.
If you don't eat meat but do eat fish, swap out the salami for smoked salmon. It's a less expected but equally delicious choice.
Have a dairy allergy or not big on cheese? Supplementing your board with lots of dried fruit and nuts will fill it out nicely.
If you are looking to dress up your appetizer board presentation-wise, adorn your board with sprigs of rosemary, lavender, or edible flowers.
If you know you have a foodie crowd, make a stop at your local cheese shop in addition to the market. Make your event into a true cheese tasting by trying out artisanal cheeses that might not be available at the grocery store, and labeling each one.
For an intimate, coursed-out dinner party, serve guests individual appetizer boards on small olive wood boards like the ones we sell at The Little Market.
If your cuisine is all channeling a specific region, let that be reflected in your appetizer board too. For example, a Mediterranean board might include lots of olives, marinated artichoke hearts, hummus, sliced pita bread, and feta. Alternatively, the appetizer board for an evening of French cooking could include French bread, cornichons, and cheeses all made in the region.
I hope those tips come in handy! There are plenty more foodie tips and tricks in Celebrate, so pick up your copy tomorrow.
What is your favorite appetizer board element?
Share your picks in the comments below.
XO Lauren