Edible Obsession: Baked Cinnamon Sugar Valentine's Donuts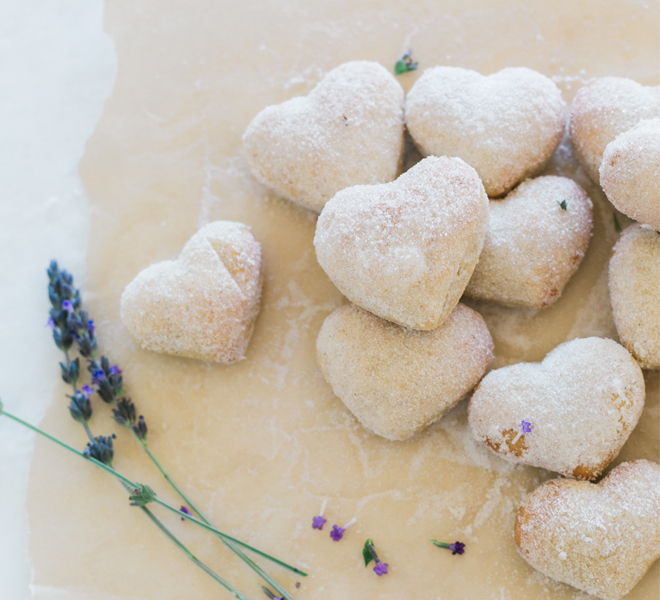 I don't think I'm alone when I say that this month always brings out the girly girl in me. I find myself buying fresh flowers for every room in my house, filling dishes with candy conversation hearts, and watching more romantic comedies than usual. After all,
Valentine's Day
is
right around the corner. I also find myself wanting everything I cook or bake to be on theme for the upcoming holiday, like these
heart-shaped salads
we posted on the blog earlier this week (yum). With heart-shaped desserts in mind, at our most recent LaurenConrad.com photoshoot, we put in a request with our friend and baker
Lauren Lowstan
for Valentine's Day inspired donuts. And let me tell you… She whipped up some cinnamon sugar donuts that did not disappoint.
Without further ado, here's Lauren's recipe for heart-shaped baked cinnamon sugar donuts. Enjoy!
Baked Cinnamon Sugar Valentine's Donuts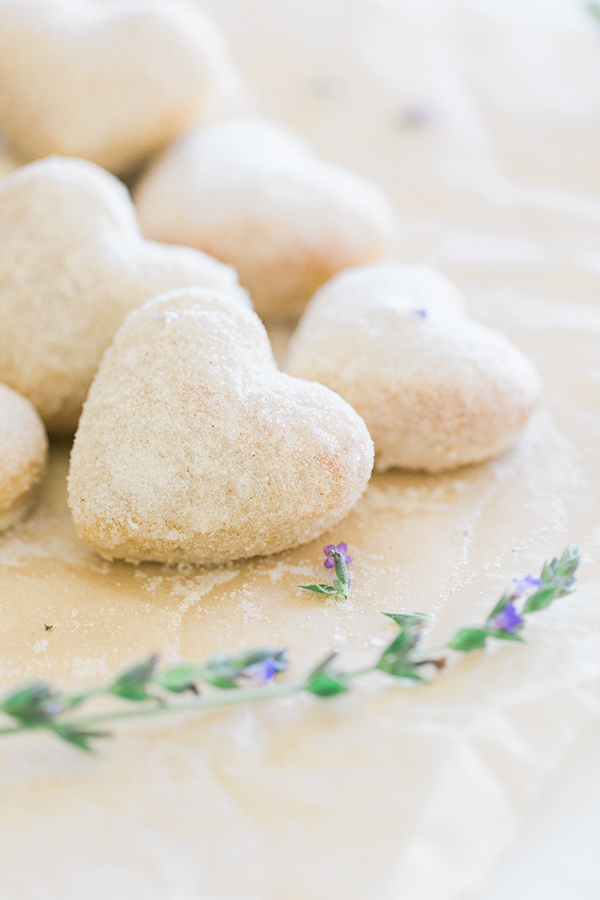 Ingredients:
5 cups all purpose flour
¼ cup sugar
2 tablespoon yeast
1 teaspoon cinnamon
1/4 teaspoon nutmeg
1 cup almond milk (or milk of your choice)
6 tablespoon butter
1 teaspoon salt
2 eggs
For the Coating:
½ cup sugar
1 tablespoon cinnamon
You will also need:
heart cookie cutter
parchment paper
baking sheet
spray coconut oil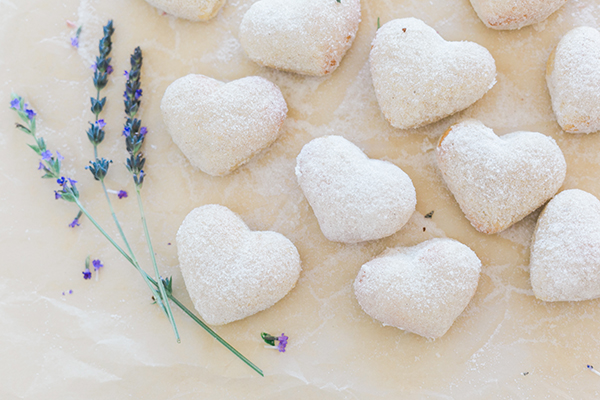 Instructions:
Heat your milk and butter up on the stove or in the microwave, until warm, 100 to 110 degrees. If you don't have a thermometer, stick your finger in the melted butter/milk mixture and just heat until lightly warm to touch. Stir in the sugar, and then stir in the yeast. Let sit for about 5 minutes, until foamy.
Meanwhile, in a bowl fitted with a hook attachment, add in your flour, cinnamon, nutmeg, and salt. Add in eggs and foamy milk mixtures.
Beat on medium speed with a dough hook, for about 5-8 minutes, until dough is smooth. The batter will still be a little sticky. That's okay.  If you do not have a stand mixer, you can mix everything by hand. Turn dough out onto a lightly floured surface and knead dough by hand until it forms a smooth ball. Add your ball of dough to a large, oiled bowl. Cover with plastic wrap, and a dishtowel, and let rise for about an area, or until doubled in size.
Turn your risen dough out onto a lightly floured work surface. Lightly roll out your dough to about ¾. Cut dough out with your favorite heart cookie cutters.
Spray a parchment lined baking sheet with cooking spray oil. Place the cut out hearts onto baking sheet, spacing them about at least 2″ apart. Cover with plastic wrap and let rise another 30 minutes.
Preheat oven to 365 degrees. Take plastic wrap off of your baking sheet, and bake donuts for about 10 minutes, until they are a nice golden brown. Your baking time will vary, depending on the size cookie cutter you have,
Whisk sugar and cinnamon together in a medium size bowl. Taking one baked donut at a time, spray the entire donut with coconut oil/coconut oil (or oil of choice) cooking spray. Throw in cinnamon sugar mixture and toss until donut is fully coated. Repeat this process until all of your donuts are covered. Enjoy!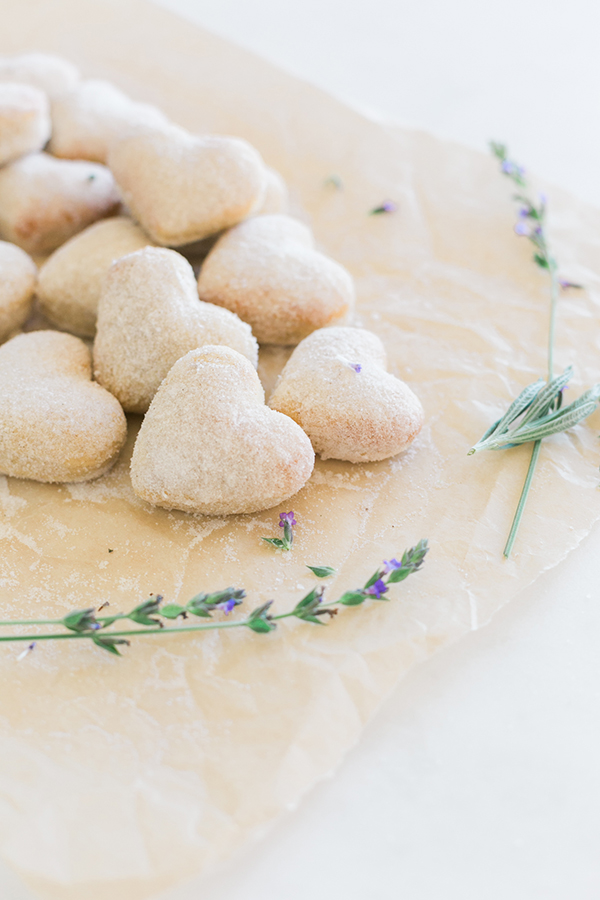 Aren't these treats gorgeous? Your sweetheart would be lucky to wake up to a batch of these on Valentine's morning!
How are you going to spoil your special someone this holiday?
xx
Allison
Team LC
P.S. Another thanks to Miss Lauren Lowstan for making these beautiful treats!