Edible Obsession: Mexican Hot Chocolate Cookies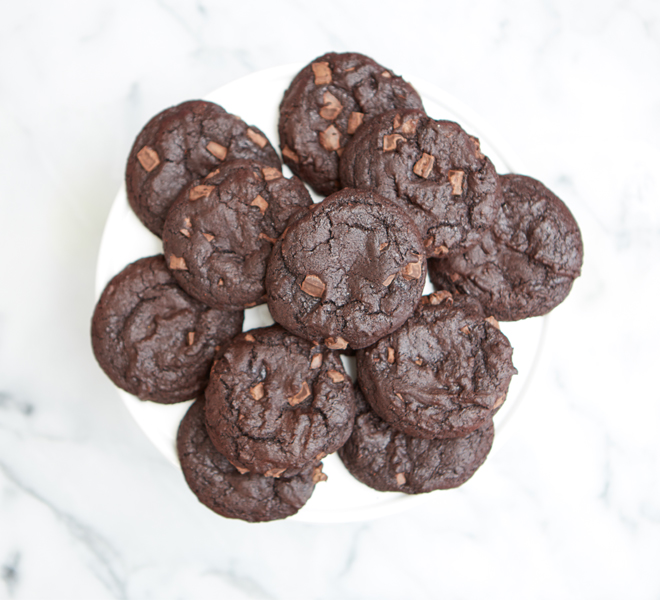 There's nothing quite like the combination of sweet and spicy. One of my favorite drinks to sip on during the cooler months is Mexican hot chocolate. Unfortunately, since the weather doesn't call for hot beverages quite yet, I wanted to think up a tasty alternative. My good friend and resident LaurenConrad.com baker
Lauren Lowstan
recently whipped up a batch of Mexican hot chocolate cookies that give the traditional drink a run for its money. If you enjoy a little bit of spice and a lot of melted chocolate, then these cookies are definitely for you.
Keep scrolling to see how you can recreate these spicy sweet cookies in the comfort of your own home…
Mexican Hot Chocolate Cookies Recipe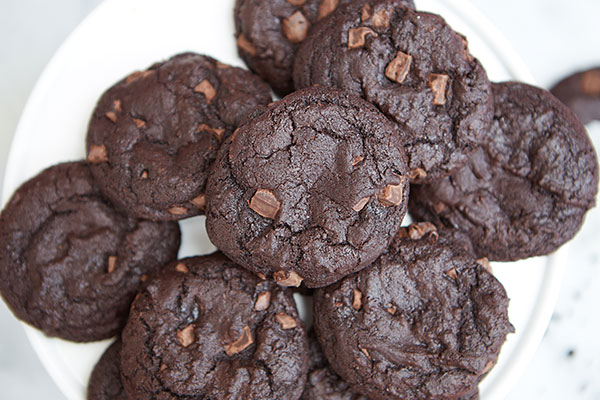 Ingredients:
1 cup sugar
½ cup canola oil
2 eggs
1 tbsp. vanilla extract
¾ cup flour
¾ cup cocoa powder
2 tsp. ground cinnamon
½ tsp. ground cayenne pepper
1 tsp. baking soda
1 cup dark chocolate chunks (or substitute chocolate chips)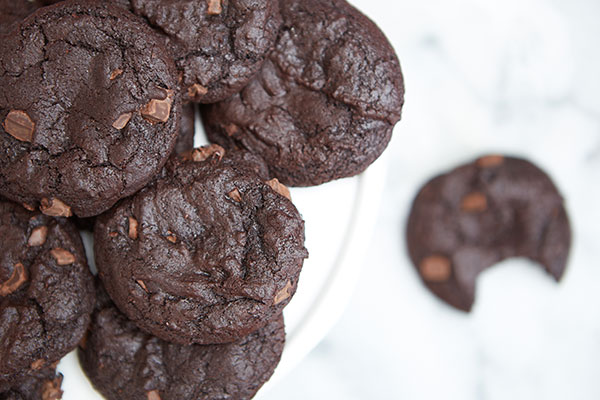 Instructions:
Line a baking sheet with parchment paper.
In a large bowl, add sugar and canola oil and whisk until combined. Whisk in eggs and vanilla extract until thoroughly combined
In a separate bowl, whisk all of the dry ingredients together.
Add the dry ingredients to the wet ingredients and mix with a spatula just until combined. Add the chocolate chunks and mix until distributed evenly. Tip: Do not over mix your cookie dough, or it will be rough! The dough should be looser than your average cookie dough.
With a cookie scoop (preferably a 2 tbsp. size) scoop out cookies onto parchment lined cookie sheet, about 1.5″ apart from one another.
Set in fridge for 10 to 15 minutes or until cookies harden a little.
Preheat oven to 350 degrees.
Push cookies down a little with the palm of your hand so that they are more flat than dome shaped.
Bake in preheated oven for about 8 minutes, until the edges are set and the center doesn't look raw. Cookies will continue to bake once they are out of the oven. (I like my cookies extra fudgy, so bake more or less depending on your preference!). Enjoy!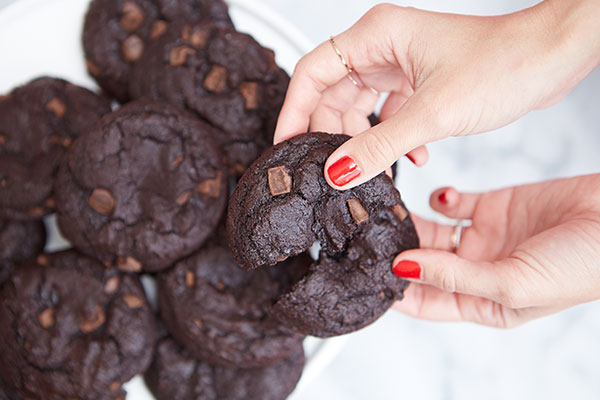 Will you be trying this yummy recipe?
My mouth is watering just thinking about them.
XO Lauren
Photos: Jacob Taylor for laurenconrad.com