Recipe Box: Raw Vegan Strawberry Coconut Cheesecake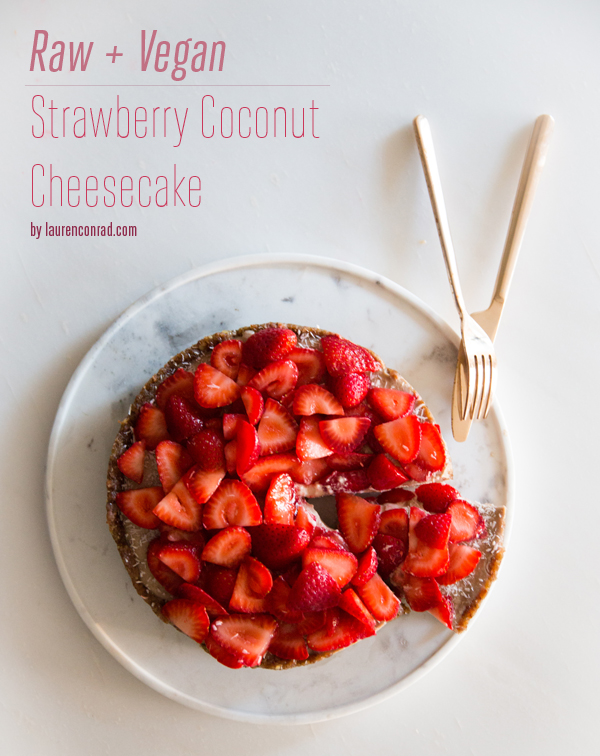 All of my friends know that I go through phases where I swear off refined sugar completely. I like to call these sugar detoxes. I find that I feel so much better when I've been on a sugar
detox
, even as soon as three days into it. My energy levels are higher, I sleep better and I'm just proud of myself knowing I had the discipline to follow through. But I'll be honest: It isn't always easy…but it's definitely worth it. One thing that keeps me going when I get on these sugar
detox
kicks is finding recipes that satisfy my sweet tooth but have no added sugar. I got together with our baker and friend
Lauren Lowstan
and searched cooking blogs for "sweets" that are made with fruit, nuts and naturally sweet ingredients. Which is how we found this delicious, raw vegan strawberry coconut cheesecake confection.
Make this healthy yet indulgent treat the next time you're taking a break from refined sugar, but feel like you're about to cheat…
Raw Vegan Strawberry Coconut Cheesecake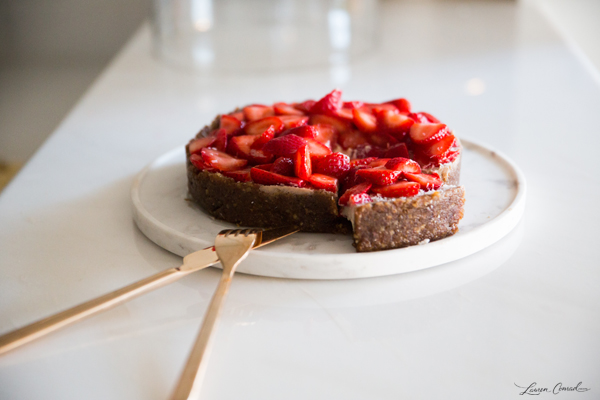 Ingredients:
For the crust:
½ cup chopped Medjool Dates
½ cup walnuts or almonds
¼ tsp. sea salt
For the filling:
1 ½ cup raw cashews soaked overnight (you will want them to get soft enough to blend into a creamy filling)
2 tbsp. coconut milk from a can
2 small or 1 large ripe bananas, mashed
1/3 cup raw coconut oil
1/3 cup maple syrup
sliced strawberries for the topping
juice of two lemons
 Instructions:
 For the crust:
Add walnuts, salt and dates in food processor and pulse until finely chopped, or as chunky as you like. When you scoop it out, it should stick together. This will be your crust.
Add the crust to a 7" spring pan (If you don't have one, a wide bowl works. Just be sure to line the bottom of the bowl with Saran wrap to prevent the crust from sticking.)
When you've added the crust, push it around evenly, working up the side of the bowl, about 1/3 of the way. Place in fridge or freezer while you make the filling.
For the filling:
Melt the coconut oil in a small pan and add the maple syrup. Remove from heat and add to a food processor or Vita-Mix, along with cashews and lemon juice. Make sure to keep the mixture moving, so that it mixes thoroughly.
When the consistency is creamy, scoop out 2/3 of the mixture and add it to your crust in a nice, smooth layer.
Leave the remaining 1/3 of the filling in the food processor or Vita-Mix and add the mashed bananas along with the coconut milk blend.
Once blended, scoop out the remaining filling and add it to your crust pan. This should be your third layer. Smooth it out evenly and add to freezer.
Add sliced strawberries and coconut flakes on top.
You can lift the entire cake out of the bowl by holding the sides of the wrap and placing it on cake dish. An hour before eating, move your cheesecake from the freezer to the fridge, but serve 15 minutes later—it will melt quickly!
As you can see, all the ingredients above are fruit and nut-based, and there is zero added sugar. We adapted this recipe from this one by Flip Flops and Avocados, but we added fresh sliced strawberries for a little color and flavor. Let us know if you try this healthy treat—I promise you won't be disappointed!
What healthy treats sweet satisfy your cravings when you try to avoid sugar?
xx
Allison
Team LC
Photos: Yoni Goldberg for LaurenConrad.com