Edible Obsession: Marshmallow Sprinkle Sugar Cookies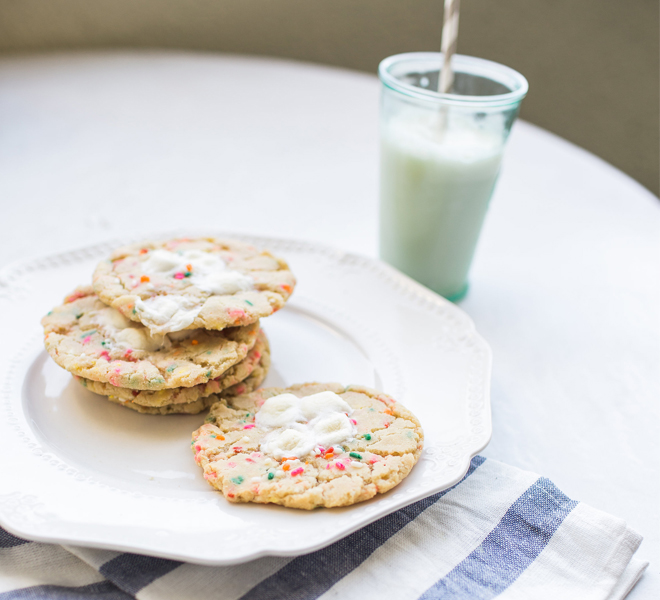 Lately, I've been trying to have a healthier mindset when it comes to sweets. Because, let's be honest, I have to stop myself from having a sweet treat every day. But on those days when I really
do
need something with a little sugar, I've found my new favorite indulgence: Sprinkle Marshmallow Sugar Cookies. I saw a similar recipe on
Chelsea's Messy Apron
and had my favorite baker and friend
Lauren Lowstan
whip up a batch of our own.
So, when you're having one of those I-need-sugar-so-bad days, throw some of these into the oven for immediate sweet tooth satisfaction…
Marshmallow Sprinkle Sugar Cookies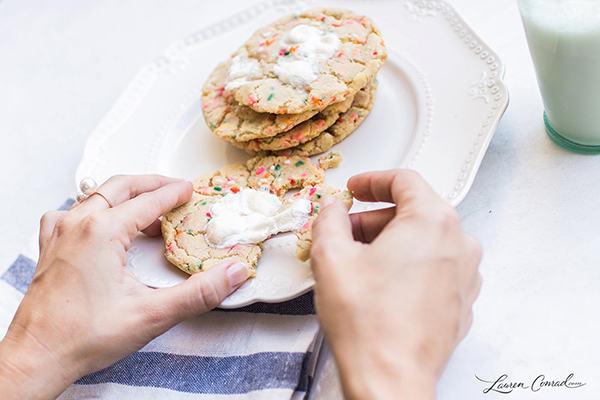 Ingredients:
1 cup shortening
3/4 cup white sugar
1 cup brown sugar
1 egg + 1 egg yolk
1 Tbsp. clear imitation vanilla (I use McCormick's)
1 and 3/4 cup flour
2 tsp. baking powder
½ tsp. salt
1 cup rainbow sprinkles, plus more for sprinkling
½ cup mini marshmallows
Instructions:
Combine shortening and both sugars in a mixer fitted with a paddle attachment. Cream the shortening and sugars together until light and fluffy, about 2 to 3 minutes. Add in the vanilla, egg and egg yolk and mix until combined.
In a separate bowl whisk together the flour, baking powder, baking soda and salt. With the mixer on low, slowly add the flour mixture and mix until fully incorporated. Then add in your sprinkles. Wrap dough in plastic wrap and place in fridge overnight.
With a 2-ounce ice cream scoop, scoop out your cookie dough onto a parchment-lined baking sheet. Then, take 2 mini marshmallows and add them to the inside of each cookie, making sure to fully cover the mallows with the cookie dough.
Place dough balls about 2 inches apart on parchment lined baking sheet, because they will spread out in the oven. Then top each cookie with a few mini marshmallows.
Bake in a preheated 350-degree oven for about 10 minutes. You want the outer edges to be crispy, but the middle to still be soft and gooey.Yum. The best part about these cookies is that they are the perfect mix of salty and sweet: sweet from the marshmallows and salty from a little bit of salt that Lauren added to her recipe. Needless to say, they are delicious.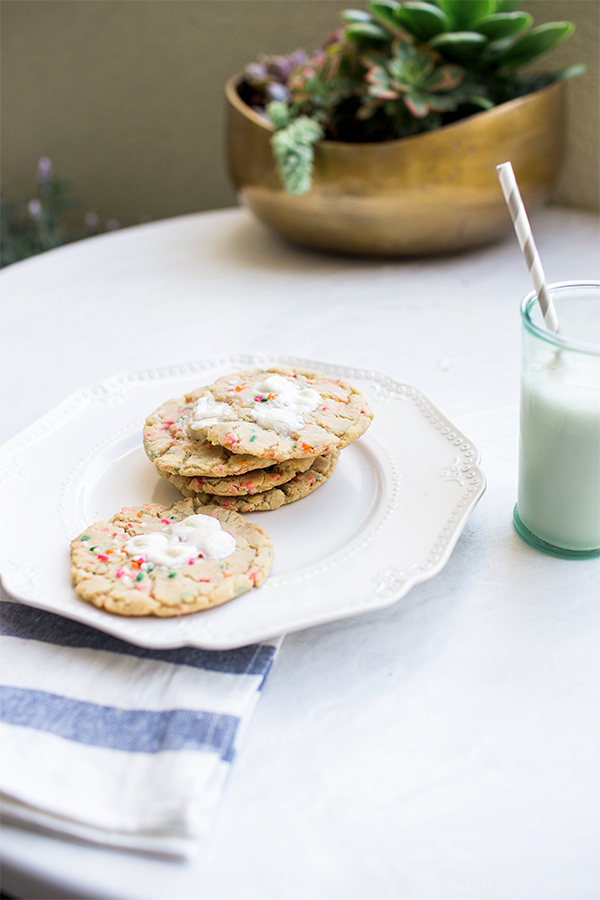 What recipe would you like to see us make here on the site next?
We're taking suggestions, so leave yours below!
XO Lauren