Edible Obsession: DIY Heart Cheesecake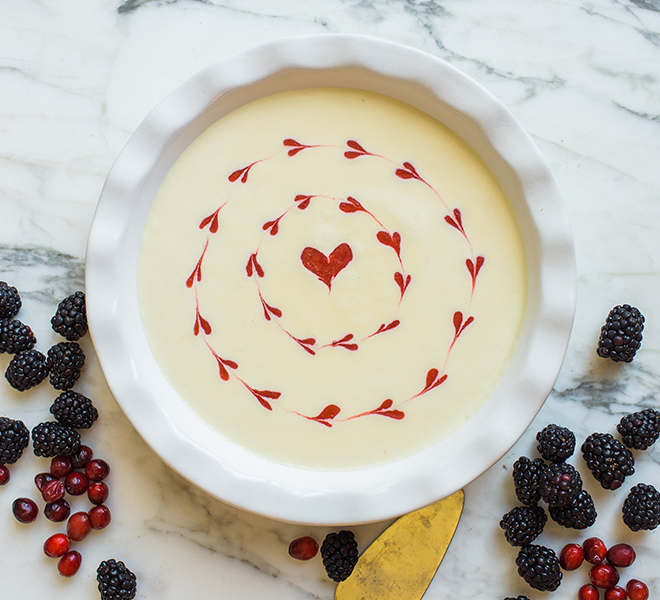 Cheesecake is easily one of my go-to desserts. The endless flavor possibilities that pair well with cheesecake are enough to have me hooked (fresh fruit or decadent chocolate?). Since more traditional cheesecake recipes don't tend to have any fancy bells and whistles, I wanted to try my hand at creating something both pretty and delicious.
With help from my favorite gal and LC.com resident baker, Lauren Lowstan, I not only learned how to make the smoothest cheesecake, but also picked up a decorating tip as well. Because, after all, desserts are much tastier if they're cute. Below you'll find a little step-by-step decorating tip that's both easy and adorable. The next time you whip up your favorite cheesecake, consider drawing on these delicious hearts made with fresh fruit puree.
Heart Cheesecake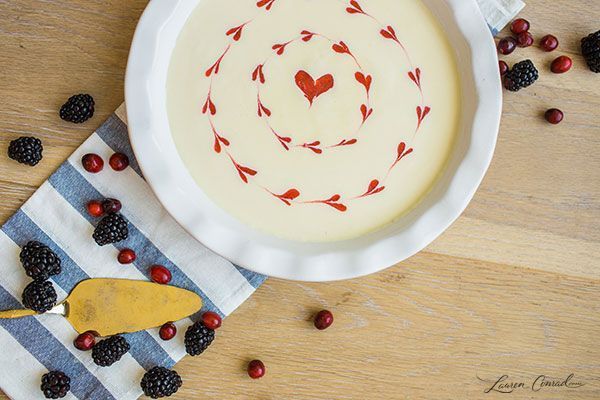 Ingredients:
1 store-bought Oreo pie crust
piping bag or turkey baster
toothpicks
For the filling:
20 oz. cream cheese, softened
¾ cup plus 2 Tbs. sugar
1 ½ Tbs. all-purpose flour
2 eggs
2 egg yolks
1 tsp. vanilla
For the fruit puree:
1 Tbs. sugar
1 ½ tsp. cornstarch
1/3 cup cold water
1 ½ cup frozen raspberries or strawberries
Instructions:
For the filling:
1. Add cream cheese and sugar to a food processor and process until completely mixed together.
2. Add in all other ingredients and process until combined.
3. Add the filling into your store-bought crust.
For the fruit puree
1. In a saucepan, whisk together sugar and cornstarch.
2. Stir in cold water and your raspberries or strawberries.
3. Cook over medium heat, whisking until puree reaches a boil.
4. Boil for about 5 minutes, whisking constantly until puree has thickened.
5. Turn off heat and force puree through a fine mesh strainer to remove seeds.
6. Set aside to cool.
7. Add the cooled puree to a small piping bag and cut a very small hole in the bottom (to make things easier, I used a turkey baster!).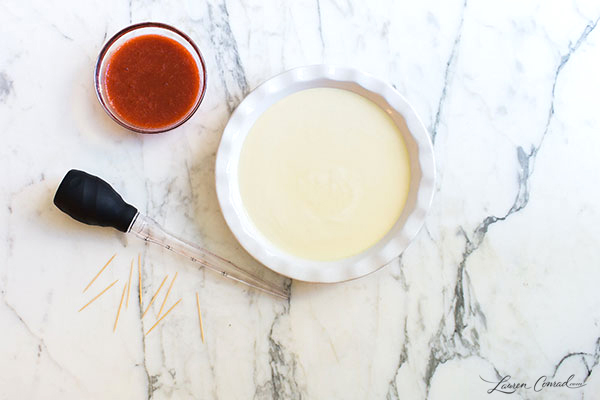 8. Pipe small circles in a swirl pattern over cheesecake.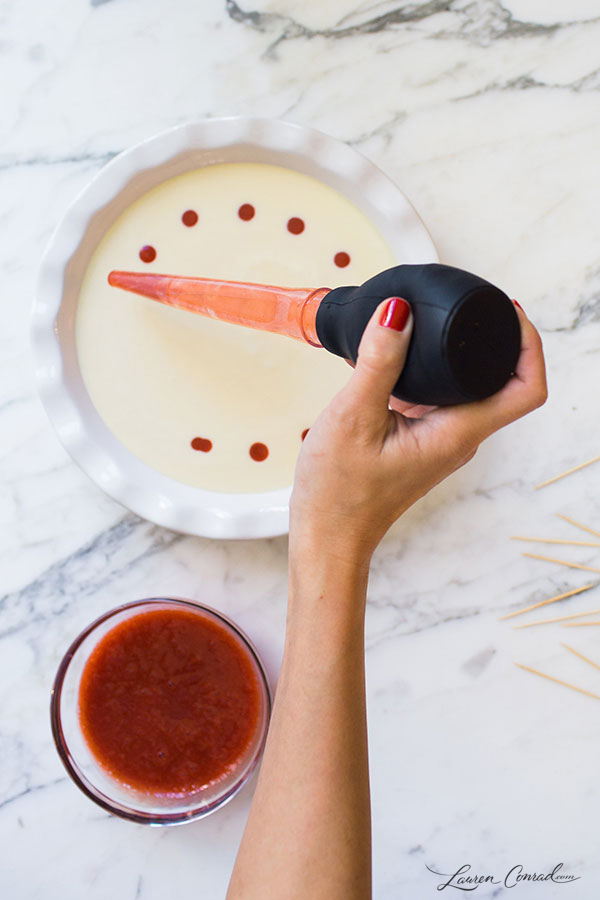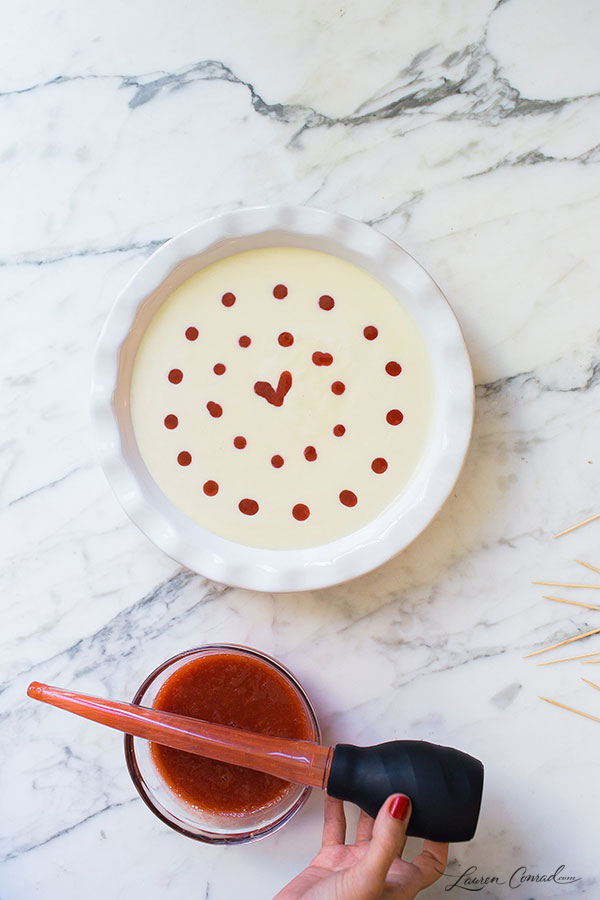 9. Take a toothpick, and beginning with the center circle, run the toothpick through the center of each heart. (Tip: Don't lift the toothpick out until you finish the last circle.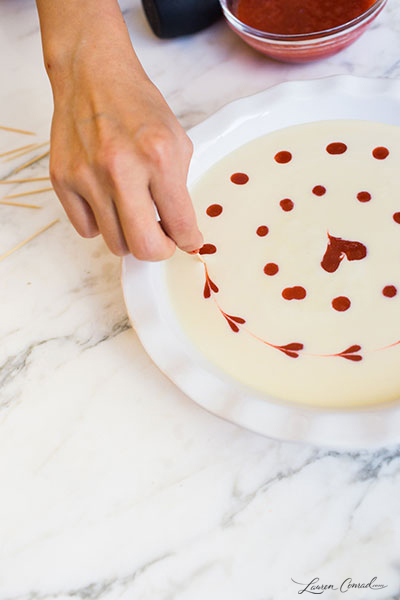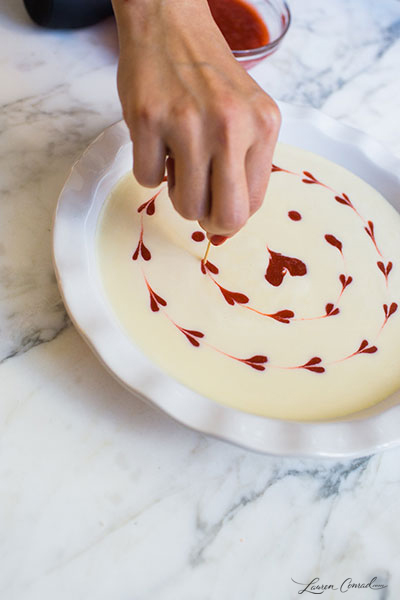 10. Preheat oven to 350 degrees and bake cheesecake for about 45 minutes.
11. Remove from oven and refrigerate for about 6 hours, or until the cheesecake is fully set.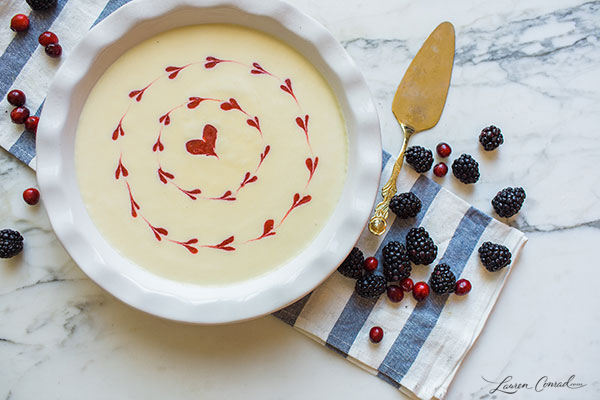 You now have the prettiest little cheesecake!
Will you be recreating this heart cheesecake?
Let me know in the comments below.
XO Lauren