Edible Obsession: Healthy Homemade Poptarts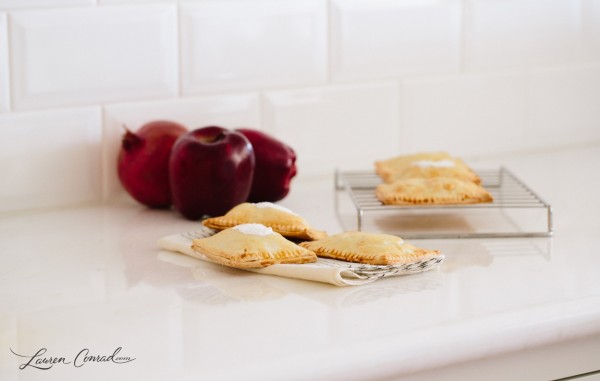 January. It's the time of year when we're all focused on shedding the holiday pounds and getting back on track with our wellness. While I'm all for a clean diet and challenging fitness routine, there's something I never can shake, regardless of how dedicated I am: my sweet tooth. To combat my craving for sweets in a
healthy
way, I enlisted the expertise of my friend and favorite baker,
Lauren Lowstan
, to help me create a healthier (and tastier) version of the classic poptart pastry….
Healthy Homemade Poptarts
Ingredients:
For the gluten free dough:
3 cups rice flour
3 tablespoons white sugar
1 ½ teaspoons salt
¾ teaspoon baking powder
1 cup vegetable shortening
½ cup and 1 tablespoon cold water
1 ½ teaspoons vanilla extract
Filling:
2 granny smith apples, chopped
1 teaspoon cinnamon
¼ cup sugar
¼ cup brown sugar
Egg wash: 
1 egg plus
1 teaspoon water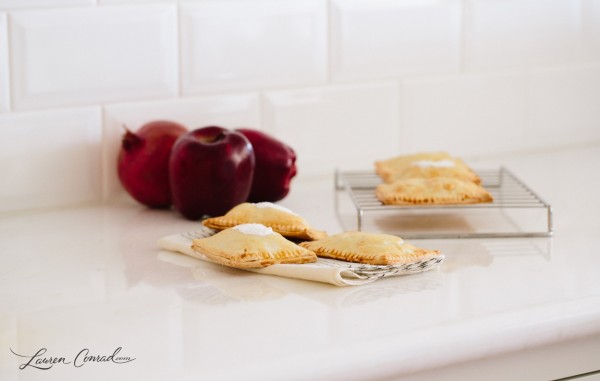 Instructions:
For the Filling:
Cook all ingredients on the stove for 10-15 minutes until apple pieces are soft and a thick sauce has formed.
Remove from heat and set aside until dough is ready.
For the dough:
Combine flour, sugar, salt and baking powder in a bowl.
With your hands or a fork, add shortening until crumbs form, the size of peas.
Add the vanilla and cold water just until dough forms.
Shape your dough into a disk, then wrap in plastic wrap and place in the fridge for 30 minutes.
On a lightly floured surface, roll out the dough to about a quarter inch thick. Cut the dough into 3 inch by 4 inch rectangles. Place half of the rectangles down on to a parchment lined baking sheet.
Lightly brush the rectangles with egg wash, then spoon about 1 tablespoon of apple filling onto the center each rectangle, making sure the filling doesn't get too close to the edges.
Using a cookie cutter of your choice, lightly press down on the tops of each rectangular top piece. You can cut all the way through, leaving the top of your pop tart showing off the filling, or you can just make an indentation for decorative purposes.
Top each bottom rectangle with a second piece of rectangular dough. Press down on the edges to secure the two pieces of dough together then lightly press the edges with a fork to seal the pop tarts.
Bake the tarts in a 350-degree pre-heated oven, until golden brown, about 20 minutes.
Remove from oven and let them cool slightly until able to eat. Then, enjoy!
Nothing beats eating a warm pastry right out of the oven!
Do you have any other classic desserts you'd like to see us reimagine?
Let me know below.
XO Lauren
Photos: Yoni Goldberg for LaurenConrad.com