Hocus Pocus: My Mermaid Halloween Costume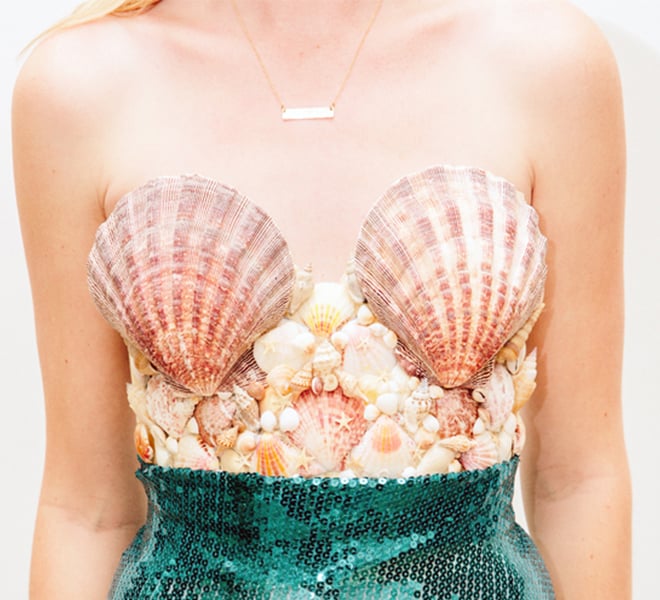 You may have seen hints on my
Instagram
and in past blog posts, but the time has finally come to reveal my Halloween costume for this year. And it is…drumroll…
…a mermaid!
Thank you to all who voted to help me choose! Mermaid just narrowly beat out Ringleader by two percent in our poll. Even though I had already bought Chloe her lion costume, I'm glad Mermaid won because my DIY costume turned out pretty flippin' cute (pun intended). Here's a step-by-step guide to how I created this year's costume…
DIY Mermaid Costume
Here's what you will need:
two large scallop seashells
your choice of mixed seashells (my favorite were tiny starfish!)
corset or strapless bra
shimmery green fabric with some stretch
dark green or turquoise sequined fabric
tulle in different shades of turquoise and blue
needle and thread
scissors
hot glue gun
a dress form (or in my case, a cute intern!)
Instructions:
For the seashell bra:
Lay the bra on a flat surface and arrange the seashells to your liking.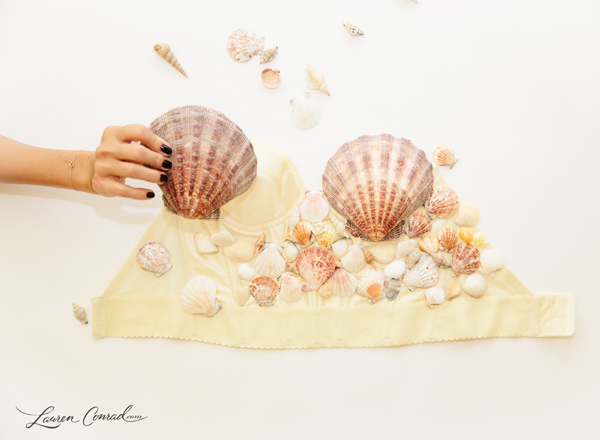 Use your hot glue gun to secure all of the seashells onto the bra. I went through them individually to make sure each shell was intact.
For the mermaid tail:
Wrap the shimmery green fabric around your dress form, making sure that the fabric is inside out.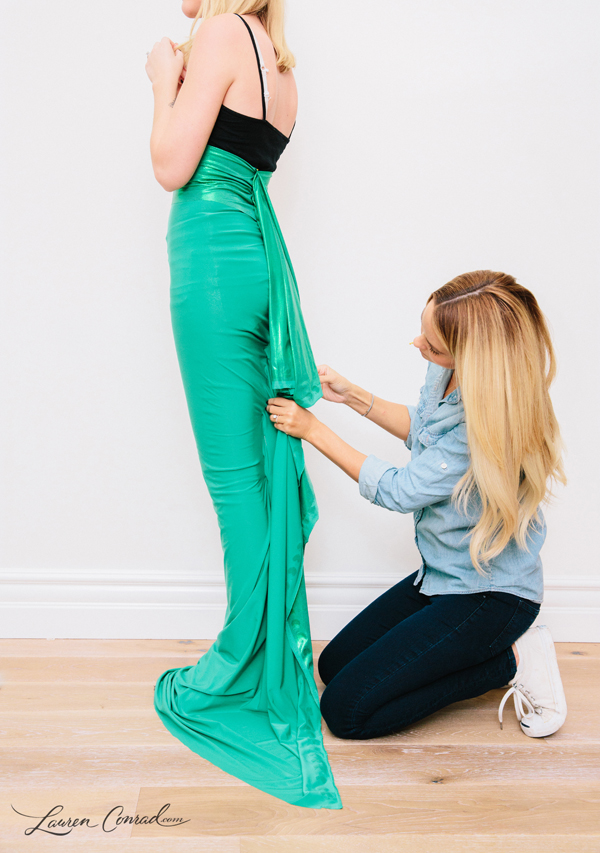 Pin the fabric in place with your straight pins so that you know where to go back and sew it together.
Remove the shimmery green fabric once it is all pinned. Remove the straight pins as you sew and use your scissors to cut off excess fabric. This will be the layer underneath your dark sequined fabric.
Wrap the dark green sequined fabric around your dress form and secure it with straight pins just like your first layer of fabric.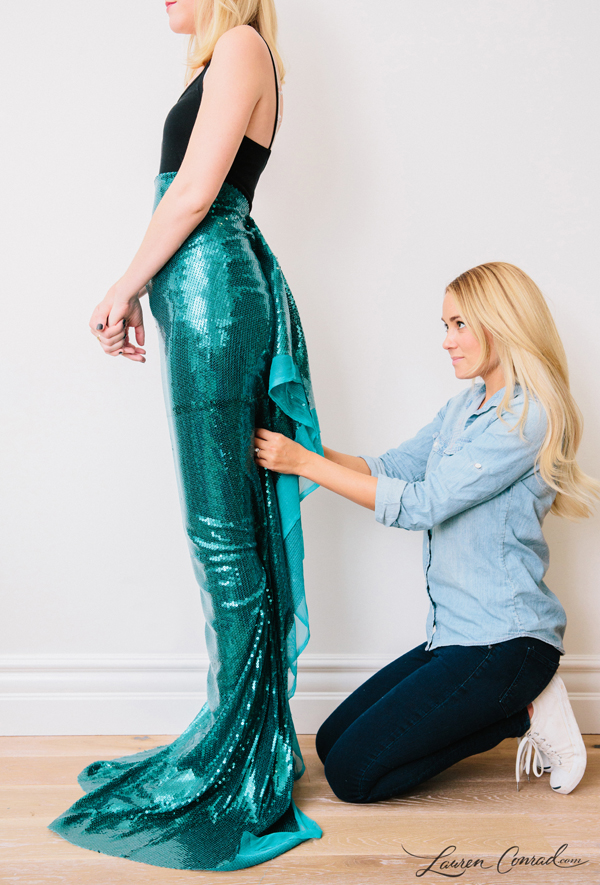 Pin the fabric just below where your bottom will be in the mermaid tail. I wanted to make sure that I was able to comfortably take off my mermaid costume without it ripping, so I sewed just the bottom of the tail together and safety pinned the top portion for when I wear it on Halloween.
Grab the multi-colored tulle and began layering them to add volume to your mermaid tail. To sew the tulle tufts onto my tail, I took the needle and thread and pulled it through the center of my tulle layers and sewed it to the inside of the dark sequined fabric.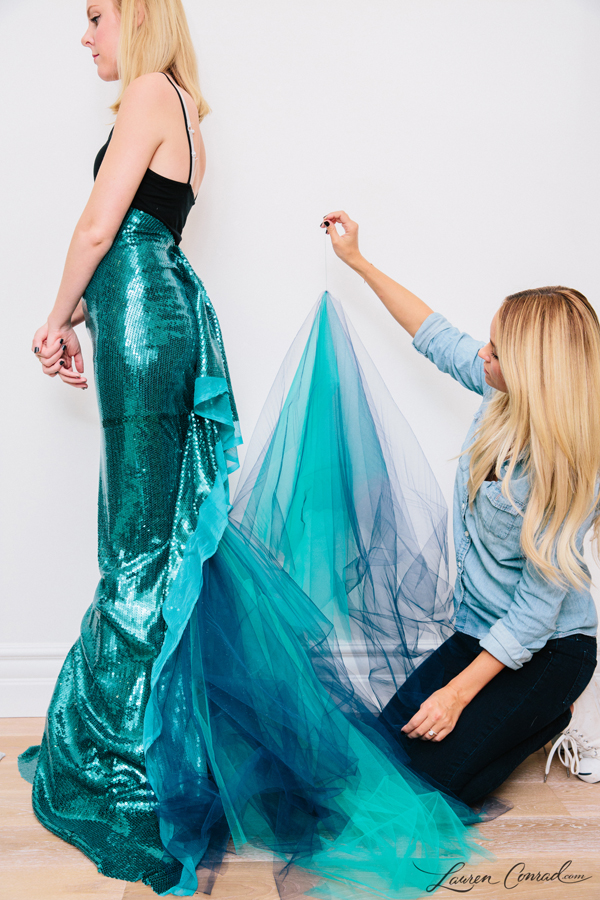 I wanted my tail to look extra glamorous so I sewed on a few extra layers of tulle. (Tip: Sewing tulle under the front of the tail made it easier for me to walk.)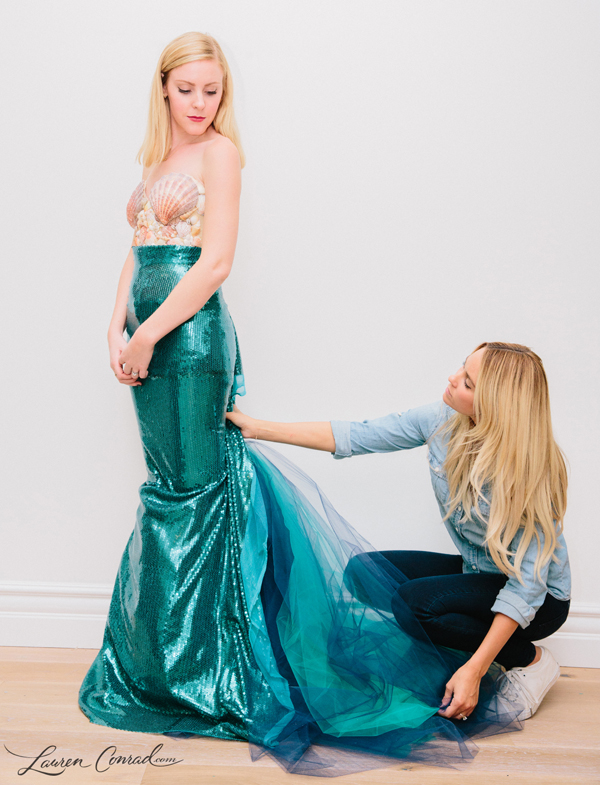 Once you sew the final tulle tufts onto your mermaid tail, the only thing left to do is try on the completed costume. I wore my mermaid skirt so that it just hit above my seashell top. That way, it looks like the costume is one piece.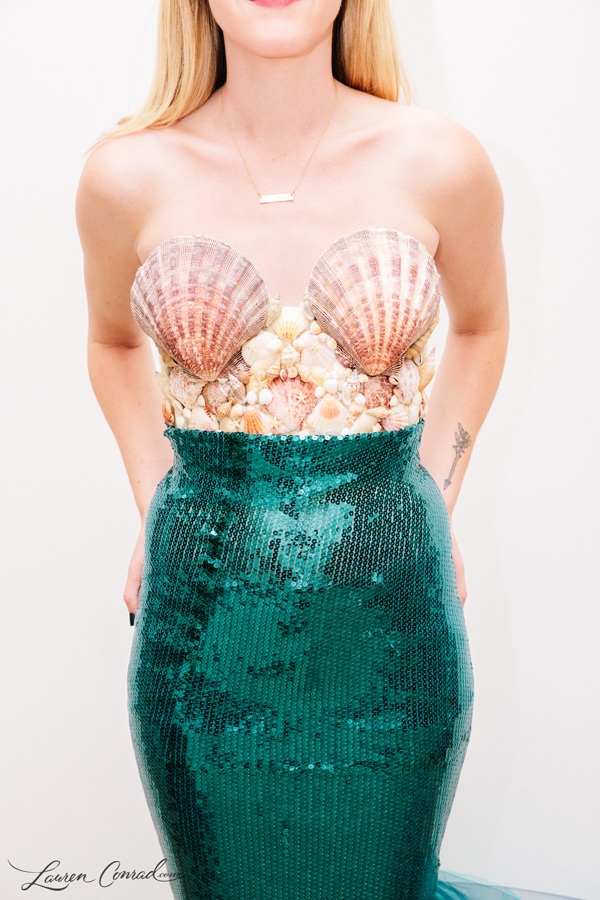 I am so excited to wear this costume this weekend!
What are you dressing up as this year?
Let me know in the comments below. And be sure to share your photos if you decide to recreate this mermaid costume!
XO Lauren
Photos: Yoni Goldberg for LaurenConrad.com