2016 is in full swing, and we have a feeling that quite a few of you started the New Year off with shiny new sparklers on your left ring fingers. With Valentine's Day coming up, there are bound to be many more engagements. And while we know that there's nothing more exciting than planning your wedding, we are well aware that some parts of the planning process can be a bit stressful (to say the least). To help all of you newly engaged ladies out, today we're diving back into the world of wedding registries. We've already blogged about creating the perfect wedding registry, as well as registry etiquette (yes, it's a thing), and today we're moving on to the topic of registry myths.
Let us be the first to tell you that putting together a wedding registry doesn't have to be an anxiety-ridden activity. That said, we've gone ahead and debunked the five most common wedding registry myths today in an effort to make the process as easy as pie (reminder: register for that pie dish!). These days, you don't even need to step foot in a store to put together the registry of your dreams… You can do it all from home! Times have changed, and we've teamed up with Zola Registry to debunk the many registry myths out there and set the record straight. Here they are…
Myth #1: You Should Know Exactly What To Register For
Many engaged couples feel as if they should know exactly what they want to add to their registry, which is simply not true. If you don't know exactly what you want to fill your registry with, don't panic. It's common to feel like you don't know where to start, and the options are literally endless. So, Zola has created an interactive checklist to kick-start the process. You can also browse featured registries for ideas, as well as use their planner tool which will help you determine how many gifts you need at each price point, depending on how many guests you invited. You can also browse their Collections for inspiration. Easy peasy!
Myth #2: The In-Store Scanner Is The Only Way To Go
We can't even count how many movies we've seen where the newly engaged couple goes to the department store, scanner in hand, ready to create that registry. This seemingly joyful activity usually ends with an argument, which has really given wedding registries a bad wrap. These days, those pesky scanners are almost obsolete. More people than ever are registering online because of the flexibility that offers. At Zola you can register for gifts, experiences, and cash funds, all in one place, whereas in a store you're limited to only physical gifts (and items from that one store). Not only does Zola have a website, but there's also an app. You can register on the go or right from your couch (including adding gifts like you're in a store with the 360° Feature). Reason #768 why we love the digital age.
Myth #3: Registering is a Logistical Nightmare
This is no longer the case! With the ability to decide when things ship to you, boxes won't show up all at once. With Online Gift Swap, you can forget about returns and opt to exchange gifts before you even have them sent. Voilá!
Myth #4: Too Many Gifts Makes You Look Greedy
There's a common misconception that if you add too many gifts to your registry, or too many high priced items, you'll come across as greedy (and even ungrateful). With the new technologies today, this couldn't be further from the truth. And in actuality, guests like to have a lot of options so that they can find something in their price range that feels like it reflects them. There's nothing worse than going to someone's registry and seeing that there are only a few spatulas left. Registering for higher priced items is also totally acceptable, thanks to Zola's Group Gifting feature. It allows multiple friends to chip in for bigger ticket items. So, register for the KitchenAid Mixer, your dream bar cart, or a wine tasting for two. Most guests would rather chip in for something more expensive that they know you'll love, as opposed to buying you that single bed sheet.
Myth #5: You Can't Register For Cash
Back in the day, couples used to feel that it wasn't appropriate to register for cash. However, this is no longer true. Asking for cash gifts these days is totally acceptable, and a lot of the time is encouraged. Especially when the couple writes a meaningful note about what the cash will be used for and why it's important to them. This is just another amazing feature that you can with Zola's online registry.
Doesn't registering seem so much easier?  
We think so!
And now that you know how easy it is to create the registry of your dreams, we've got a pretty exciting offer for you. Zola is giving LaurenConrad.com readers $25 to spend when you create your registry with them. Just click here, create your registry, and collect that $25.
Are there any other wedding registry myths that we forgot?
Leave them in the comments and we'll respond! And if you have any other blog requests about wedding planning, let us know. This is one of our favorite topics to write about.
XO Team LC
This post is proudly sponsored by: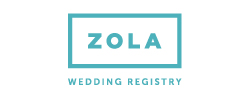 First Three Photos: Rustic White for Zola
Remaining Photos: Zola