Smoothies are one of our very favorite busy girl breakfast options or detox-approved snacks. They're quick to whip up, delicious to drink down, and full of the vitamins and nutrients needed to give you a good boost of energy. But after chatting with holistic nutritionist Kelly LeVeque, we realized there was one common smoothie mistake we were making: too much fruit. As Kelly explains, fructose turns to fat faster than any other form of carbohydrate. When it's metabolized, fructose converts to an activated form of glycerol that is directly used to turn free fatty acids into triglycerides, or fat. Basically, the more fructose you consume, the more glycerol it converts into and the more fat you store.
The metabolism of fructose also results in waste products and toxins, including a large amount of uric acid, which can drive up blood pressure and lead to gout. According to Kelly, fructose undergoes the "Maillard reaction," which leads to the formation of superoxide free radicals that can result in liver inflammation. Long-term excess fructose consumption has been linked to insulin resistance, metabolic syndrome, and obesity.
Of course we believe that you should have everything in moderation, and we certainly aren't suggesting that you nix fruit from your diet entirely. Whole, fresh fruit is full of fiber and valuable vitamins and minerals. But we also know how easy it is to overdo it with the fruit when you're making smoothies. It's so easy to throw a whole banana, a couple handfuls of berries, and some tropical fruit in the blender, and then drink it all up. If you had that much fruit on your plate, you would probably think twice and eat a green salad instead. Kelly recommends that you keep the fruit in your smoothie to ½ cup max, and encourages adding more healthy fats and protein instead.
Here are five fructose-free smoothie recipes from Kelly that are as delicious as they are good for you. Just blend the below ingredients with a few cubes of ice, and enjoy!
Spa Smoothie
2 Persian cucumbers
½ lemon (juiced)
1 serving vanilla protein powder
2 tbsp. chia seeds
½ cup mint leaves
2 cup unsweetened almond milk
Dark Chocolate Salty Maca Crunch
1 serving of chocolate protein
almond butter
2 tbsp. flax meal
1 tbsp. maca powder
1 tbsp. cacao nibs
2 cups unsweetened almond milk
pinch maldon salt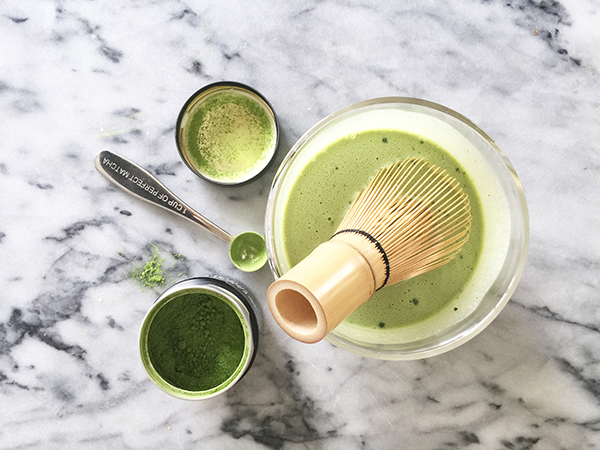 Matcha Crème Madness
1 serving of vanilla protein
1 tbsp coconut butter
2 tsp flax seeds
2 tsp. matcha green tea powder
1 cup spinach
Snickerdoodle Cashew Cookie
1 serving of vanilla protein
2 tbsp. cashew butter
1 tsp. cinnamon
almond or coconut milk
Coco Carrot Cake
1 serving of vanilla protein
¼ cup shredded carrot
2 tbsp. shredded coconut
2 tbsp. walnuts
1 tsp. cinnamon
nutmeg
1 tbsp. MCT oil (or coconut oil)
As far as protein powders go, Kelly recommends brown rice, pea, spirulina, or 100 percent grass-fed whey protein. Avoid protein powders that contain too many ingredients—simple is best. Always aim for 20g of protein per serving.
And if you'd like to experiment with fructose-free smoothie recipes of your own, here is Kelly's basic formula to follow.
Which one of these healthy smoothie recipes are you going to try first?
XO Team LC