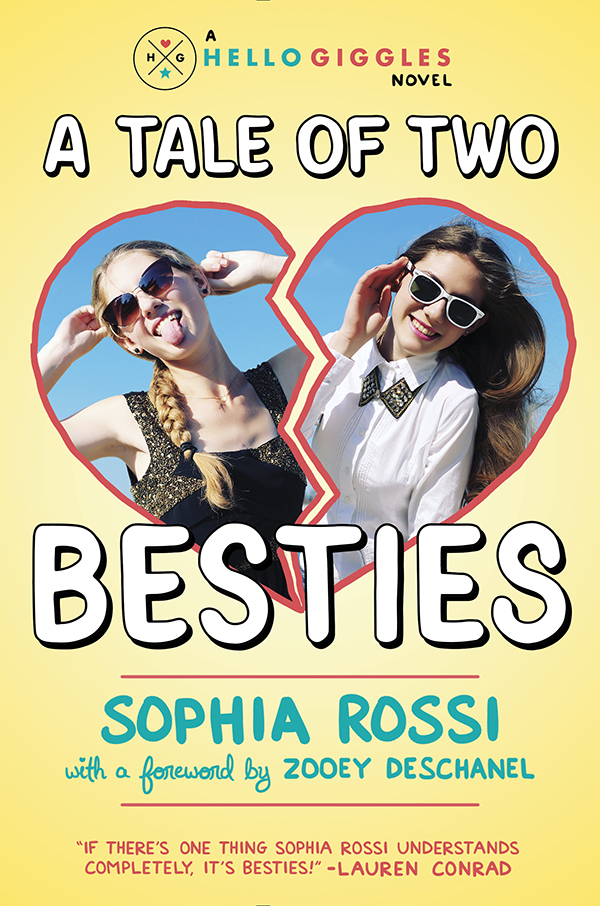 I'm pretty excited to share the next book on my personal reading list with all of you: A Tale of Two Besties by Sophia Rossi. You might know Sophia as the co-founder of Hello Giggles, but she's also one of my dear friends. We met way back when I was filming The Hills and she was a producer on the show. We've been besties ever since!
Here's a description of Sophia's book:
BFFs. Soul twinsies. Whatever you want to call them, Harper and Lily were born to be best friends: A Tale of Two Besties is their story.
Inspired by the HelloGiggles community of likeminded best friends, founded by IRL besties Zooey Deschanel and Sophia Rossi, and set in a hilarious insider's version of Los Angeles, this book will make you giggle and cry…and then tell you how cute you look with runny mascara.
Sounds pretty adorable if you ask me. I am so excited to read it!
To celebrate the release of A Tale of Two Besties, Sophia is going on a 10-city book tour. There will be goody bags for everyone who attends a signing, and my fair trade shop The Little Market partnered with Hello Giggles on an exclusive friendship bracelet design for the bags. So be sure to stop by a signing if you can and pick up a Little Market friendship bracelet while you're there!
Are you going to read A Tale of Two Besties?
XO Lauren
Photos: Hello Giggles/The Little Market