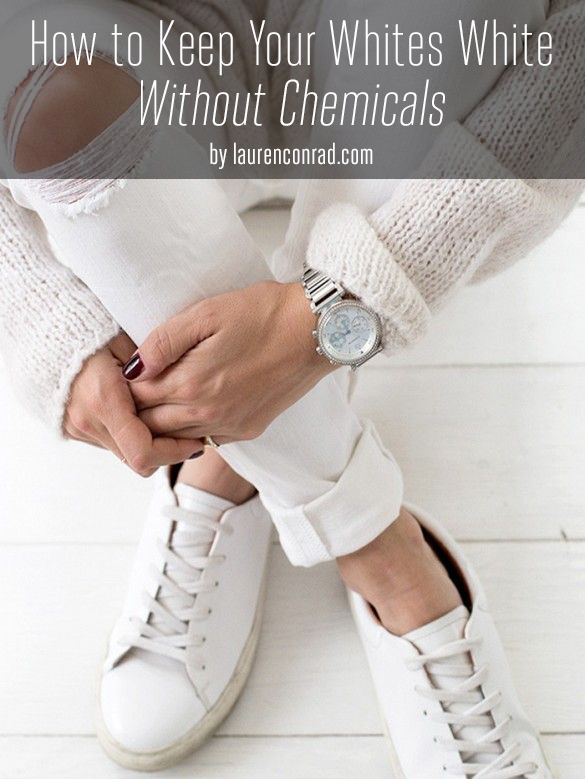 The minute spring and summer hit, the whites in my closet are put on heavy rotation. White jeans, white T-shirts, and crisp, white button-downs are all major staples in my wardrobe this time of year. So the challenge has been keeping my whites looking as fresh as when I first bought them. When you're wearing whites a lot, you don't want them to fade or yellow over time. But I also prefer the eco-friendly solution over harsh chemicals, and try not to keep bleach under my sink (especially with the pups in the house). So, I did a little research, and I was pleased to discover that there are several safe and natural alternatives to bleach. Check them out below…
Wash Your Washer 
If your washing machine is full of rust and mineral deposits, your whites will come out looking duller than before you put them in. So before your next load of laundry, add 1 cup of white vinegar and ½ cup of baking soda to your washer's rinse cycle to ensure a squeaky clean machine.
Whip Up a DIY Laundry Whitener 
When I was researching it, most of the natural whitening solutions that I found all contained hydrogen peroxide and lemon juice (plus water to dilute it). Not only does lemon have lightening properties (which you may recall from this DIY hair highlights post), but it will also make your laundry smell amazing. You can tweak the quantities slightly depending on how big your load of laundry is, but here is what worked for me:
1 ½ cups hydrogen peroxide
¼ cup lemon juice
2 cups water
Soak Up the Sun
If you've ever accidentally hung a print in direct sunlight or left a towel out on your deck, then you know that sunlight has bleaching properties. So instead of tossing your clean clothes in the dryer, try hanging your whites out to dry on a clothesline. Along with keeping your whites bright, skipping the dryer is also the eco-friendly thing to do and will cut down on your electric bill. Plus, nothing beats the smell of freshly laundered sheets swaying in the breeze.
Are you going to give my tips a try?
Let me know below!
XO Lauren