There's truly no sweeter time in a woman's life than her engagement. You've met the one, he's popped the question, and now you're preparing to spend the rest of your lives together. And while it's important to enjoy some blissful time as a newly engaged couple, the tasks of actually planning and preparing for a wedding start quite quickly. There's the dress, the invitations, the bachelorette party, the shower… and don't forget about your registry!
We've found that a lot of couples become easily overwhelmed by the thought of putting together a wedding registry. After all, picking out all of the items you'll need for your new life as a married couple is definitely a daunting task. Which is where today's blog comes in… We believe that the wedding planning process (registry included) should be fun, so today we've partnered with our friends at Zola to put together 5 simple steps to creating the wedding registry of your dreams.
For those of you who aren't familiar, Zola is a wedding registry for the modern couple. It's not only easy to use, but also gives you and your fiancé everything you need to create a registry, customize it, and keep track of your gifts, all in one place. We've fallen in love with Zola, and had to make sure that all of you brides-to-be know all about it. We wish we knew about it a long time ago!
So without further ado, take a look at our 5 simple steps to building your wedding registry, with a little help from Zola…
Customize It…
Before you start adding items to your registry, we recommend creating a custom page that your guests can visit when they want to pick out a gift or two for you. It gives the gifting process a more personal feel, and just adds a little extra love to the registry process. After all, a wedding is one of the most personal events you'll experience, so your registry should feel the same way. Zola gives you the flexibility to create your registry exactly how you want it by giving you the option to use customized notes, collections, and pictures that tell your love story. With Zola, there's also a #LOVE feature so you can see all of the Instagram posts and tweets with your wedding hashtag right inside of the app. Amazing!
Add the Essentials…
Once your registry page is set up, it's time to add the essentials. Because "the essentials" is a bit of a daunting term, Zola makes it easy to put everything you want into your registry without wandering through store after store. They've organized gifts into starter collections to make the process as easy as pie (speaking of pie, don't forget to register for a pie dish!).
You can browse through their "Registry Essentials" collection to cover the basics. If you're the hostess with the mostess, check out their "Easy Entertaining" collection. The "Build Your Bar" collection is perfect for the budding mixologist, and if you love to bake, there's a whole collection just for you.
Go Mobile…
In this day and age, we use our phones for nearly everything. So why not build your wedding registry (and keep track of your gifts) in an app? With Zola, you can register for anything on-the-go with features like the barcode scanner, mobile alerts, and Registry Planner. The app will let you know when you've received a gift, help you keep track of your thank you notes, and also plan out how many gifts you need and let you add them to your registry right from your phone. Pretty genius, if you ask us.
Make It Easy…
This one seems like a no-brainer, but we've found that registries can get pretty complex, which ends up making life harder not only for the bride and groom, but also for the guests. Zola simplifies the entire process for you. You (and your guests) can decide exactly when you want your gifts shipped, and you can also swap your gifts for ones you want before you send them. You can also do group gifting, where multiple friends can contribute to higher priced gifts. So smart.
You can list all of your gifts, experiences (like honeymoon activities) and cash funds all in one place, instead of having different registries spread out across the internet. There's also a bookmarklet, so you can include the 'Add To Zola' button in your bookmarks bar to easily add anything from anywhere online.
Keep Track…
Any bride will tell you that one of the most overwhelming tasks that follows a wedding is writing thank you notes. Not that you don't want to show your gratitude to your guests, but writing upwards of 200 notes is quite the assignment. We recommend writing your thank yous as you receive gifts, and not waiting until the boxes have piled up. Zola has a gift tracker built into the registry, which lets you track each gift you receive along with who gave it to you. It's a lifesaver when it comes to writing out those notes. 
Are you ready for the best part?
All of our lovely readers will receive $25 in Zola credits when you set up your wedding registry on Zola. Click here and sign up now… we promise, this is a total game-changer for all of soon-to-be brides!
Do you have any tips to add to the list? Leave them in the comments!
XO Team LC
This post is proudly sponsored by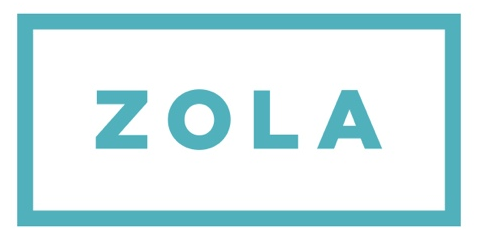 The Fine Print:
New registries must be started (but not necessarily published) between 1/26/15 – 4/26/15.

Credits will be placed into the couple's Zola account 4 weeks after a couple's registry is published live.