Being the working girls we are, Team LC loves nothing more than seeing a reader with some serious office style. It's no easy feat to look professional and on-trend at the same time. But with a touch of texture, a fun top, and a bit of color, it can surely be achieved. Don't believe us? Just take a peek at our newest Chic of the Week's glamorous green look…
Congrats, Kathleen! You're our newest Chic.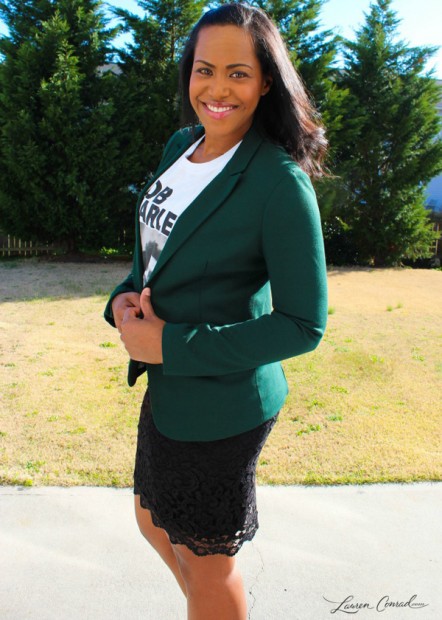 Kathleen, an LC.com reader who was born and raised on the island of Oahu, Hawaii, sure knows how to make a style splash. She dressed up a graphic tee with a forest green blazer and a lovely lace skirt. Here's what Kathleen had to say about this look on her blog House of Polynesia…
I love graphic tees that fit my personality. I am not someone who follows a trendy print or icon. I will always stick to my personal style because I know I won't get sick of it. Instead of wearing a graphic tee with jeans, I thought why not spruce it up with a pencil skirt and a blazer. It allows you to have a professional outfit but with a touch of your personality. Now obviously you may not be able to wear this to every office. But if you can, why not have a little fun with your wardrobe.
Kathleen, you would fit right in at our LC.com offices! Congrats again.
How do you jazz up the more structured pieces in your wardrobe?
Be sure to submit your outfit photos for a chance to be our next Chic of the Week by filling out our submissions form here.
xx
Allison
Team LC
Shop This Story…