Every time I post an Instagram photo, I always see comments asking about what filter I use or how I got the lighting just right. Instagram is no doubt my favorite app. But the truth is that—as any avid Instagrammer knows—it often takes about 10 tries to get the perfect photo. There are also a few trusty tricks I turn to when I go to post an Instagram. And today, I'll be sharing these tips for the first time ever with all of you. I've enlisted my favorite photographer Yoni Goldberg to add his two cents as well, so you can pretty much consider these tips professional.
Without further ado, here are eight tips for taking the perfect Instagram photo…
1. Get the right crop.

One of the best things Yoni has taught me is that Instagrams don't always have to be square. While I prefer most of mine to be squared off, I do think some photos can look much better when they are horizontal or vertical. "There's a reason why the 35mm film camera's negative has a 2×3 aspect ratio," says Yoni. "Landscape (horizontal) images are simply more appealing to the eye." There are many apps out there to help you size a horizontal image appropriately for Instagram while keeping the background clean. Try using Whitagram or Afterlight.
2. Get the right composition.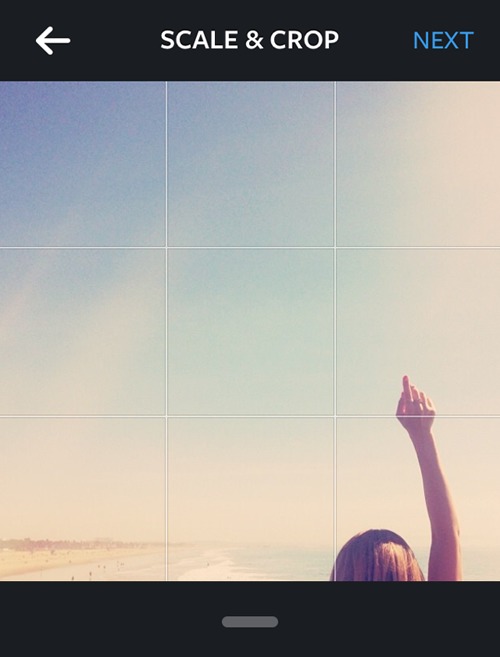 While I do like the way a centered photo feels, I sometimes find that my photos can become more interesting when the subject is not placed right in the middle. To find the right composition, I use the lines on the screen when I open up the camera because they divide the screen into thirds both horizontally and vertically. I learned about the "rule of thirds" in my high school photography class and have used it ever since! The rule of thirds just means that your images will create more energy and interest if you place your subject along these lines or at their intersections. Click here to learn more about how to make your photos fit into the rule of thirds. And give it a try!
3. Get it straight.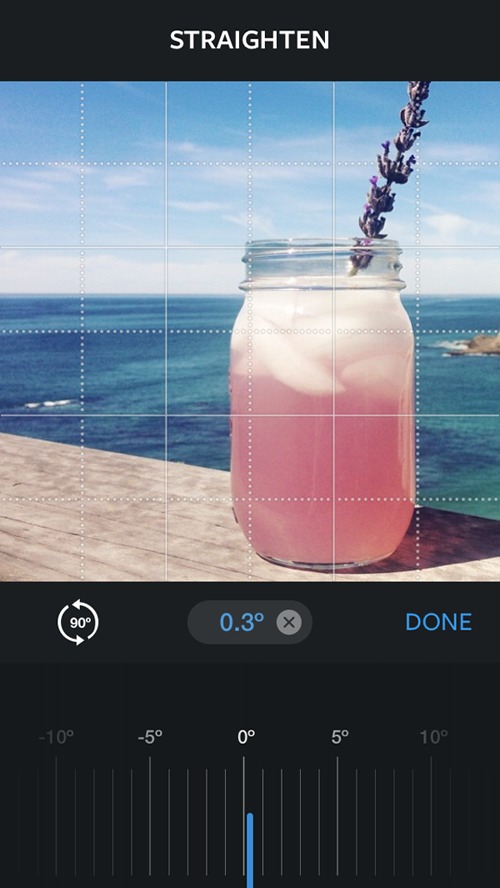 The straightening tool is one of my favorite Instagram features that many people just skip over. But once you discover it, it can become your new best friend. I use the straightening tool when there is a horizon line through the photo, like a sunset, the base of a wall, or a beach. A photo with a straight horizon looks so much better. And once you've straightened a photo yourself, you will begin to take notice when other photos look a little crooked.
4. Get the right lighting.

When it comes to taking a photo, there's nothing more beautiful than natural light. I rarely ever use the flash on my phone, and I find that my photos turn out better when I have soft, natural light. One of my favorite tips for getting the lighting right in a photo is playing around with where your camera is focusing. For example, if you tap on the screen when you're setting up your shot, you will notice that the place you tap your finger is where the lens focuses. Tapping on the darkest area of the photo will add the most light into your lens. Try tapping on different areas until your lighting and focus are just right.
5. Get the right filter.

When Instagram first became popular I think everyone went a little filter crazy. I often take a step back and see if I even need a filter at all. I get asked frequently "What filter is that?" when in fact there isn't a filter. Yoni says that there seems to be a misconception that photographers have filters that they are simply putting over everything. But the not-so-sexy truth is that there isn't a one-button way to make an image beautiful. I have a few editing apps that I like to use on my phone (namely one called Snapseed) but I don't often use filters. You'd be amazed at how far small changes in contrast, temperature, and saturation can go. When I do use an Instagram filter, I like to keep things simple and stick to Nashville or Valencia.
6. Get the right background.

If I'm going to be Instagramming an object, I like to look for simple, neutral backgrounds. I like backgrounds that are a soft color or white because they allow the subject to become the focal point of the image. Think of yourself as an artist painting a still life: You would never paint a busy background if you wanted a bouquet of flowers to stand out. As in most things in life, just keep it simple.
7. Get the right caption.

I am a fan of using a pun or a play on words when thinking up a caption. In general, make your caption count. Some people pay more attention to creating a beautiful photo than writing a meaningful caption, and that's OK. It is a photo-sharing app, after all! If you can't think of something to say about your photo, you can always turn to using fun Emojis (guilty!).
8. Less is more.

Like I said above, just keep it simple. The best Instagrams on my feed usually don't require much thought to figure out what's happening in the photo. These tips may seem like a lot to think about, but when it all comes down to it, just do what you think looks best and what represents your personal style. Don't over think the process too much… it should be fun!
Do you have any tips for taking the perfect photo?

Leave a link to your Instagram account below. I would love to check it out!
XO Lauren
P.S. Be sure to follow Yoni on Instagram by clicking here.