I'm losing my marbles… in the best way possible! I've recently become enamored with all things marble—from cutting boards to balloons to notebooks, I just can't get enough. Pretty marbled surfaces have been popping up everywhere, each with different color combinations and uses. Because I'm so in love with this look, for today's Tuesday Ten I'm rounding up my favorite marbled pieces. Take a peek below and be sure to shop for your favorites…
1. Cutting Pastry Board
I love the look of a clean white and grey marble slab, and this multi-use marble can be used as a cutting board, pastry board or cheese board.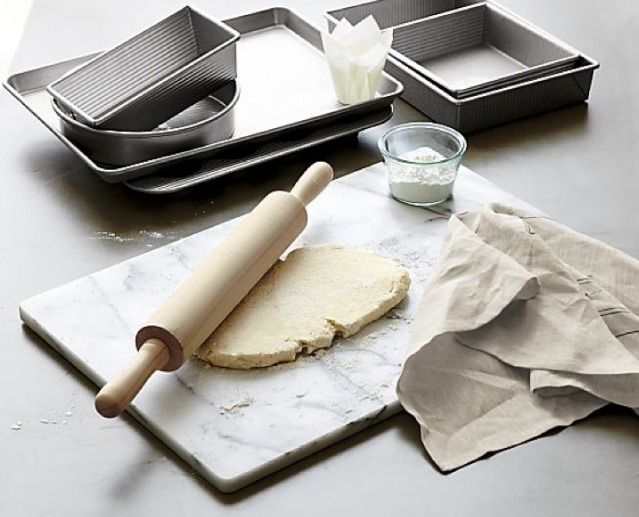 Shop: French Kitchen Pastry Slab from Crate & Barrel, $49.95 

2. Balloons
I wanted a fun way to wake William up on his birthday, so I found these marbled balloons at Party City, used my trusty helium tank to blow them up, and then filled the ceiling above our bed with them. Is there a prettier way to rise and shine?

Shop: Latex Marble Balloons from Party City, $7.99

3. Coasters
How beautiful are these green marbled coasters? They serve double duty as pretty pops of color and coffee table protectors.
Shop: Botticino Marble Coasters from Anthopologie, $40

4. Ribbon
Anyone who knows me knows how much I love wrapping beautiful gifts for family and friends. So, when I saw these marbled silk ribbons, I immediately started dreaming up gorgeous gift-wrapping ideas.
Shop: Marbled Silk Ribbon from NatlieAsIs' Etsy Shop, $15

5. DIY Marbled Clipboard
I recently finished setting up my home office,  and now all that's missing is this pretty DIY marbled clipboard. Looks like it's time to craft!
Source: DIY Marbled Clipboard from Brit + Co
6. Notebook
This beautiful blue and pink marbled notebook will help me stay organized and on-top of my to-do lists. 
Shop: Marbled Hard Cover Notebook from ARMINHO's Etsy Shop, $28.57

7. Rolling Pin
One of my favorite things to do when I have downtime at home is bake. Apple pies are my specialty, so this marble rolling pin will definitely get a lot of use in my kitchen. (Stay tuned for my apple pie recipe. I'll be posting it on the blog soon.) 
Shop: Marble Rolling Pin from Williams-Sonoma, $89.95
8. iPhone Case
Switching out your iPhone case is an easy way to update the look of your tech accessories. I especially love the colors in this marbled case. Gorgeous, right? 
Shop: Marble iPhone Case from Uncovet, $25
9. Mixed Marbled Cake Stand
I've been doing a lot of baking lately (lots of recipes and tutorials coming soon!), and this tiered marbled cake stand will be perfect for displaying all kinds of sweet treats.
Shop: Marbled Pedestals from Anthopologie, $248

10. Wrapping Paper
I already mentioned my love of gift-wrapping, so I had to find a pretty marbled wrapping paper. I love the pinks and peaches in this marbled pattern. It's perfect for wrapping gifts this spring.
Shop: Modern Marble Wrapping Paper from Minted, $15
Are you losing your marbles, too?
Share your favorite marbled pieces with me in the comments.
XO Lauren