The first official day of spring is in just a little over a week, and it sure is beginning to feel like it. The weather is getting warmer every day, which makes outside activities and shorter hemlines very enticing. With spring on the brain, today I've put together five fun ideas to try this month.
Take a peek below and see if you can try all five…
1. Make a St. Patrick's Day Treat.
St. Patrick's day is only a week ago, so start planning a fun treat to make and nibble on. I've had my eye on these Chocolate Mint Icebox Squares for quite some time, but these Lucky Charms Cupcakes are a favorite of mine too.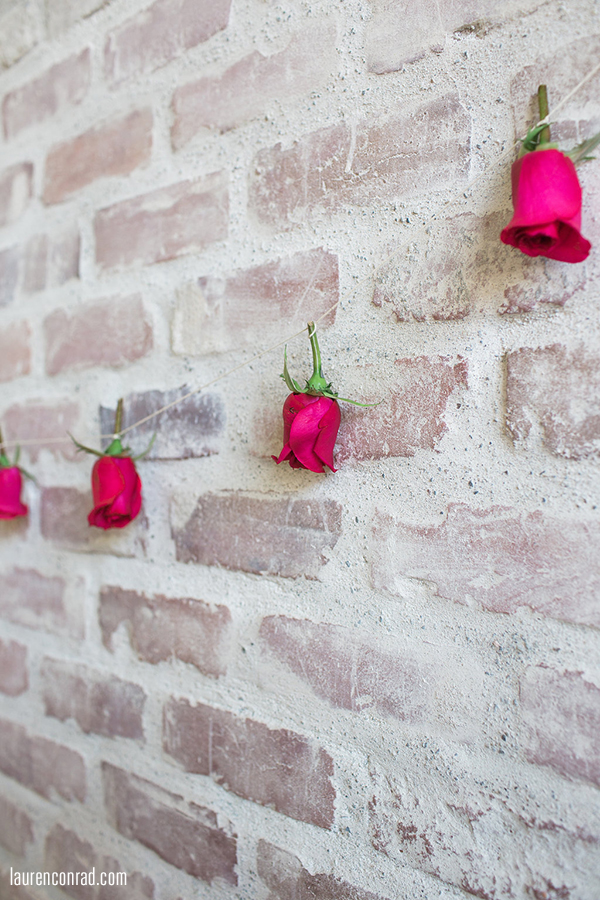 2. DIY a pretty rose garland.
The next time you buy a bouquet of roses, turn it into a pretty DIY décor idea by using a needle and threat to string it into a garland. Click here for a flower garland tutorial.

3. Invest in a classic white dress.
I don't know about you, but when summer finally hits I find myself wearing white 24/7—which makes spring the best time to invest in white staples you will wear for months to come. I suggest finding a white dress to fall in love with this month—and I can guarantee you will be wearing it until August.
4. Hang twinkle lights in your bedroom.
Just because the holidays are long gone doesn't mean the twinkle lights need to be stored in a closet for the rest of the year. Make your room a magical place by hanging twinkle lights above and around your bed. Even Lauren did it a while back…take a peek here!

5. Throw a surprise celebration for someone you love.
March always seems to be a month with a lot of birthdays. At least it is for me. This month I am going to plan a surprise birthday party for a friend. I've never thrown a surprise party before, so there's no time better than the present.
What's on your list of things to try this month?
Share it in the comments below.
xx
Allison
Team LC
Photos: Inside the Kaganoff Kitchen, Barefoot Blonde, Shopbop, Les Femme Sportiv, Design Love Fest