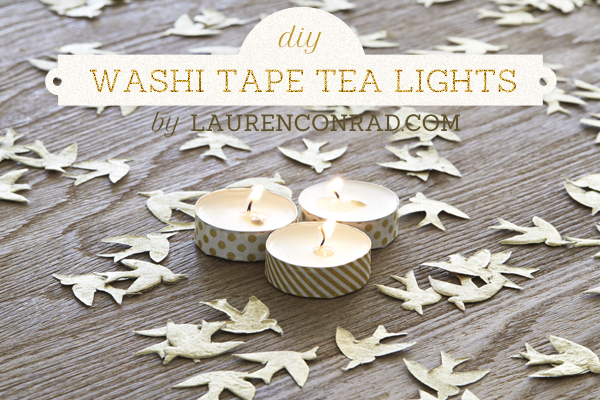 Candlelight is one of the easiest ways to add a warm and festive ambiance to your home. It's a simple touch that can really transform a whole room and give your space a glow. So after seeing Lauren's herb-tied votives idea, I was inspired to share a favorite candle décor idea of my own: washi tape tea lights. If you're not already familiar with washi tape, it's a type of decorative Japanese masking tape made of rice paper. It's sold at most stationary stores, including Paper Source, Poketo, and Wishy Washi. I keep a few rolls of washi tape on hand and end up using it for everything: sealing letters, wrapping presents—you name it. It's easy to peel off, which also makes it ideal for nail art. But wrapping washi tape around tea lights is one of my favorite chic and simple uses.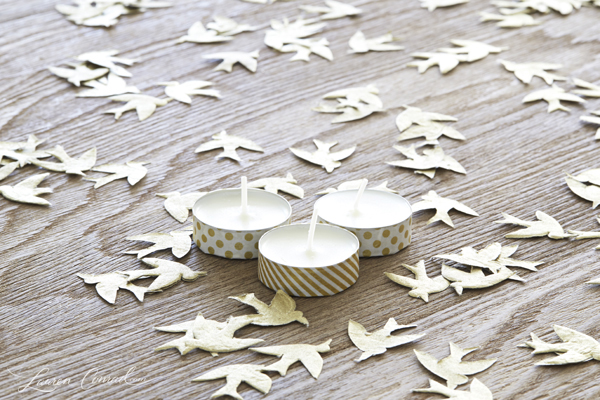 Since washi tape comes in all sorts of adorable prints and patterns, it's easy to use it to customize your tea lights. I chose gold stripes and polka dots, but you can find the washi tape that best matches your own decorating style or holiday tablescape.
Will you give this décor idea a try?
If you have any simple decorating ideas of your own, be sure to share them in the comments!
xo
Ilana
Team LC
P.S. Thank you to BHLDN for the pretty bird confetti we used in this photo shoot!