Hey everyone! Team LC here. We are so excited to share this guest blog with you from LaurenConrad.com member (and crafter-cook extraordinaire) Kristi Murphy who runs KristiMurphy.com. Kristi was cool enough to share her post with us today for all of you to enjoy. There are some really fantastic ideas here and we are thrilled to share it with you guys… Read on, enjoy, and get ready to be very inspired!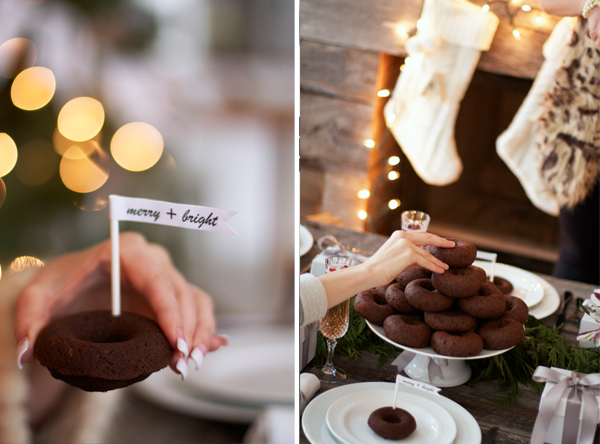 Hi all! It's Kristi again from KristiMurphy.com! With holiday parties in full swing, I decided to get in on the action and throw one of my very own. With so much focus on family during the holidays, I feel like friends can sometimes get overlooked. So, with a little help from my friends, I decided to throw a Donut Decorating Holiday Brunch for my girls! The theme is a little twist on the ever-popular Christmas Cookie Decorating party. Here are all of the details in case you want to throw one of your own…
Setting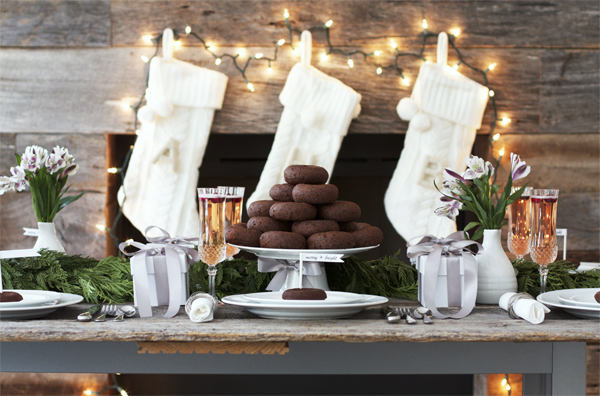 The inspiration behind the look and feel for the party was my new reclaimed wood fireplace. I wanted a setting that was rustic and chic and fun and relaxed. I love the way ragged reclaimed wood looks next to fluffy white fur! So I used lots of fur, wintry white, and wood details.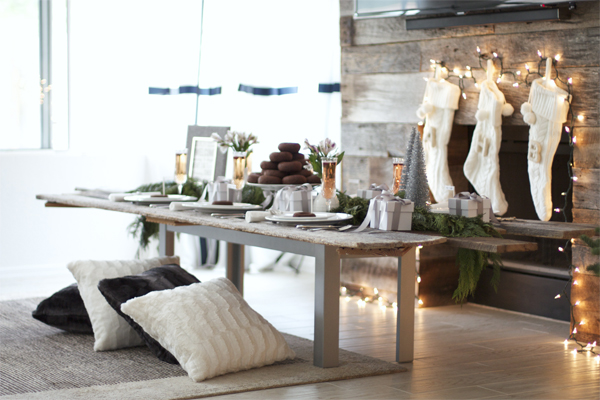 To set the scene I put a low table in front of our fireplace and threw a bunch of pillows down on the floor for seating. This gave the party a very casual vibe and makes it easy to do some donut decorating.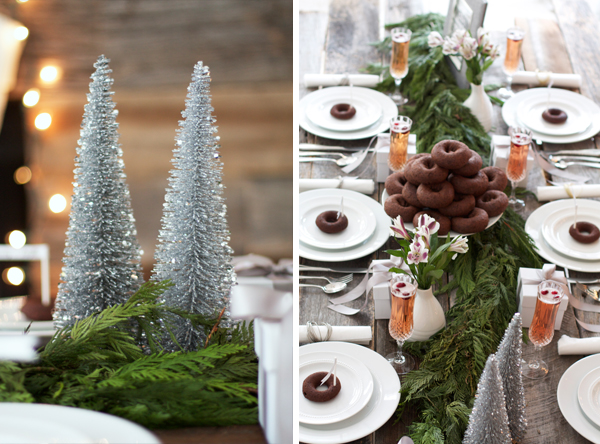 For the table setting, I first draped cedar garland from Trader Joe's down the center. Then I decorated the table with a bunch of fun props I got at Target like the sweater deer, sparkly owl, and festive Christmas trees you see. I used the donuts as the centerpiece. This was for both form and function. The donuts propped up on a cake stand (with a bow, of course!) look fabulous as the center of attention, and it makes for easy grabbing.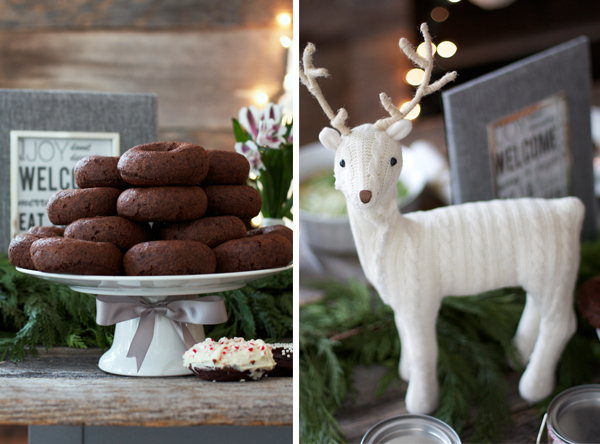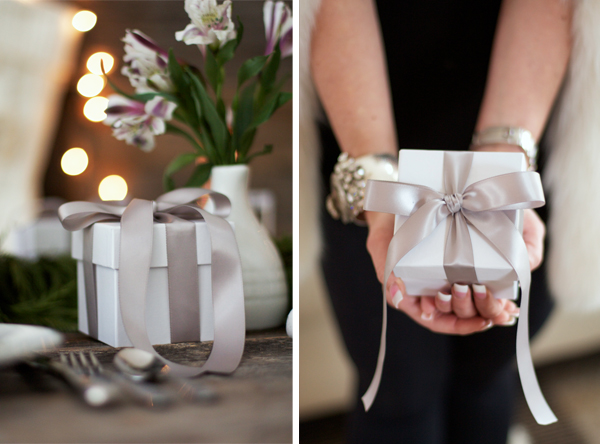 We have a tradition in my family of always having a table gift at Christmas dinner. It's awesome because there is always a let down after all of the gifts have been opened.  With the table gift, you get to open one more present! To continue this tradition, I put a table gift next to each place setting.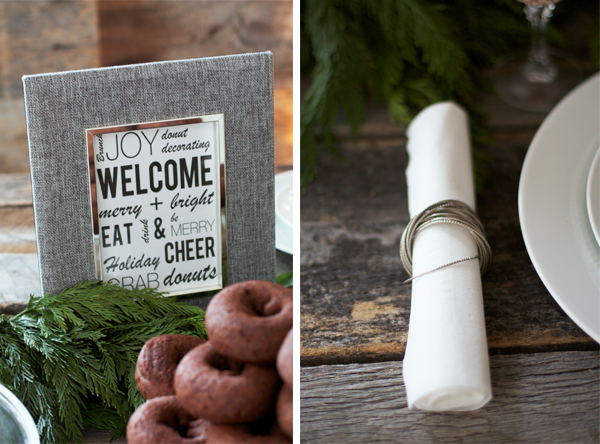 Finally, I adorned the table with my printable welcome sign and printable food labels.
Food & Drink
The recipes here were created by Coreen Murphy, over at The Food Click, who shows us how to simplify and style healthy living! Here are the details from Coreen…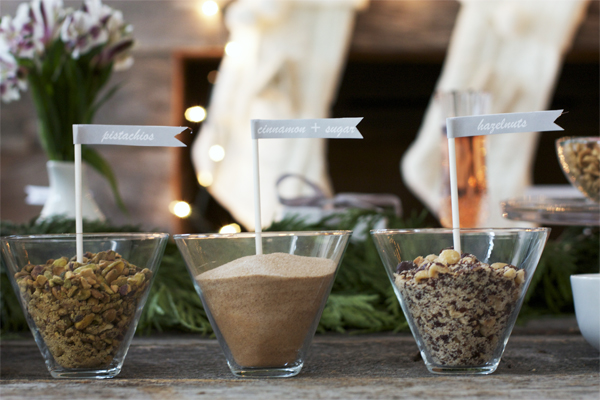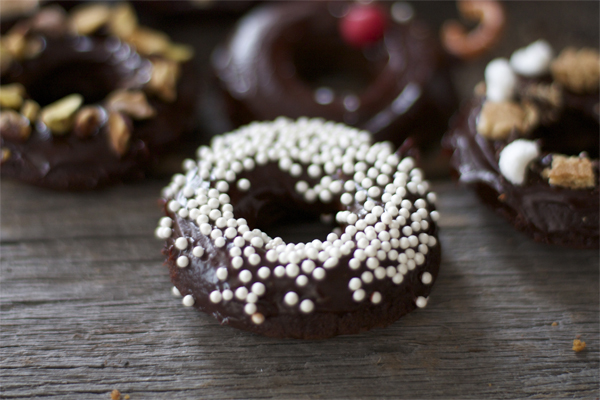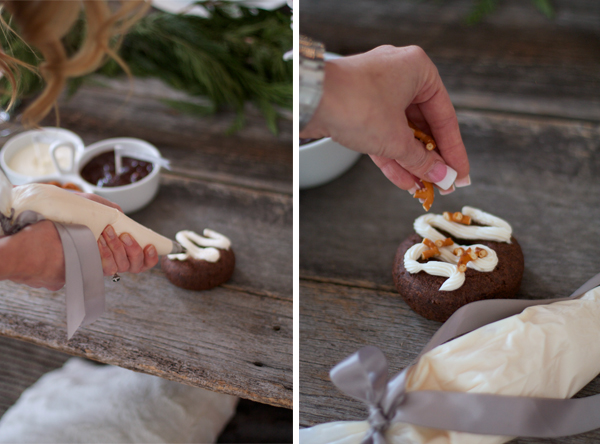 Chocolate, Nutmeg Cake Donuts
As expected, we wanted to make sure the center of attention was properly focused on the donuts. We went with a seasonal Chocolate Nutmeg Cake Donut flavor, not only because it tastes like all kinds of Christmas, but it also fits into our rustic chic look perfectly. The creative topping designs included pearl snowflakes, s'mores, white chocolate peppermint, dark Chocolate with hazelnuts and an assortment of cake frostings. Recipe here: Chocolate Nutmeg Cake Donuts (v & gf)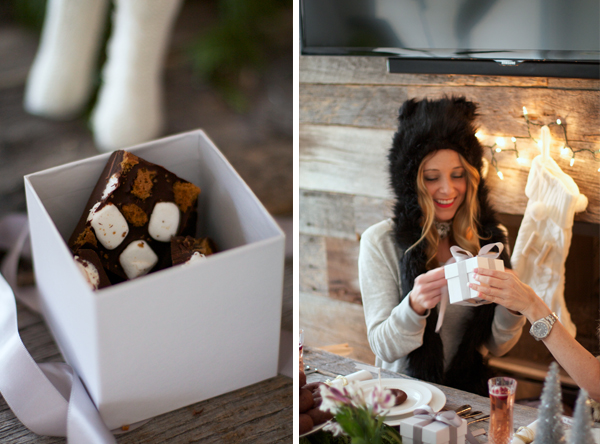 Holiday S'mores Bark
With a rustic fireplace setting, Holiday S'mores Bark was a must! Holiday bark is always a crowd-pleaser and can be a great hostess gift or takeaway for guests. We used the s'mores bark here as our table gifts so no one left empty handed. Recipe here: Holiday S'mores Bark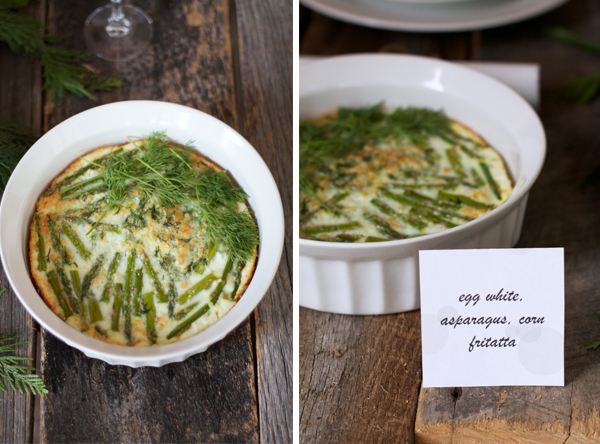 Asparagus, Corn and Goat Cheese Fritatta
Baked eggs make for a healthy dish that can be easily passed around at a party. And with egg whites, asparagus and dill, who knew an egg dish could look so festive?! Recipe here: Asparagus, Corn and Goat Cheese Frittata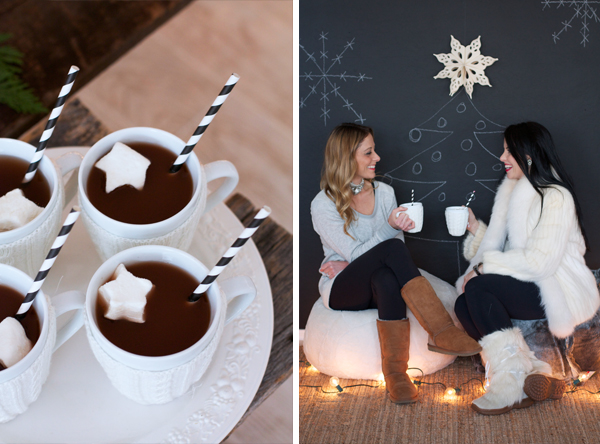 Mexican Dark Hot Chocolate
It never feels right to sit next to a fireplace or Christmas tree without hot cocoa… Try a healthier twist to your traditional milk and cocoa mix with this Mexican Dark Hot Chocolate!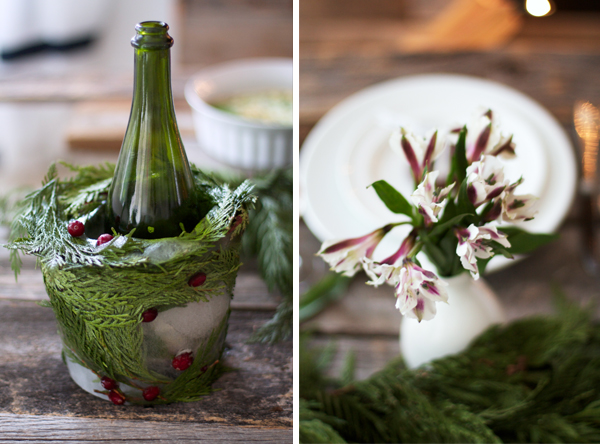 Champagne Ice Bucket
I am obsessed with this festive champagne ice bucket. This just might be my new go-to for every party. To make one, add water, cranberries and rosemary or garland pieces to a bucket. In the center of the bucket add a cylinder shaped storage container. Fill the cylinder with heavy objects or coins to weigh it down. Freeze overnight. Remove the bucket and cylinder piece. You may need to run it under warm water for a sec if you cannot remove.
Outfits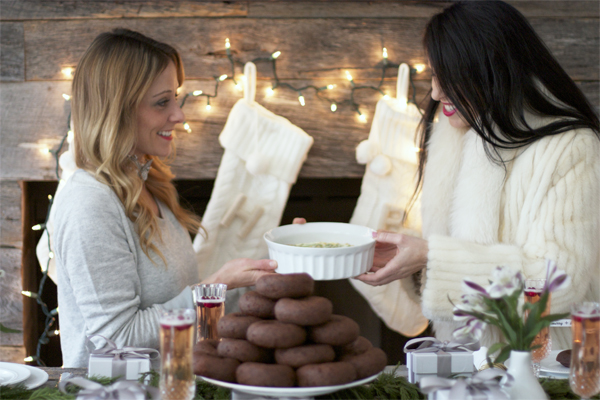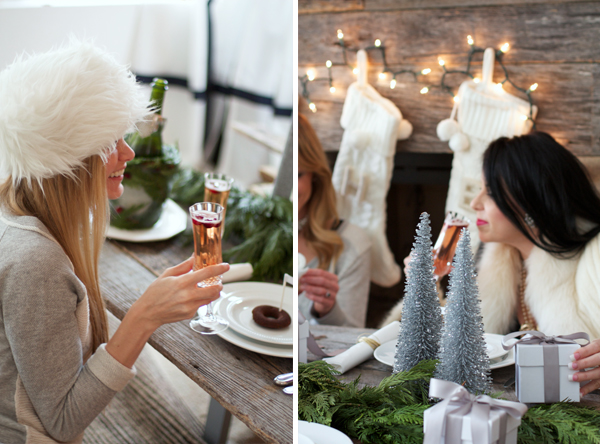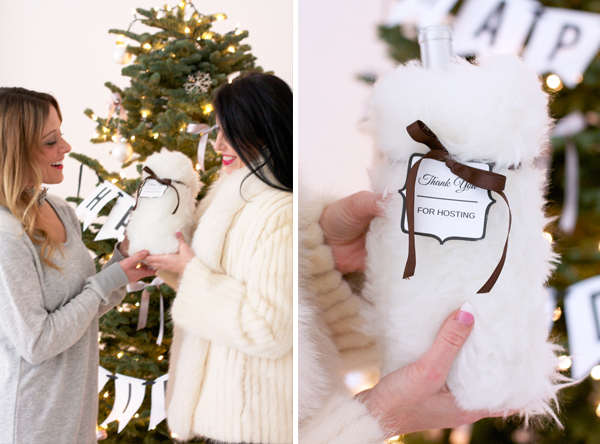 Guests arrived with hostess gifts in hand and fur jackets on their backs. Our friend Angela made my DIY faux fur wine bag to gift me a bottle of wine. I was so excited! The girls wore comfy and cozy clothes, like wintry leggings, sweatshirts, and slippers. We also had lots of fun wearing faux fur hats, which are totally on trend right now. I wore the DIY faux fur hat I made from an IKEA throw. I just love IKEA hacks, don't you?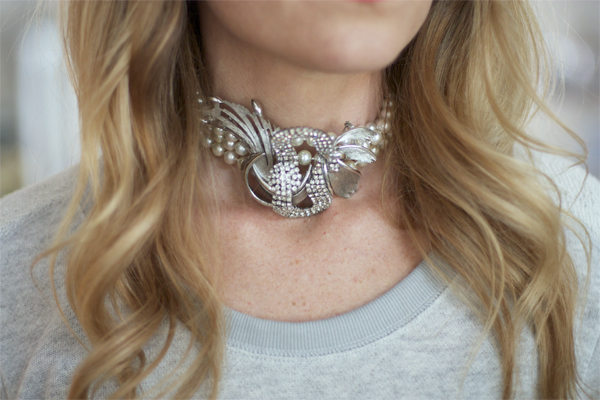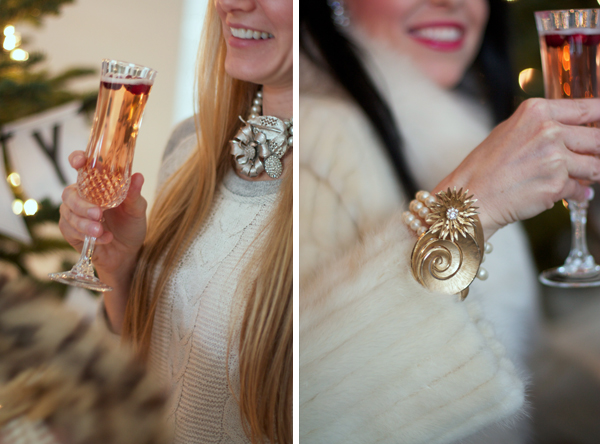 Jewelry
AnnataCouture decked us out in some holiday perfect jewelry. I'm obsessed with her pieces. They make such a fabulous statement! The designer scours the world for vintage pieces that she puts together to create one-of-a-kind and totally fabulous necklaces, bracelets, cuffs, etc.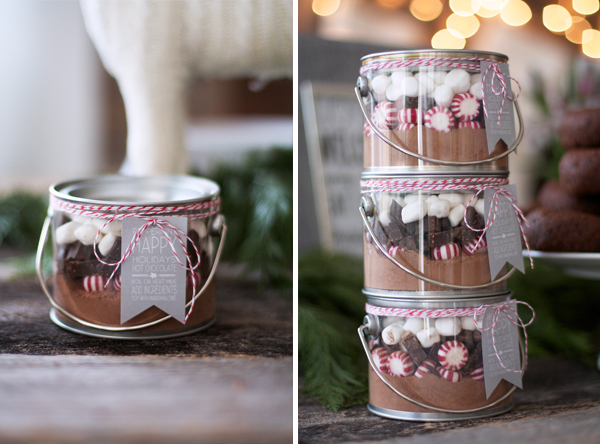 Favors
We sent guests home with DIY Peppermint Hot Cocoa Mix adorned with printable tags that have the ingredients and directions right on them. But before everyone left, we went into the sitting room and got a little artsy on my chalkboard wall…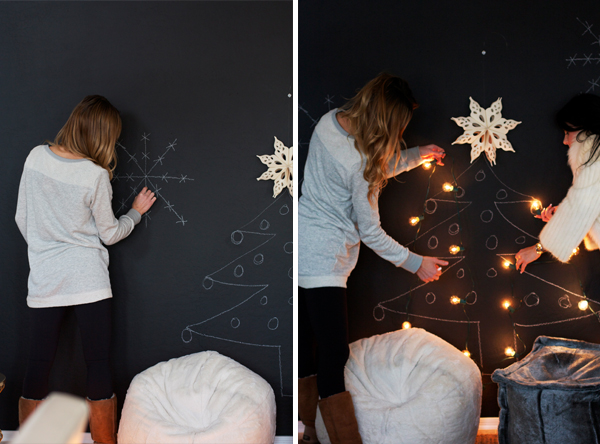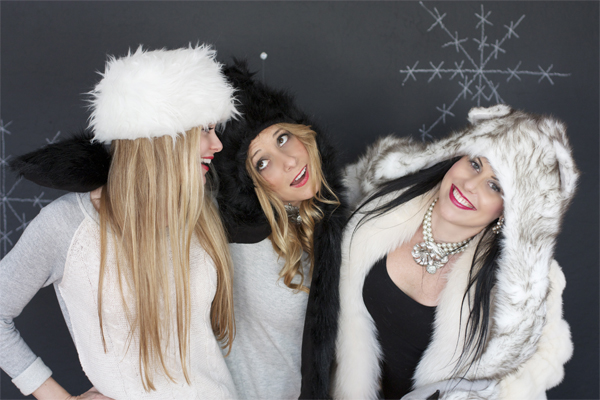 I hope you enjoyed reading about this Donut Decorating Party!
What parties are you throwing this holiday season?
Have a happy holiday!
xoxo
Kristi