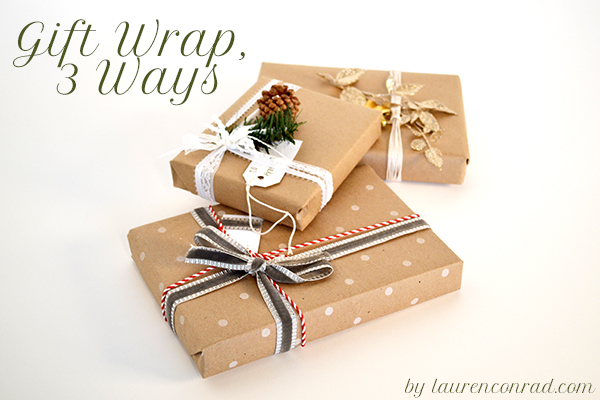 Here at LaurenConrad.com, we love the little things that make the holidays brighter, like decorating with simple herb-tied votives or making a DIY 'joy' mantelpiece. All year long, we love sharing our favorite ideas for cooking, entertaining, and decorating. But that now it's finally December, it's time to get in the giving spirit. So, today we're sharing how we spread holiday cheer with a few ideas for making even the most basic package look polished and pretty…
DIY Gift Wrap Ideas
Like Lauren shared in last year's How To: Wrap a Perfect Present, butcher paper and baker's twine is one of the best gift wrap combinations. The simple look creates a clean slate for personalizing each gift how you see fit. Plus, you can usually use materials you have on hand and you won't end up dipping into your holiday shopping budget for pricey gift wrap.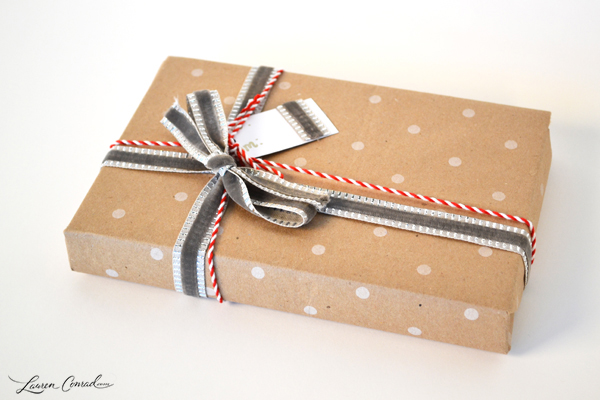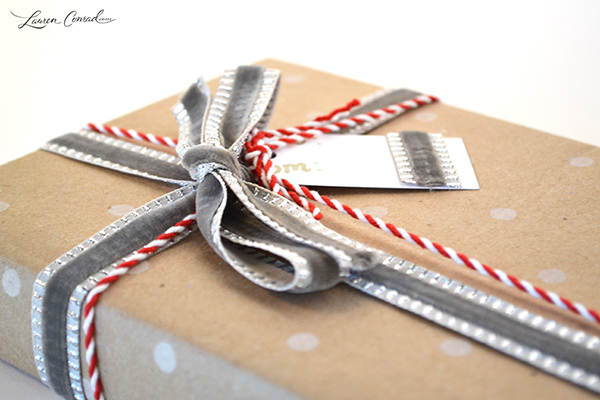 Mix materials.
Something as simple as layering ribbons of different textures can add a lot to your package. We paired together a pretty velvet ribbon with red and white baker's twine, but you can use any materials you like. Think of what unlikely accents might fit your package such as yarn, lace, or fabric…then, experiment. Tip: Add a strip of your ribbon to the gift tag for a perfectly polished package.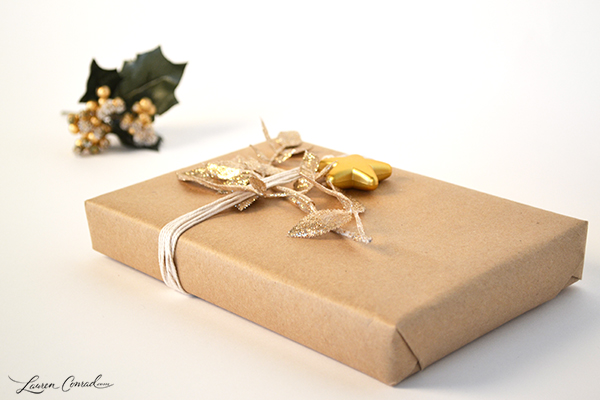 Use leftover décor.
After a good holiday craft session (complete with garlands and tree trimmings) there are sure to be some festive, glittery scraps of material leftover. Put these pieces to use in your gift-wrap. Think faux floral stems, ornaments, tinsel, bells and more. We chose to add this glittery leaf arrangement (in the floral aisle of the craft store) and a cute star-shaped ornament, all tied up with twine.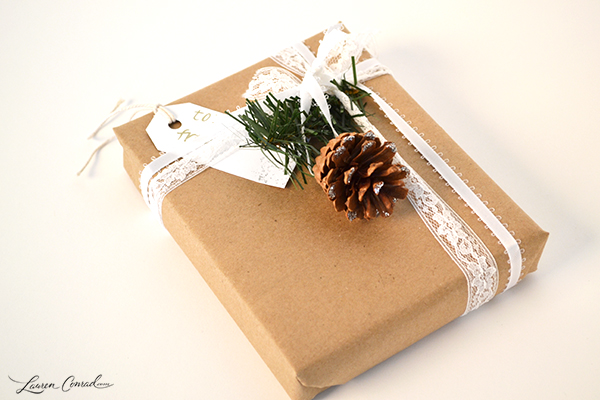 Find inspiration in your back yard.

Whether you brave the great outdoors in search of a twig and pinecone or reuse decorative pieces from holiday crafts, adding a natural element to a present creates an inspired look. This gift is wrapped with basic white ribbon, leftover lace, a dash of glitter on the tag, and a small pine sprig. We added silver to the pinecone with a glitter pen and attached a ribbon to the top with a dab of hot glue…it can double as gift wrap and an ornament!
How will you make your gift wrap stand out this year?
And which of these inspired ideas do you like best?
XO Team LC
Photos: LaurenConrad.com