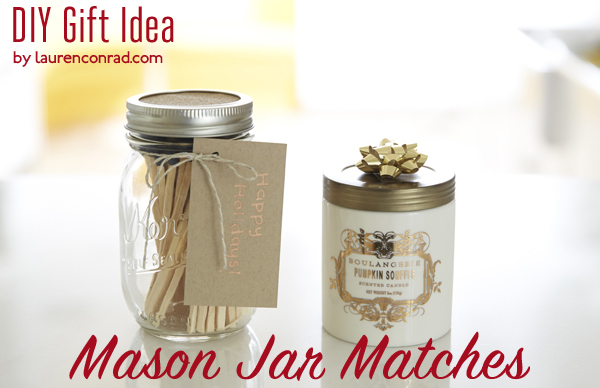 The minute December hits, it feels like every weekend is filled with dinner parties, family get-togethers, and other holiday festivities. To avoid running out every time I need another hostess gift, I keep an assortment of my favorite scented candles on hand. You can't go wrong giving a scented candle as a gift. Quality candles are the type of gift most people don't splurge on for themselves, but love having in their home. And they're the perfect token of appreciation for your host or hostess.
Since I give candles all the time, I wanted to come up with a creative way to personalize this go-to gift idea. Pairing a candle with these DIY Mason jar matches turns a simple present into a sweet gift set. And since there is sandpaper on the lid of the Mason jar, it makes lighting candles even more convenient. My bestie Hannah introduced me to this great DIY idea, and today I want to share it with all of you. Without further ado, here's how to make your own Mason jar matches…
What You Will Need
Mason jar
sandpaper
strike-anywhere fireplace matches
hot glue gun
candle (this one is a new favorite of mine)
gift tag
twine
Instructions
Take the lid off of your Mason jar, and use it to trace a circle on the sheet of sandpaper.
Using your hot glue gun, stick the sandpaper to the lid of the Mason jar.
Fill your jar with the fireplace matches (or other long strike-anywhere matches), trimming down to size if necessary. Tip: It is important that the matches you use are labeled strike anywhere, or they will not ignite on the sandpaper.
Tie a gift tag onto the Mason jar. Pair with your favorite holiday candle for a sweet, seasonal gift.
Since I like to stock up on hostess gifts to take me through the holiday season, I made a batch of several of these at one time. They're adorable, inexpensive, and didn't take much time at all.
What do you think? Are you going to give this DIY a try?
If you have a great DIY gift idea of your own, be sure to share it in the comments below!
Happy crafting!
XO Lauren
P.S. I highly recommend the pumpkin soufflé scented candle in the photo above. It's incredible!
Photo: Yoni Goldberg for LaurenConrad.com