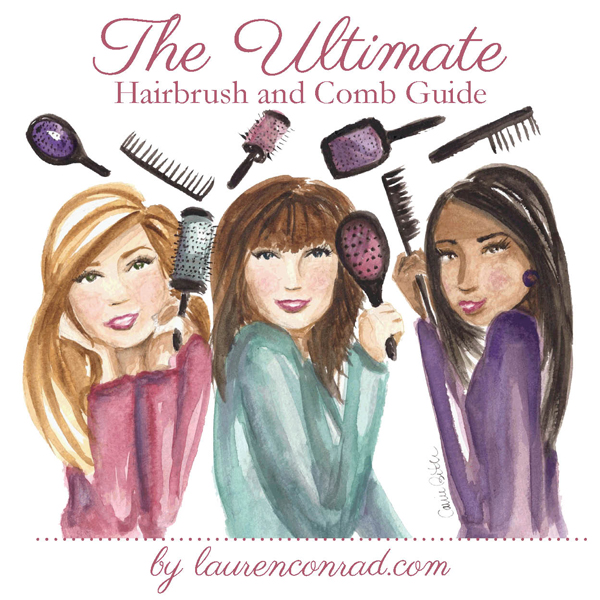 Getting feedback from all of our lovely readers is one of my favorite parts of being a LaurenConrad.com editor. I recently received a message to my LaurenConrad.com inbox requesting a post on hairbrushes. (A special shout-out to Laurie Trejo for the inspo!) So, I did a little research (including consulting Lauren Conrad Beauty, of course) and decided to put together a comprehensive guide to brushes and combs. The list is long, but that's not to say that you need every single one of these brushes in your beauty arsenal.
With makeup brushes, having at least 10 basic brushes is recommended. But with hairbrushes, you probably only need 2 or 3 brushes tops. Choosing the right hairbrush has everything to do with your hair type and how you style your tresses on a regular basis. The curly haired girl is not going to need a paddle brush most of the time, and if you have a pixie cut there's no need for a detangling comb.
So, without further ado, here are the brush basics…
Paddle Brush: A multitasking brush great for detangling hair, ensuring that you get a smooth blowout, or adding volume to your crown.
Shop It: Aveda Wooden Paddle Brush
Bristled Round Brush: Another multitasking hairbrush great for adding waves, bounce, and shine to your blowout.
Shop It: Fekkai Large Round Brush
Ceramic or Metal Round Brush: A vented brush, which allows air to pass through and dry your strands from every angle. The metal barrel heats up under your hairdryer, acting as a curling iron during your blowout.
Shop It: Drybar Full Pint Medium Round Brush
Boar- and Nylon- Bristled Metal Brush: A versatile brush that has a use on both curly and straight hair. Boar bristles are great for creating tension, so if you have curly hair, this is a good brush for a blowout. If you have thick straight hair, this is also a good brush for adding curl.
Shop It: Warren-Tricomi Salon Small Thermal Metal Brush
Small Boar-Bristled Brush:  A small brush ideal for taming unruly bangs.
Shop It: Mason Pearson Pocket Boar Bristle Bush
Boar-Bristled Oval-Cushioned Brush: A multitasking brush good for just about anything other than a blowout. This brush can be used to smooth down flyaways, brush out curls, and softly tease the hair.
Shop It: Mason Pearson 'Handy Bristle' Hair Brush
Detangling Hairbrush or Comb: A hair tool designed to detangle wet hair.
Shop It: Tangle Teezer Detangling Hair Brush
Parting or "Rat Tail" Comb: A basic styling comb with a tapered handle. The head can be used for finishing and styling, while the pointed handle can be used for parting or separating sections of hair with ease.
Shop It: Mason Pearson 'Tail' Comb
For more details on how to use these brushes and combs along with some great hair and makeup tutorials, be sure to pick up a copy of Lauren Conrad Beauty!
What brushes do you use on your hair?
Have any other blog requests?
Leave them in the comments below.
xo Ilana
Team LC
Shop This Story…