This story is from our partner, Tone It Up! We'll be sharing Tone It Up's best fitness and healthy living tips in the beginning of every month. In today's post, Karena and Katrina will be showing you how to get lean, toned thighs in three easy steps…
Hey everyone, it's Katrina and Karena here from Tone It Up! Today we are sharing a quick and easy workout routine to lift, define and sculpt your thighs and booty. You're going to love how amazing you feel after three rounds of these multi-functioning, do-anywhere moves. Focusing on large muscle groups like your legs and thighs increases your metabolism, burns fat and helps your body tone up fast. Add these moves to your workouts all week for gorgeous thighs and a toned tush!
Watch the video below and follow along with me below as I take you through our best three moves for toned thighs…
3 Moves for Lean, Toned Legs
Now that you've watched the video, you can pin the images below to your Pinterest and try them out later…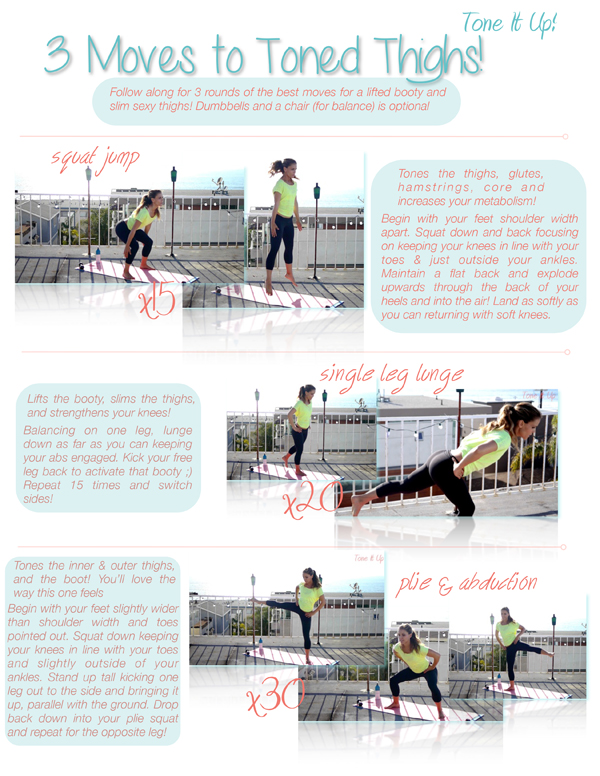 We hope these moves help you all to stay fit during the fall, throughout the holidays, and beyond!
What tips do you have for keeping your legs lean and toned?
Share them below—we'd love to hear your two cents!
XO Team LC
P.S. If you liked this post, be sure to check out last month's Tone It Up guest blog featuring their Slim Waist, Strong Arms workout.