Hi ladies, Cara here from Big Girls, Small Kitchen. Thanksgiving is my favorite holiday because it revolves around two of my favorite things: family and food. My sisters, my mom, and I spend all day in the kitchen, making everything from little appetizer bites to our favorite desserts—apple pie and pumpkin bread pudding. In between, there's turkey, gravy, and tons of vegetable sides. Yum.
It's hard for me to choose an absolute favorite dish from the spread, but I have to say, I really love a lot of the vegetables on the table. They are so seasonal, harvest-y, and light  (at least compared to the other traditional Thanksgiving dishes!). Today, I thought I'd share with you three of my favorite veggie-centric Thanksgiving sides. Whether you're a vegetarian or not, I hope you'll find room in your belly for a few of these delicious bites…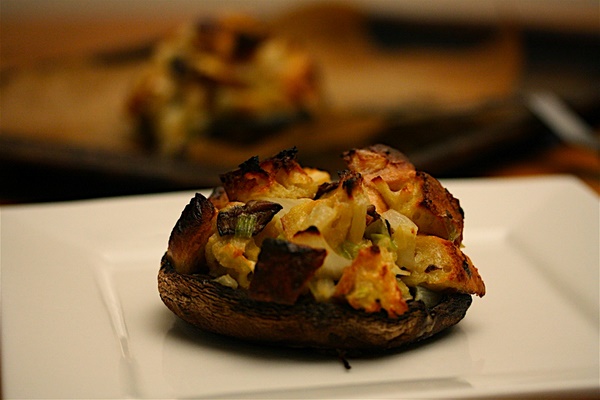 1. Portobello Mushrooms with Parmesan Herb Stuffing
Tasty mushroom caps serve as the vessel for a savory, Parmesan-spiked stuffing that's completely irresistible. If you have vegetarians at your Thanksgiving table, you'll find these to be a satisfying main. You can also pick up white mushrooms or mini Portobellos, stuff them, and serve them as appetizers. You can see the original recipe here.
Ingredients

2 large portobello mushroom caps
1 tablespoon butter
1 medium onion, diced
2 cloves garlic, minced
½ teaspoon fresh thyme (1/4 teaspoon dried)
2 tablespoons white wine
2 tablespoons chopped parsley
2 cups cubed crusty bread
1 egg, beaten
¼ cup finely grated Parmesan
Instructions
Preheat the oven to 400°F. Arrange the portobello caps on a work surface. Remove the stems, and brush broth sides of each cap with olive oil. Season with salt and pepper.
Bake the mushrooms (belly-side up) on a parchment-lined baking sheet for 15 minutes, until browned and tender.
In the meantime, warm the butter in a small Dutch oven or saucepan over medium-low heat. Add the onion and sauté until translucent, about 5 minutes. Add the garlic and the thyme, and cook for another 2 minutes. Deglaze the pan with the wine and simmer for another few minutes, until the alcohol burns off. Set aside to cool.
Arrange the bread on a baking sheet and toast in the oven for 3 minutes, until crusty but not browned. Add the bread to the cooled onion mixture along with the parsley, egg, Parmesan, and ¼ teaspoon salt, and toss to combine.
Remove the mushrooms from the oven. Divide the stuffing between the two caps, pressing down to create a compact mound. Turn the oven temperature down to 350°F, and return the pan to the oven. Bake for 15-20 minutes, until the top of the stuffing is crusty and brown.
Sprinkle with additional Parmesan and parsley and serve.

Serves 2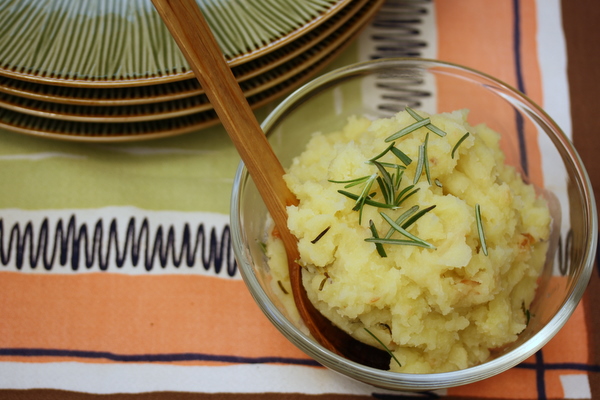 2. Olive Oil and Roasted Garlic Mashed Potatoes
Mashed potatoes free of cream and butter? I know, it sounds crazy. But it can be done, and with really good results too. I'll confess—these are not light on olive oil. But still, they're a nice change of pace from the ultra heavy potato dishes that normally grace the Thanksgiving buffet. And if you love the sweet, rich taste of roasted garlic, you won't be able to resist a big spoonful of these guys. If you're a vegan, these are for you! You can see the original recipe here.
Ingredients

1 head garlic, cloves separated and peeled (you should have at least 15 cloves)
about 1/3 cup olive oil
4 small sprigs rosemary, plus more for garnish
24 ounces Yukon gold or other not-too-starchy potatoes (about 3 large), peeled
1 1/2 teaspoons salt
Freshly ground black pepper
Instructions
Preheat the oven to 350°F. Put the garlic and the rosemary sprigs into a small ovenproof dish with a cover, or wrap foil on top. Pour olive oil to cover–this will vary depending on the size of your dish–cover, and bake for about 25 minutes, until the oil is sizzling and the garlic is soft but only just barely golden. Remove from the oven.
Meanwhile, cut the potatoes into large chunks. Place them in a medium saucepan and fill with water to cover the potatoes by 1-2 inches. Add 1/2 teaspoon salt and bring to a boil over medium-high heat, then reduce the heat and simmer, uncovered, until the potatoes are very tender, about 20 minutes after the water has boiled.
Scoop the potatoes, leaving the water in the pot, and put them into a large mixing bowl. Mash them with a wooden spoon, adding about 1/4 cup of water from the saucepan as you go. Add 10 cloves of the roasted garlic, the rosemary leaves (remove the stems), the remaining 1 teaspoon salt, and 4 tablespoons of the oil. Taste the potatoes and add more oil or garlic cloves if you'd like
Otherwise, transfer to a serving bowl, garnish with fresh rosemary and a grind of black pepper, and serve.

Serves 4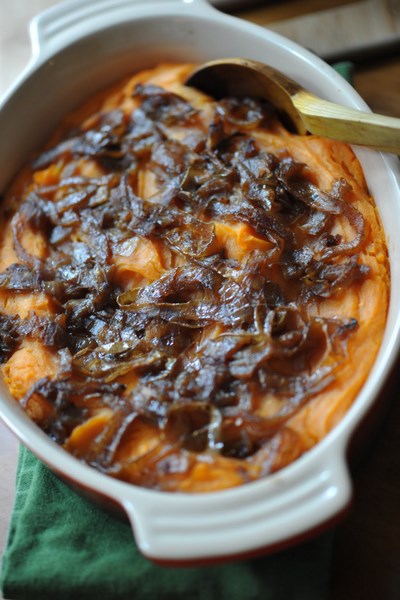 3. Semi-Sweet Potato Mash with Spiced Caramelized Onions
Sweet potatoes mingle with potatoes in this hearty and delicious side dish that doesn't break the calorie bank. Sweet potatoes have tons of healthy minerals, making them a great Thanksgiving plate filler. Plus, rather than being loaded with marshmallows and butter, this tasty dish is topped with spiced caramelized onions, which they taste so good I think of them as vegetable candy. You can see the original recipe here.
Ingredients
Olive oil
4 – 5 (depending on how prone you are to nibbling) large sweet Vidalia onions, thinly sliced
2 ½ pounds Yukon potatoes, halved
3 pounds sweet potatoes, peeled
½ teaspoon cumin
¼ teaspoon paprika
¼ teaspoon chili powder
¼ teaspoon cayenne pepper
salt

Instructions
Sauté the onions with the olive oil over a medium flame, stirring very infrequently. Once they soften and begin to brown on each side, return the flame to low and allow to slowly caramelize. During this time, it is important to make sure the onions are spread as evenly as possible across the pan. Every few minutes, scrape the bottom and redistribute the onions so each gains the maximum amount of surface area. The intention is to slowly crisp the onions by enticing the remaining liquids to sweat out, and for the onions to sweeten by condensing in their own juices. If you stir too often, the onions will turn to mush. This process takes about 40 minutes.
When the onions are dark brown, but not burnt, add the paprika, cumin, and season with salt and cayenne to taste. Set aside.
In the meantime, heat a large pot of water to boil. Peel the sweet potatoes and cut them in similar sized chunks to the regular potatoes so they take the same amount of time to cook. Boil the potatoes and drain. Let the regular potatoes sit until cool enough to touch. The skins should come off fairly easily by hand.
When it comes to the mashing, use whatever technique your small kitchen affords you. I find that the best texture is achieved by using a food mill, potato masher, or ricer. Mash til quite smooth.
Once you've mashed your potato mixture, season to taste, adding the chili powder and a dash of cayenne to give it some heat.
Scrape into a large baking or casserole dish and spread the onions evenly over the top of the pan.

Serves 8
Which one of these flavorful veggie dishes will be making an appearance on your Thanksgiving table?
XO,
Cara
Big Girls, Small Kitchen