With the month of December beginning in just a few days, fall is almost officially over. Here at Team LC, we like to make the most of each and every season—especially when it comes to food. This fall, pumpkin was one of our favorite ingredients to cook with, and we never ran out of pumpkin recipes to try. So, when we recently spotted this recipe for brown butter pumpkin cupcakes in the recipe gallery, we knew we had to feature it here on the site before fall ended. Without further ado, here is LaurenConrad.com member Mallory Turner's recipe for Brown Butter Pumpkin Cupcakes:
Brown Butter Pumpkin Cupcakes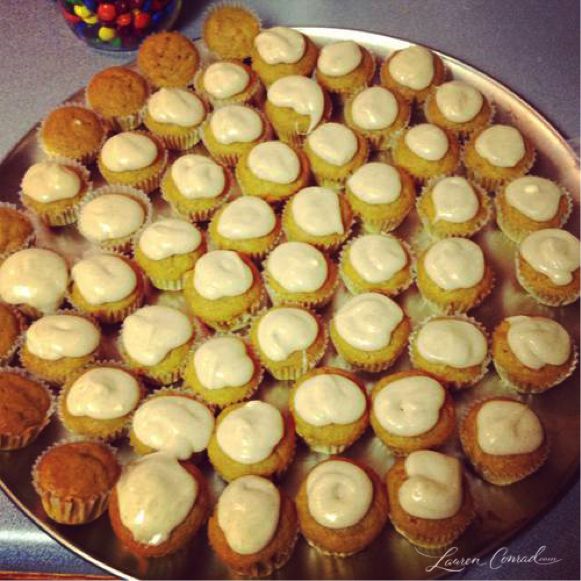 Mallory said…
This is a family favorite recipe, especially around Thanksgiving! 
Ingredients
3/4 cup (1 1/2 sticks) unsalted butter, room temperature
1 2/3 cups all-purpose flour
2 teaspoons salt
1/2 teaspoon ground cinnamon
1/4 teaspoon nutmeg
1/8 teaspoon ground cloves
1 cup canned pumpkin puree (not pie filling – just pumpkin!)
1 cup packed light brown sugar
1/2 cup granulated sugar
2 large eggs
Instructions
Preheat over to 325 degrees
Line muffin tins with paper liners
In a saucepan, melt butter over medium-low heat and continue to cook, swirling occasionally until butter turns golden brown.
Skim foam from top and remove from heat.
Pour into a bowl to stop the cooking process, leaving any burned sediment behind. Allow to cool.
Whisk together flour, baking powder, salt, cinnamon, nutmeg, and cloves.
In another bowl, whisk together pumping puree, both sugars, eggs, and brown-butter mixture.
Add the flour mixture, and whisk until just combined.
Divide batter evenly among lined cups, filling each 3/4 full
Bake, rotating tins halfway through, until a cake tester inserted in centers comes out clean—about 20 minutes
Transfer to wire racks to cool completely before removing cupcakes.
Frost with cinnamon cream cheese frosting
Makes 15 cupcakes
Thanks for letting us share your recipe, Mallory!
Do you have any fall recipes you loved making this season?
What is your favorite holiday recipe?
Stay tuned for more winter eats and treats to come!
XO Team LC