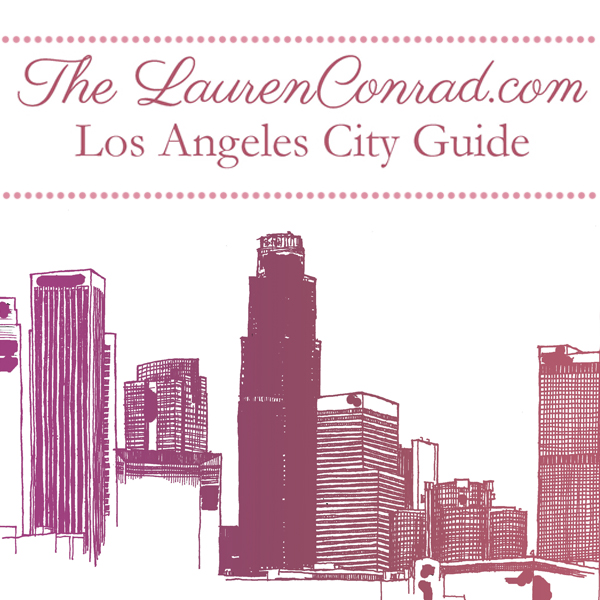 Whether we're Laguna Beach babies, L.A. natives, or transplants from other cities across the U.S., all of us ladies of Team LC have one thing in common: we're California girls at heart. So today we wanted to share a few of our favorite spots in the city we now call home, Los Angeles. We've received so many requests for an L.A. city guide, so we decided to put our heads together and share a few of our favorite L.A. eateries, places to shop, nail salons, and more.
Read on for the Team LC guide to L.A., and then stay tuned for a very special giveaway to go along with it…
1. Shopping
2. Farmer's Markets
Santa Monica and Hollywood Farmers Markets. It's no secret that Team LC loves the farmers market. These two farmers markets each span several city blocks and are the spots where L.A.'s professional chefs get their farm fresh produce each week. Enjoy the atmosphere and wide selection of prepared food, perfect for a picnic lunch. You might just see baby goat at the goat cheese stand!
3. Flea Markets
Rose Bowl Flea Market. Taking place the second Sunday of each month, the Rose Bowl flea is the place to find vintage furniture, antiques, and fashion. Get there bright and early (like 7am early) for the best finds, and be prepared to spend several hours sorting through the booths.
Melrose Trading Post. The Melrose Trading Post happens every Sunday and is like a mini version of the Rose Bowl Flea—not as wide of a selection, but much more manageable and generally less expensive.
4. Upscale Dining
5. Casual Dining
6. Creative Cocktails

7. The Great Outdoors
Zuma Beach. Whether you're a seasoned surfer or an expert sunbather, this gorgeous Malibu beach is pretty magical. And you don't have to go during the summertime to enjoy it—the California sunset against the sparkling water is a crowd pleaser all year long.
Escondido Canyon Waterfall Hike. North of Santa Monica on the way to Malibu, you can pull off of PCH and begin a trek deep into Escondido Canyon. It's a 4.2 mile round-trip, so you will get your day's worth of cardio. To see the waterfall at its most active, go in the springtime.
Griffith Park. With its iconic view of the Hollywood sign and the gorgeous Griffith Observatory on the premises, this hiking mainstay is an L.A. landmark.
8. Tourist Attractions
9. Coffee Shop
10. Spas and Salons
Gloss Nail Spa. This unassuming spot is in a strip mall in Silver Lake, but don't judge a book by its cover. Gloss Nail Spa is known for amazing nail art and for being the place that many of L.A.'s top bloggers go for a flawless manicure.
Burke Williams. If you want the quintessential California destination for a luxurious and relaxing spa day, look no further. The massages and scrubs are to-die-for, and you can take advantage of their steam rooms, saunas, and whirlpool tubs while you're there.
Touch of Faith Aesthetics. Educated in the art of face mapping and other holistic treatments, the aestheticians at Touch of Faith are skincare geniuses. If you're in L.A., it's the place to go for flawless skin. Which brings us to our giveaway…
How would you like to win a complementary consultation and customized facial at Touch of Faith Aesthetics in Los Angeles?
One lucky LaurenConrad.com winner will receive this prize valued at $200 to Lauren's favorite skincare spa!
We have our winner!
 A big congrats to Melissa McCarthy… Enjoy!
Follow. If you haven't already, follow us on Twitter at @laurenconradcom. If you don't have a Twitter, follow LaurenConrad.com on bloglovin' by clicking here.
Comment. Leave one comment below with your Twitter handle or bloglovin' username along with a list of your three favorite hotspots in your city. We can't wait to read them! (Please note that you must be a registered LaurenConrad.com member to enter—click here to join now!)
Wait. We will announce the winner on Tuesday, November 26th!
Good luck!
And we hope you all enjoyed reading the LaurenConrad.com L.A. City Guide. Whether you're a local or planning to visit soon, be sure to bookmark this page and pull it up the next time you're looking for one of our trusty recommendations.
XO Team LC
terms & conditions
you must be a registered laurenconrad.com member to enter. sign up by clicking here.
this contest is open to us residents only. sorry international fans!
winners will be contacted via private message to their laurenconrad.com inbox and by email. if our team does not hear back within 24 hours, a new winner will be selected in your place.
limit one comment per entry. multiple comment entries will not be considered.
this giveaway ends at midnight pst on tuesday, november 26th.



•this is not a sponsored giveaway in any way.