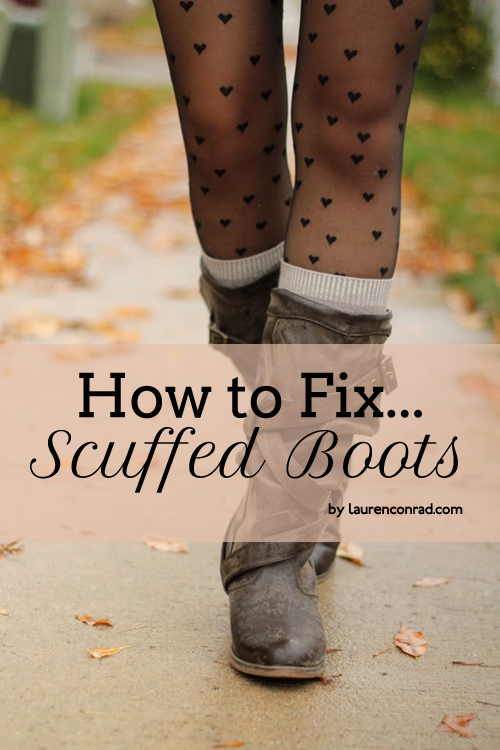 There's nothing worse than looking down to find one of those dreaded scuff marks on a brand new pair of boots. Scuffs on your shoes can make even the chicest outfit look shabby, and there's little that can be done to prevent them. Luckily, fixing scuffmarks is a lot easier than you think. Now, don't get me wrong; I'm always looking for an excuse to go shoe shopping! But a few scuffs are no reason to toss out a perfectly good pair of boots. So the next time your shoes get scratched, keep these tricks in your back pocket (or pinned to your Pinterest board).
Here are a few tried and true methods for fixing scuffed shoes…
Vaseline. A little dab of petroleum jelly works wonders on patent leather. Use Vaseline and a cloth to gently polish out pesky scuffmarks. Then wipe clean with a damp cloth and…voila!
Nail polish remover. Non-acetone nail polish remover is another great scuff solution for patent leather shoes. Using a cotton ball dipped in remover, buff out the scuff in small, circular motions. Follow with Vaseline or leather polish to restore your shoe's sheen. Be sure to test on a discreet area first to make sure that the nail polish remover is compatible with your shoe's material.
Eraser. For vinyl shoes, use a rubber eraser to gently rub away lightly scuffed areas. Erasers can also be used on suede to sweep off dirt trapped in the fabric. First, use a soft-bristle brush to sweep off dirt particles and then gently rub off marks with the eraser.
Permanent marker. On black shoes, it is easy to disguise scuffmarks with a black permanent marker. Color in the scuffmark, let it dry, and then reapply as needed.
Are you going to try these scuff removal tricks?
Let me know if you have any tricks of your own!
xo Ilana
P.S. If your old boots just can't be saved, check out our fall Boot Style Guide for a few new pairs to put on your shopping list.