While I do find myself shopping for gifts like crazy when the holidays come around, I must admit that I craft a good portion of the gifts I give. Handmade gifts are more personal, and the fact that they cannot be found in a store makes them special. With this in mind, I rounded up some of my favorite DIY gift ideas that I have made in the past and a few I would love to make this year too. Some of them you might recognize, since I've shared them on the site before. Others are new favorites…
1. gingerbread cookies in a jar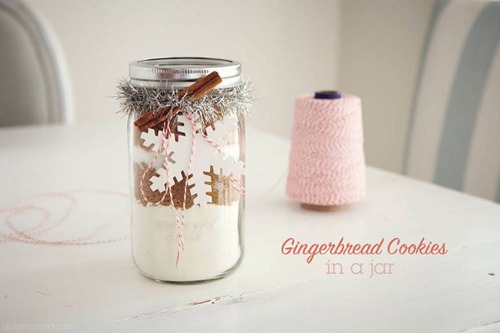 Last year, I shared this DIY for gingerbread cookies in a jar and I was pleased with how many of you loved the idea. This is an easy gift to put together and it's great to give to your boss or coworkers. Click below for the tutorial.
2. chalkboard serving dish
When giving this chalkboard serving dish as a gift, I would recommend including a package of chalk, an assortment of cheeses and breads, and wrapping it all up in cellophane. Anyone who loves to host dinner parties will appreciate this DIY gift. Click below for the tutorial.
3. gold mugs
We showed you how to make these pretty mugs for a Mother's Day gift here on the site, but there's no reason you can't customize them for the holidays. Instead of polka dots, draw snowflakes or stars! And don't forget personalize them for the person receiving them. Click below for the tutorial.
4. wine charms
Anyone receiving these DIY wine charms will appreciate how they allow their guests to keep track of their cocktails at the next soiree they host. Click below for the tutorial.
5. crystal cake stand
This one is perfect for your friend who loves to bake. I like finding pretty plates and candle sticks at the flea market because they have a unique touch. And if your friend has eclectic taste, go ahead and mismatch your pieces. Click below for the tutorial.
6. knitted scarf
You might remember me telling you that I've taken up knitting as my new hobby (it really is fun, I promise). Well, there's no better way to give someone a heart-warming gift than to knit them a scarf by hand. You can even make one for the man in your life by choosing the colors of his favorite sports team. Click below to read more.
7. personalized pillow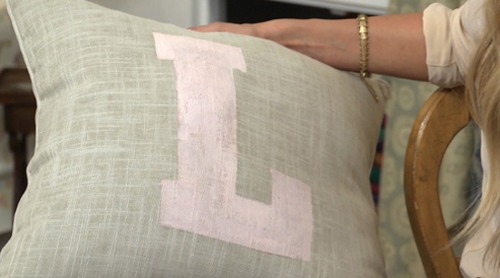 I made these personalized pillows on my Crafty Creations series, and they are fun gifts to give. Simply personalize it with an initial or a symbol, and choose colors that would fit the person's home décor. Click below for the tutorial.
8. sugar & olive oil scrub
When it comes to gifts for family members or friends who love all things beauty, I like concocting homemade body scrubs. Not only do they feel fresher than store bought scrubs, you are also able to customize the scent so that it fits the person receiving the gift. This sugar and olive oil scrub is simple and sweet. Click below for the tutorial.
Are you planning on making any DIY gifts this year? If so, what will you make?
List off your ideas in the comments below. Happy crafting!
XO Lauren