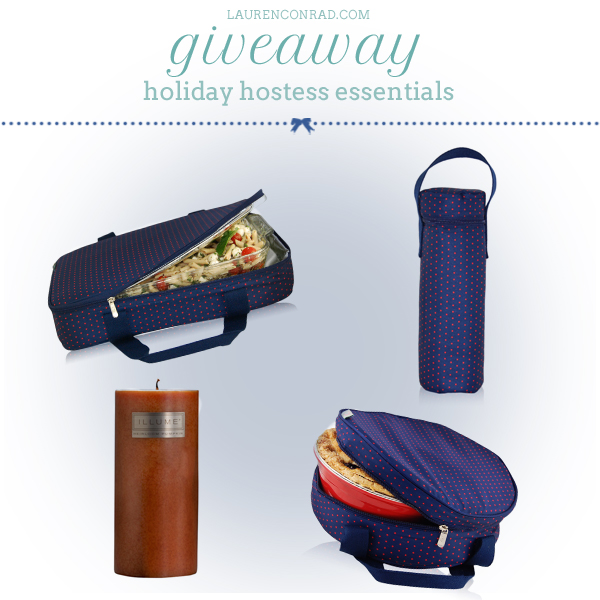 If you read our Letter from Lauren earlier this week, you know that this month is all about getting cozy. Our favorite way to be cozy with friends during the holiday months is throwing intimate dinner parties, complete with delicious dishes, soft candlelight and a touch of music (stay tuned for our party planning guide for more tips). One element a dinner party attendee might underestimate is the ability to get their dishes to the gathering in one piece. And there's no better way to ensure that your beautiful pies and casseroles make it to your host's dinner table safely than with cute and eco-friendly carriers, like the XO(eco) ones we're giving away today!
One lucky LaurenConrad.com member will win the Pie Carrier, Casserole Carrier and Wine tote from Lauren's XO(eco) collection with Blue Avocado, as well as an Illume Heirloom Pumpkin Pillar Candle. Do you want to be the star of your next dinner party?
Update: We have our winner! Congrats to Alexandra!
Follow. If you haven't already, follow us on Twitter at @laurenconradcom. If you don't have a Twitter, follow LaurenConrad.com on bloglovin' by clicking here.
Comment. Leave one comment below with your Twitter handle (or bloglovin' username) along with a request telling us what blog posts you would like to see here on the site this fall. Please note that you must be a registered LaurenConrad.com member to enter—click here to join now!
Wait. We will announce the winner on Wednesday, November 13th!
Good luck!
XO Team LC
P.S. You can shop Lauren's entire XO(eco) collection by BlueAvocado here!
terms & conditions
•you must be a registered laurenconrad.com member to enter. sign up by clicking here.
•this contest is open to us residents only. sorry international fans!
•winners will be contacted via private message to their laurenconrad.com inbox and by email. if our team does not hear back within 24 hours, a new winner will be selected in your place.
•limit one comment per entry. multiple comment entries will not be considered.
•this giveaway ends at midnight pst on Wednesday, November 13th.
•this is not a sponsored giveaway in any way.