Hi everyone! It's Lauren, Valorie, and Jackie from the Skinny-Fat Girl Diary. The three of us are so excited for Thanksgiving! How excited? Cornucopia, turkey-shaped salt-and-pepper shakers excited! However, our delight is tempered by the undue stress the holidays bring. Like cooking an entire Thanksgiving feast for your vegan in-laws, spending time with your family, who loves to ask, "So when are you going to get a real job?" or accidently pressing auto clean on the oven with the turkey inside. Umm… it can get stressful, pretty quickly. This year instead of stressing ourselves into oblivion, we are mentally preparing ourselves with some at-home pampering…
Avocado and Olive Oil Hair Mask
To us, nothing is more relaxing than a trip to the hair salon for highlights and a blowout. So, we thought, why only feel that way every 3 months? Why not spend give time on hair care ourselves? With this in mind, we concocted a simple hair mask to refresh our locks. It's also the perfect time to give your hair TLC because colder weather magnifies the damage done by curling irons and blow dryers. Let's be honest, when you are having a good hair day, you can achieve anything. So if a dire turkey situation does arise, your fabulous hair will get you through it… Or at least look great during a meltdown.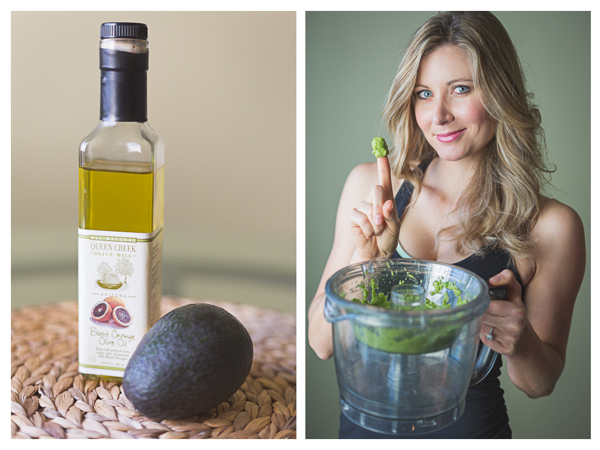 Here's what you need:   
1 ripe avocado (for moisture and growth)
1/4 cup blood orange olive oil (smells fantastic; will help strengthen and moisturize)

Instructions:
Simply blend the avocado and olive oil in a blender till smooth. A lot of hair masks suggest coating your whole mane, but we found that it made our tresses too oily. Just apply the mask to the lower half of your hair. Then wrap it a towel and wait 30 minutes. Rinse, shampoo, condition and you are ready to go.
Avocado and Oats Face Mask
About those pesky, stress-induced breakouts… The changes in weather combined with the anxiety of the holidays can really cause havoc on our almost perfect skin. We wanted a face mask that would not only soothe our skin, but also calm our spirit. We couldn't find exactly what we were looking for in stores, so we made our own mask with all natural ingredients. Organic, simple and chemical free, this mask brightens, moisturizes and tightens your skin! It's your perfect companion against the winter weather… the in-laws… and those late night cocktails.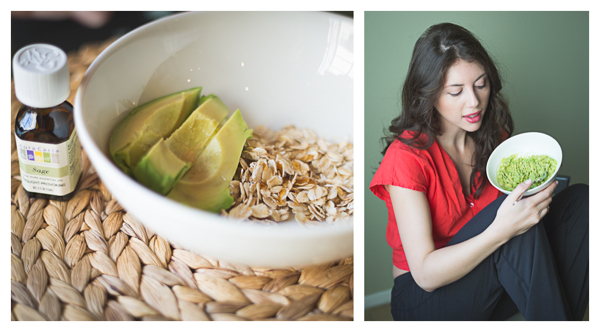 Here's what you need:
1 ripe avocado (moisturizes; helps boost skin's immunity to stress)
1/3 cup of raw oats (soothes skin)
1 tbsp. honey (anti-bacterial properties draw out impurities; excellent for treating eczema)
1 tbsp. of sage oil (rich in vitamin A and calcium; increases cell regeneration; calming properties)
1 tbsp. vitamin E oil (promotes skin regeneration; anti-oxidants and anti-aging properties)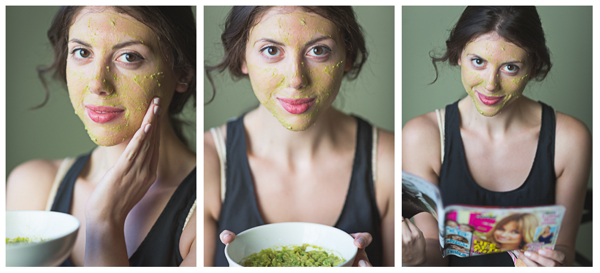 Instructions:
Mix all ingredients together and then paint on your face. Wear the mask for about 10 minutes… and while you may feel like a temporary green monster, we promise you'll notice the difference.
Rose Oil Facial Mist
There is usually a lot of traveling involved, which can be a good and bad thing. While in theory, the on-the-go sentiment is fun and chic. But the reality of plane travel, commuter rails and long car rides is anything but glamorous. That's why we created a rejuvenating spray to help relieve stress and keep your skin happy and healthy. It's the perfect pick-me-up after a six-hour plane ride or whenever you want to rehydrate your skin in the harsh winter months.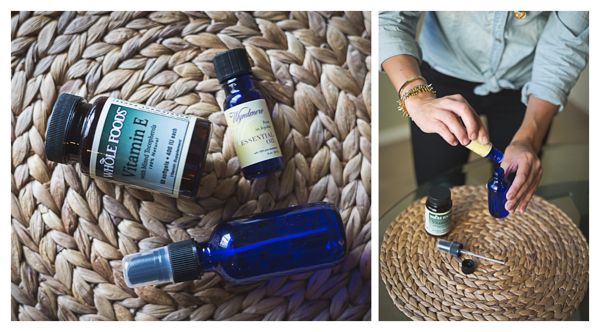 Here's what you need:  
1 tbsp. rose essential oil (smells ah-maze-ing and gives a nice dewy glow; tightens skin and reduces dark circles under eyes; aids in emotional strength when essential oil is placed directly on pulse)
1 tbsp. vitamin E oil (promotes healing; is a strong antioxidant; balances skin tone; and aids in anti-aging)
1/4 cup purified water
3 oz. spray bottle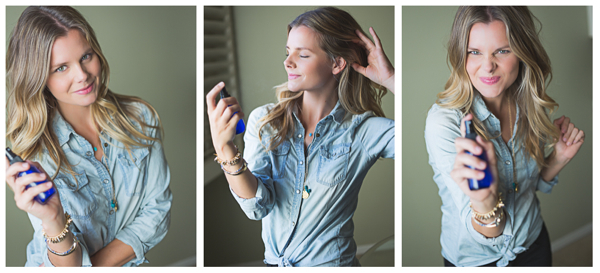 Instructions:
Using a travel-sized spray bottle, mix all the ingredients in and shake it up. Keep the spritzer in your purse for easy access to this rejuvenating mist. For best results, use in the am before applying your moisturizer.
Hopefully these DIY treatments keep you stress-free this holiday season!
Which one are you going to try first?
Let us know in the comments below.