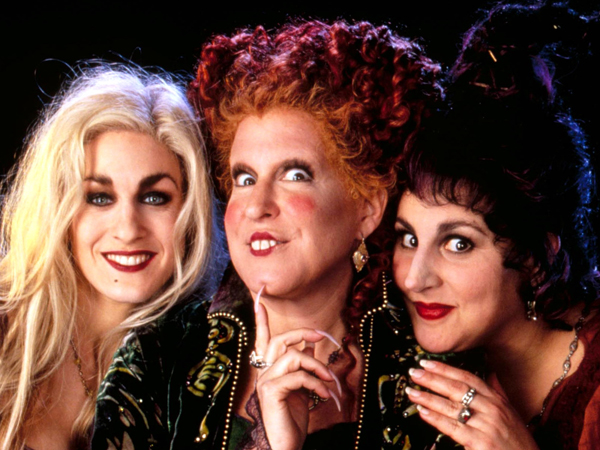 Halloween is just days away now, and you probably have your costume all set and ready to go. The candy is out, the witches brew is brewing, and the spooky decorations have been hung with care. But, in my opinion, no Halloween is complete if there isn't a scary movie to go along with it. Watching some of my favorite Halloween films always makes this holiday a little more fun. Whether they're scary, funny, or just wonderfully nostalgic, these flicks are sure to get you in the spirit this Halloween…
1. Hocus Pocus
Hands-down my favorite Halloween movie of all time.
2. Double, Double, Toil and Trouble
So many memories from this movie! Here's a clip of the best parts below. Adorable.
3. It's the Great Pumpkin, Charlie Brown
A perfect feel-good Halloween flick to watch with your family.
4. Halloween
When it comes to classic Halloween horror films, this one is the mother of them all. Don't watch it if you don't like scary movies!
5. The Birds
This Alfred Hitchcock classic is great for an old fashioned scare…and, you can find out how to recreate the costume by clicking here!
6. Scream
A little cheesy, but definitely a good mystery movie.
7. The Craft
Two words: '90s witches.
8. Friday the 13th
This remake of the classic original version is definitely goosebump-inducing. A group of teens go to a camp by the lake where they quickly realize they are living in a nightmare.
9. Young Frankenstein
Starring Gene Wilder, this hilarious story about Dr. Frankenstein's grandson is an American classic. Everyone should watch this horror movie parody at one point in their lives.
10. Beetlejuice
Tim Burton films are always a little wacky, and this one is no exception. But it's definitely worth the watch!
Which one of these Halloween movies is your favorite?
I love watching a mix of scary and happy movies.
XO Lauren
Photo: IMDB