In my opinion, dressing for the month of October means a lot of layering. That doesn't mean you have to pull out your heaviest fall clothes—think jackets, floppy hats, and cable knit sweaters. Fall is about dressing to look cozy without overdoing it. Save your peacoats and heavy scarves for winter, and instead incorporate short booties and leather items. Or, just take a hint from my early fall style ideas for this month…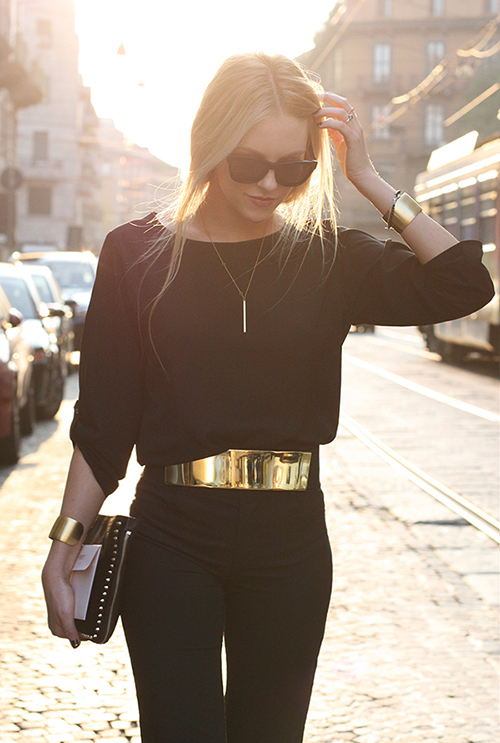 1. Practice black magic.
October is the spookiest month of the year, so pull out your black clothes and rock an all-black ensemble. There's nothing more chic or versatile than channeling a "black magic" look.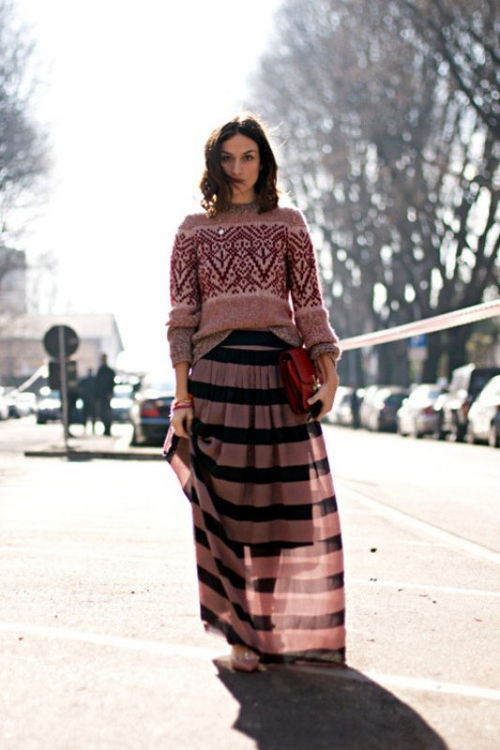 2. Create a printed monochromatic look.
This blush and black outfit is one of the most perfect autumn looks I've come across. It has me inspired to pair a printed maxi with a cozy sweater, both in a rosy hue.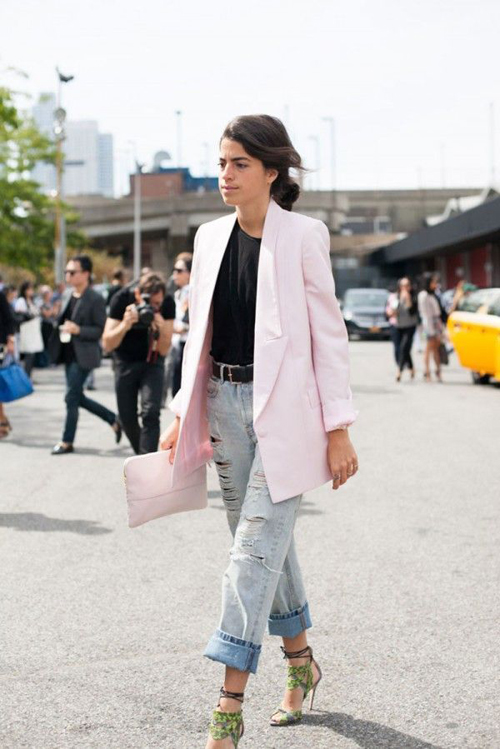 3. Think pink.
If you have been following the street style from fashion week, you have probably noticed that pink blazers and coats are all the rage right now. I love the look of a pastel pink coat for the fall months because it's such an unexpected change from earthy fall tones. Think of it as a (fashionable) breathe of fresh air.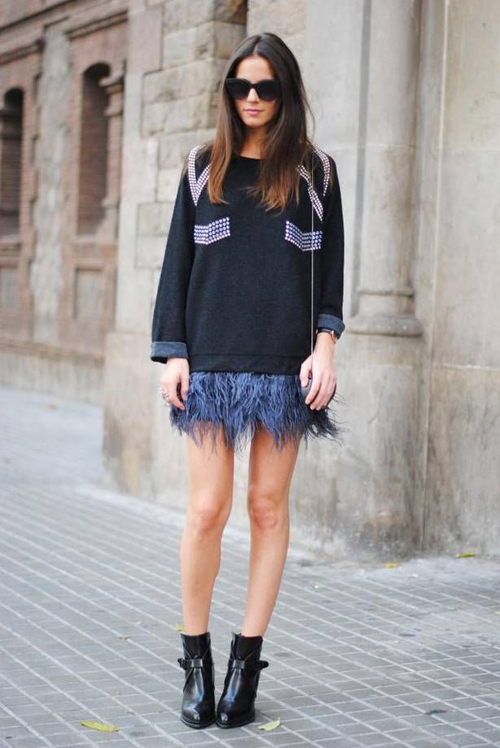 4. Wear feathers with sweaters.
I love the idea of mixing elements in an outfit, like wearing a wool sweater with a feathered skirt. If you don't have a feathered skirt (most people don't!) wear a pleated or ruffled one to achieve a similar look.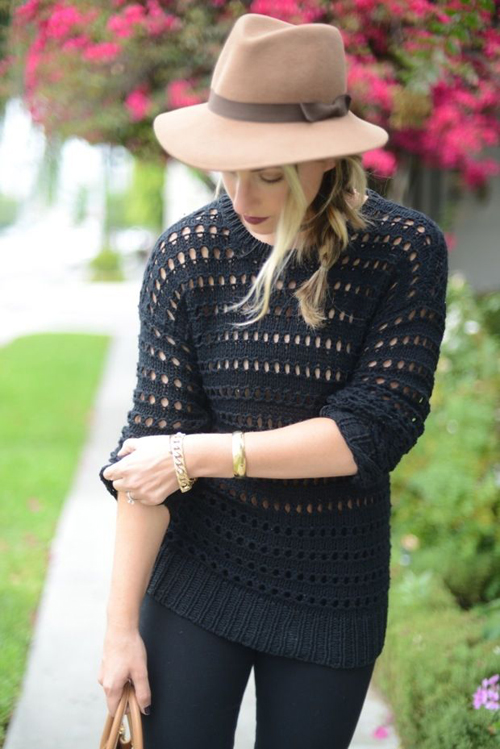 5. Top it off with a hat.
This fall I predict that everyone will be wearing felt, floppy hats. I love the look of them, and they add instantly add a bohemian element to any outfit, even if it's your basic jeans and sweater. (Note: A berry lip makes it extra chic.) Stay tuned for my fall hat guide coming soon!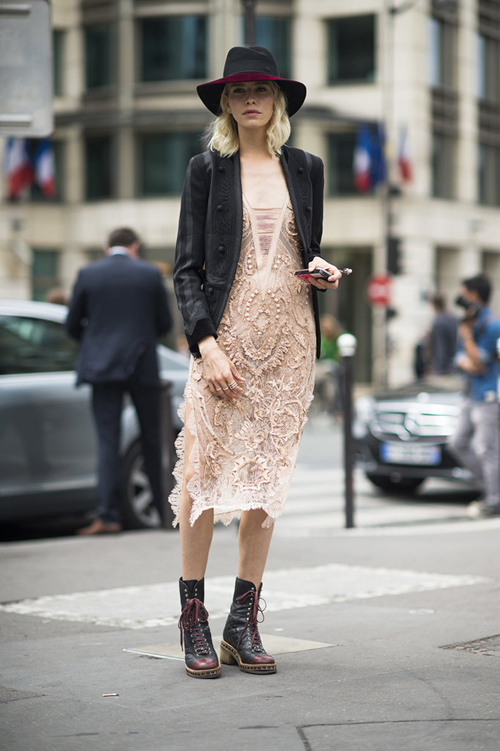 6. Texturize.
The most interesting outfits always play with mixing textures, in my opinion. Which is why I adore the look above. Try wearing an embellished, lace evening dress with a velvet schoolboy blazer, lace up boots and a wide brimmed hat. This look is edgy, cool, and cosmopolitan all in one.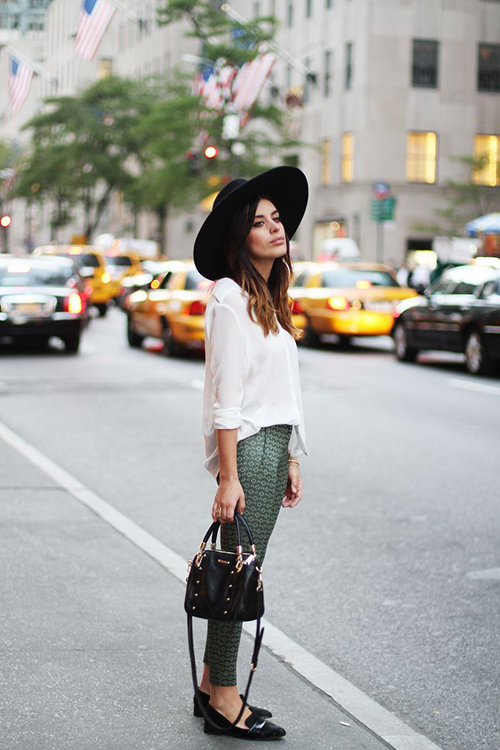 7. Crop and go.
While flared printed pants have been having a big moment lately, I am partial to the idea of wearing a cropped, cigarette-leg style this month. Wear your cropped pants with smoking slippers and—again!—a fall hat.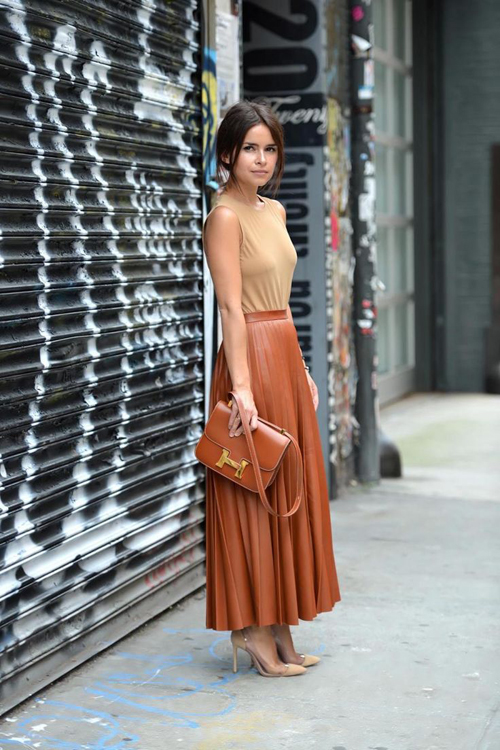 8. Elongate your leather.
Leather mini skirts hold a special place in my heart, but I also think trying a leather midi or maxi skirt is an interesting idea for fall. Choose a length that looks best on you (take a peek at my skirt guide for help) and wear a lightweight blouse on top to balance out the heavy leather on bottom.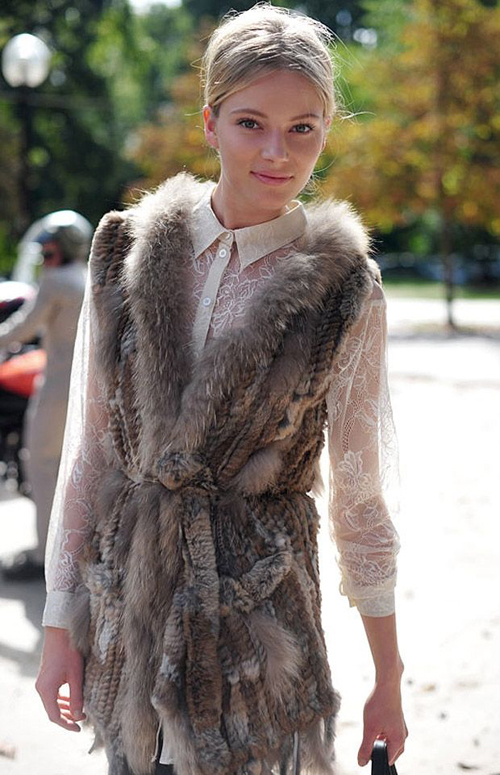 9. Put a vest on it.
Last week, my team talked about how wearing a vest is a great way to layer for fall…and I couldn't agree more! Vests come in all different styles—from leather, to denim to fur. I personally love the look of pairing a faux fur vest over a pretty fall dress or blouse.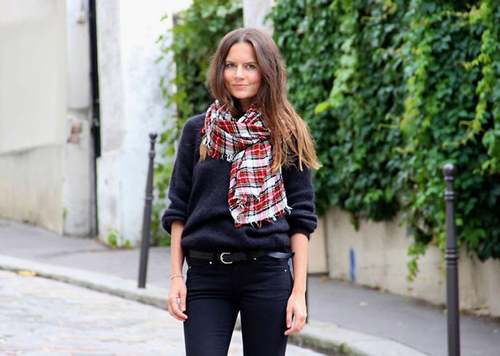 10. Add a touch of plaid.
I predicted plaid to be a big trend in my September Style Tips post last month. So, when I came across this all black outfit that has a pop of plaid in the scarf, I knew I had to make it a style tip for this month too. Go ahead and pull out your plaid scarves, flannels, and plaid skirts for the entire month of October.
I hope you all liked these October style tips. If you give any of them a try, make sure to snap a photo of your outfit and upload it to our photo gallery for a chance to be featured as a Chic of the Week.
Which of these October style ideas is your favorite?
XO Lauren
P.S. For more style tips and ideas, click here!
Shop This Story…