Every year, I hold my annual DIY Halloween Costume Contest right here on LaurenConrad.com (I loved all of your entries this year!). But I also like to include some costume idea for all of my last minute ladies out there. If you are someone who finds yourself scrambling to put together a Halloween costume a few days before celebrations begin, then this post for you. I personally like to plan ahead when it comes to deciding on my costume. But that doesn't mean I haven't been in a situation where I need a creative costume in a pinch. Some of my favorite last minute costumes are this easy risky business getup or this cute cat burglar costume. But for a little extra inspiration, take a peek below at the costumes I thought up this year…
1. Regina George from Mean Girls
You probably have every item in your closet already. Just cut two (strategically placed) holes in an old tank top and viola! Bonus points if you can find an "R" necklace.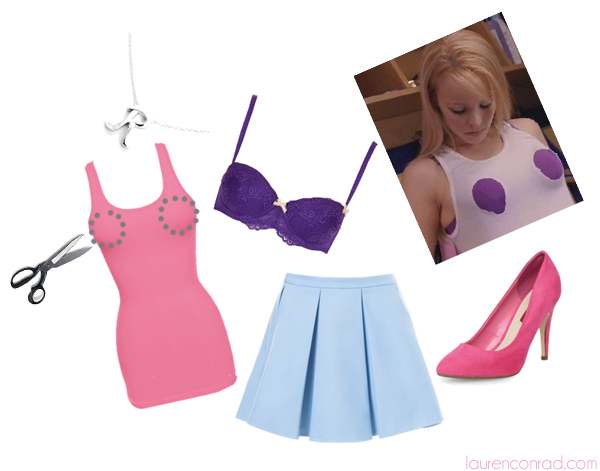 2. Pippi Longstocking
To be Pippi, all you have to do is find the most mistmatched things in your closet and throw them together to make one outfit. Stripes, polka dots, and plaid are great for clashing. Then, just take a wire hanger, bend it upward for your pigtails, and use some temporary red hairspray for Pippi's 'do. For the finishing touch, dot your nose and cheeks with brown eyeliner to create some fake freckles.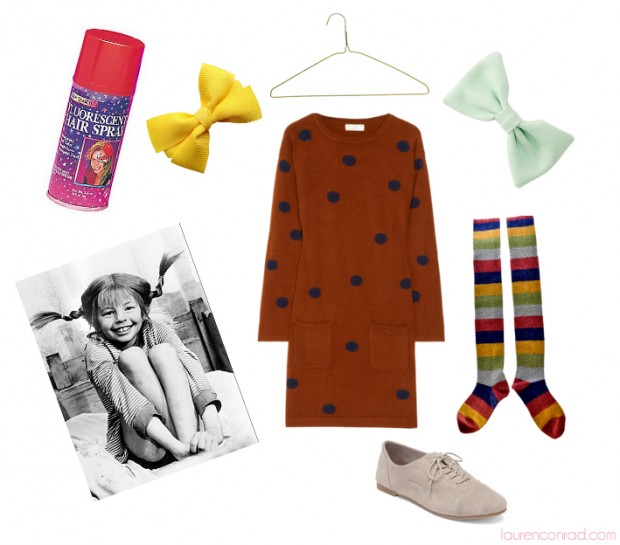 3. Marilyn Monroe
Last year I shared a costume for Audrey Hepburn's look in Breakfast at Tiffany's. So this year it seemed fitting to make a costume out of Marilyn Monroe's look in The Seven Year Itch. All you really need is a white dress, white pumps, blonde curls, and red lips. Don't forget her signature beauty mark—use eyeliner to draw a little black dot at the corner of your lip.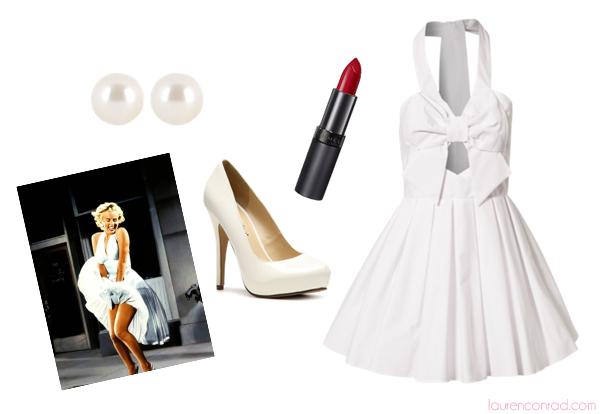 4. Nerd
Recognize the photo in the collage below? It's from our Geek Chic Style Guide post, which was the inspiration for this costume idea. A nerd costume is so easy to put together, and you can make it as feminine or tomboy as you would like (think shorts vs. a skirt).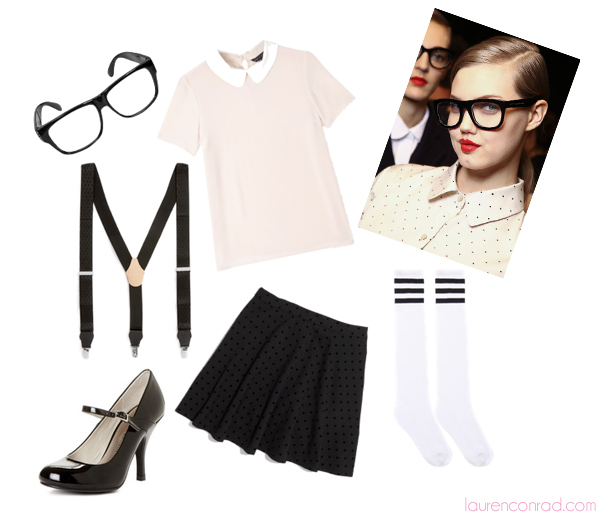 5. Twiggy
Twiggy is one of my favorite fashion icons, and her look makes for an adorable and easy costume. Grab your favorite shift dress, some statement earrings, and Mary Jane flats. The most important part of this costume is to recreate her signature eyeliner makeup look. Draw on bold lines with liquid eyeliner and draw lashes on your lower lid. For a tutorial to get this look, click here!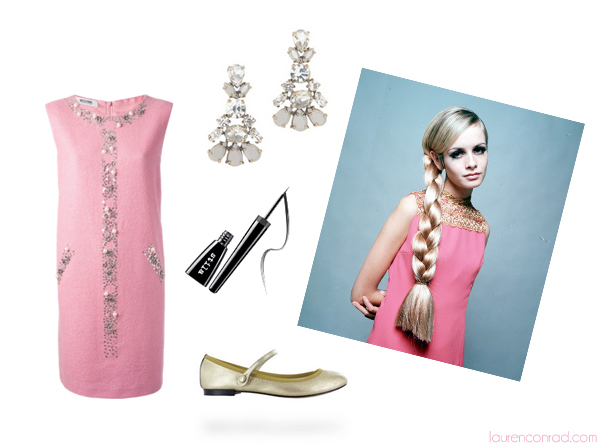 Which of these last minute costumes would you put together in a pinch?
Personally, I love the Twiggy look.
XO Lauren