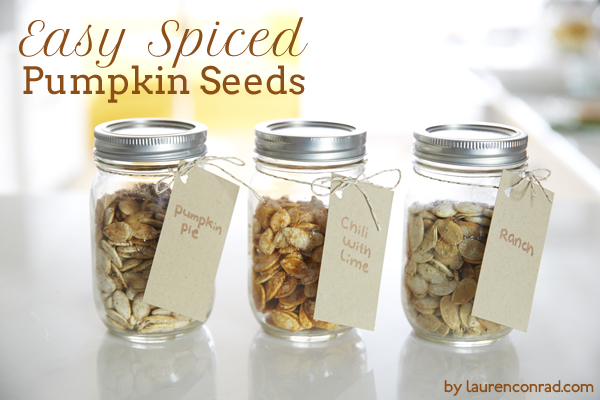 One of my favorite things about autumn is the assortment of fresh, seasonal produce that's available. From rich butternut squash to crisp apples, the fruits of fall are hearty and full of flavor. But of all the delicious food that fall has to offer, pumpkin is without a doubt my favorite. I won't refuse anything pumpkin—pumpkin lattes, pumpkin pie, pumpkin ravioli, even pumpkin pizza. And along with pumpkin itself, the seeds are another one of my favorite seasonal snacks.
Seasoning pumpkin seeds with a little sugar and spice makes them even more delicious. They're a light and healthy snack, but also a big hit with the boys while they're watching the big game. Whether you crave sweet or salty, there's a flavored pumpkin seed to please everyone. During our latest craft and cooking day with Lauren (#dreamjob), we toasted pumpkin seeds in three flavors: pumpkin pie, chili lime, and buttermilk ranch. And let me tell you, there were delicious! Check out the recipe below…
Here's what you will need:
1 cup fresh pumpkin seeds
1 tbsp cooking oil or unsalted butter

Plus, your choice of:
buttermilk ranch dressing mix, to taste
chili powder and a squeeze of fresh lime juice, to taste
pumpkin pie spice, sugar, and a dash of vanilla extract, to taste

Instructions:
If your seeds are fresh out of the pumpkin, begin by cleaning them and patting dry.
Bake the seeds at 300 degrees for about one hour or until dried. (Letting your pumpkin seeds air-dry overnight also works.)
Toss the pumpkin seeds, cooking oil, and your favorite flavor mixture in a large skillet until well coated.
Cook over medium heat for about three minutes, stirring occasionally, until the seeds are lightly toasted.
We made three batches of spiced pumpkin seeds, one with each of the flavor combinations above. Once you know the basics, it's easy enough to come up with your own flavor of pumpkin seeds too.

Do you have any flavor ideas of you own?
Please share them with us in the comments!
And don't forget to check out the Recipe Gallery for more delicious ideas.
xo Ilana
Team LC
Photos: Yoni Goldberg for LaurenConrad.com