I am so excited to announce the first winner of my annual DIY Halloween Costume Contest! There were so many adorable entries, many of which I will be featuring throughout the rest of this month. Congrats to Laura Lindsay an adorable and very detailed DIY owl costume. Laura will be receiving a signed set of my Infamous book series. Thank you to everyone who entered this contest and please keep sending your submissions to [email protected]—I check them every day and will be looking out for more creative costumes. In the meantime, let's hand it over to Laura to share her adorable costume tutorial…
XO Lauren
Patchwork Owl Costume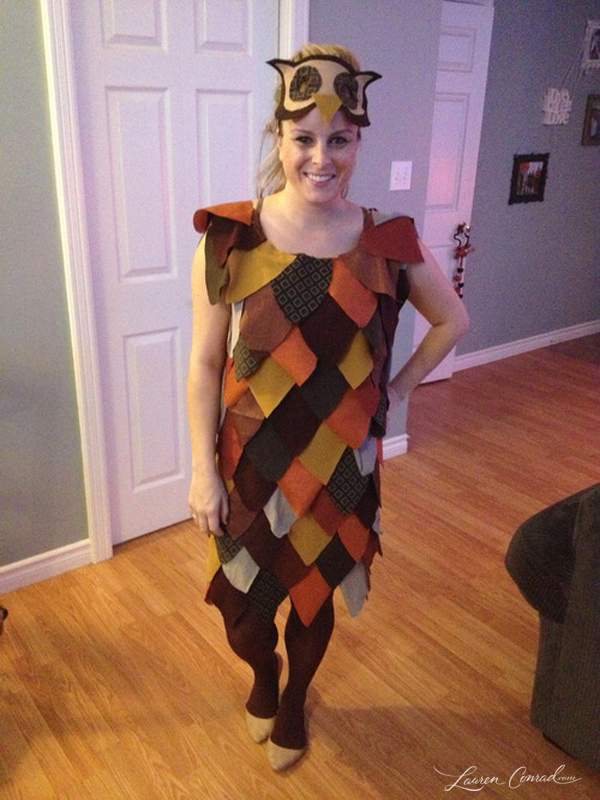 Hey everyone! It's Laura. Here is my owl costume I slaved over last year for Halloween. I feel that I can never top this costume, and I just might wear it every year! I don't mess around with Halloween. I love it! I go all out with my costumes, and always have fun planning and putting them together.
Here's what you will need: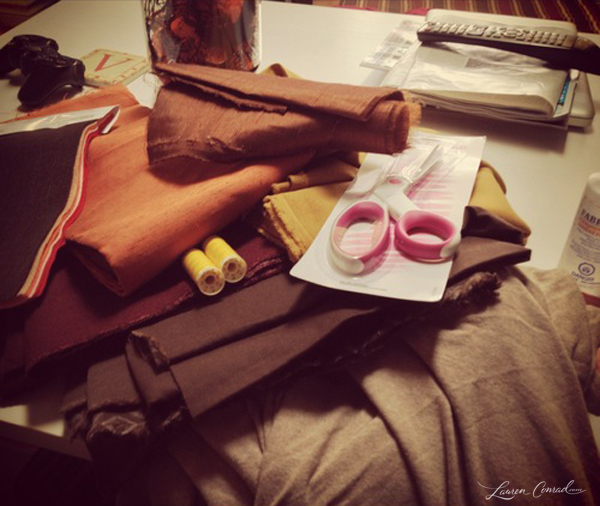 An old pillow case (jersey knit is what I used since I knew it would be touching my skin and wanted it to feel glorious. Comfort is key!)
Fabric: I used a variety of colors and types of fabrics. Depending on what color owl you want to be, this would vary. I used burgundy corduroy, mustard linen, brown jersey, etc. In total my fabric measured one meter, and most was purchased from the discount bin!
Fabric scissors
Fabric glue
Felt: Again, I used colors to match my fabric, so oranges and browns
An old thin elastic headband
Card stock and cardboard
Instructions:
Step 1: Cut holes in the pillow case for your head and arms using your fabric scissors.

Step 2: Cut fabric into triangular pieces. I created a "feather template" with card stock I had laying around.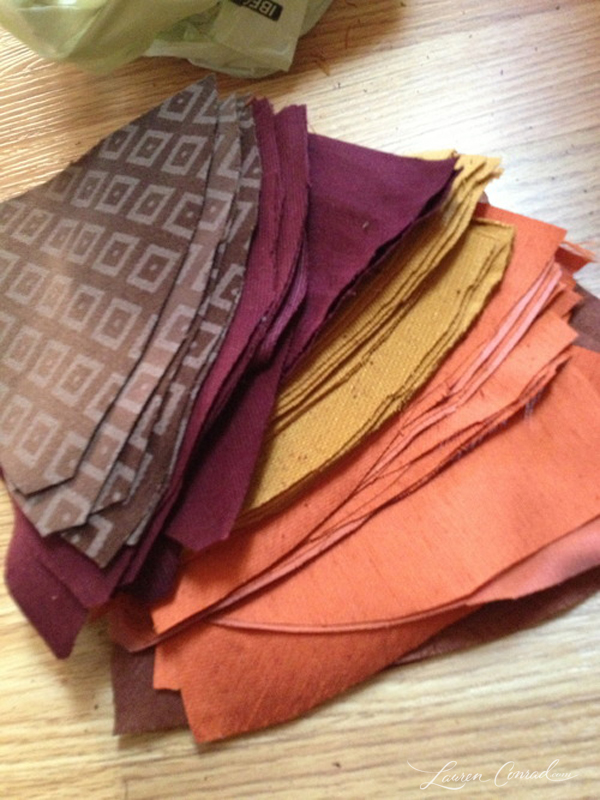 Step 3: Lay your pillowcase out on the floor or work space. Slide a piece of cardboard in between the two layers so you don't glue your pillowcase together. Arrange your "feathers" one row at a time before gluing so you don't have two of the same color beside one another. This is a time consuming process but very easy with the fabric glue, I only used two dots per feather and they stayed intact throughout the night.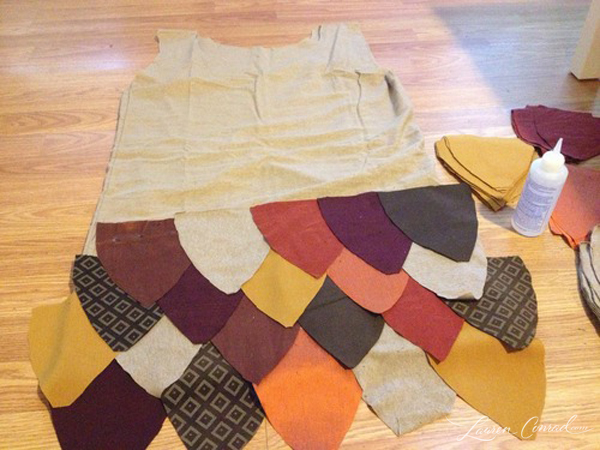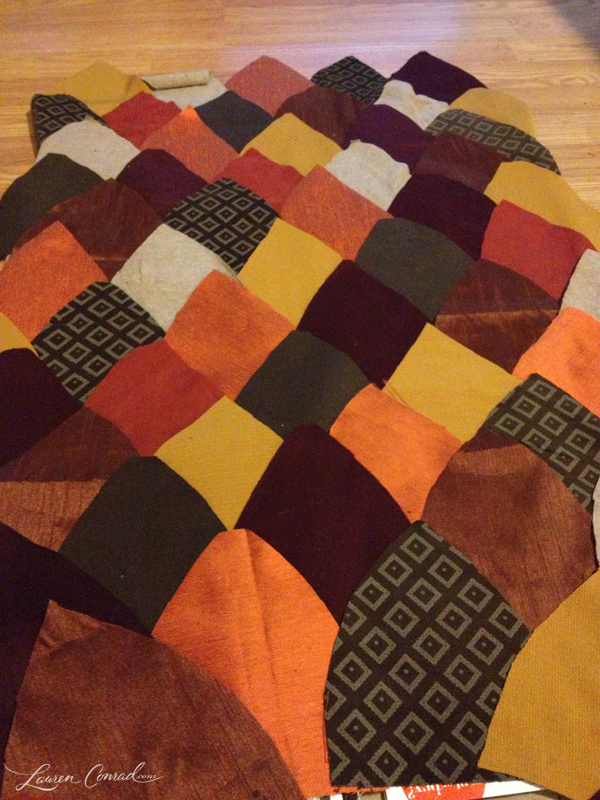 The mask:
Step 1: I cut out a template for my "face" using card stock that I had. I used this template to cut out two pieces of felt- one brown and one tan. Cut one of the pieces about an inch smaller around the edge and layer the two on top of one another.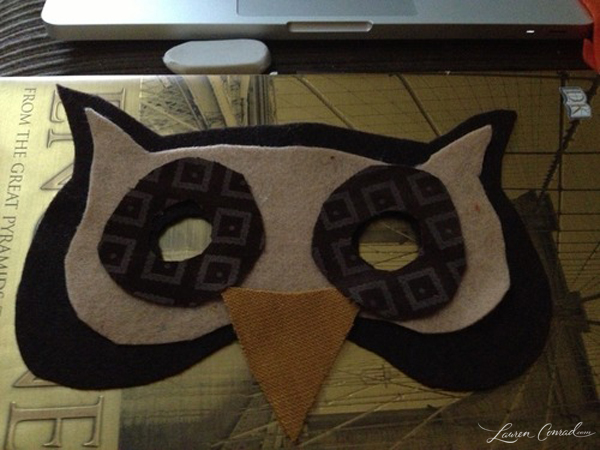 Step 2: Cut out the eyeholes using fabric scissors.

Step 3: Cut out circular pieces of fabric or felt to go around the eyeholes.

Step 4: Cut out a triangular piece of fabric or felt to use as the beak.

Step 5: Cut an old headband, gluing each end to the mask to make a strap.
I wore burgundy tights, tan flats and teased my hair into a ponytail. I used a lot of gold eye makeup since I knew I wouldn't be wearing my mask all evening.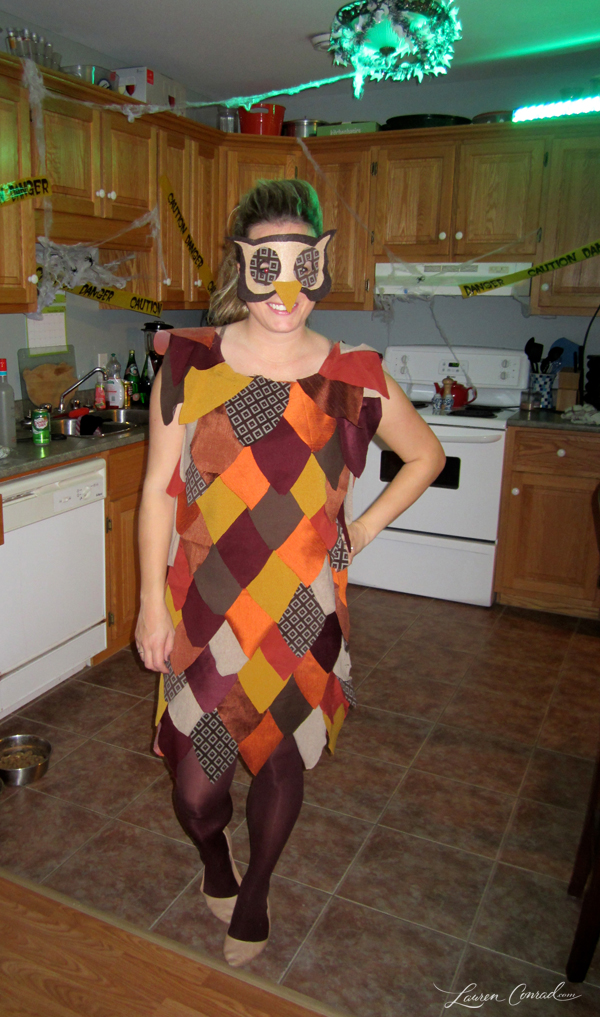 Cheers!
Laura Lindsay
Are you going to give this cute owl costume a try?
Don't forget to email your own DIY costume to me at [email protected] for a chance to be featured on the site and win a set of my signed books! Click here to read up on the costume contest guidelines.