I hope you all loved seeing the first winner of my annual Halloween DIY Costume Contest. Another big congrats to Laura for her cute owl costume! Today I am excited to announce the second winner of my contest…LaurenConrad.com member Tess Munro, who submitted an adorable air stewardess costume. I love how Tess explains that since she couldn't find the correct hat for this costume, she decided to take matters into her own hands and make it herself. We have a true crafter on our hands! Find out how to recreate Tess's adorable Pan Am Air stewardess costume below…
Pan Am Air Stewardess Costume

Hey everyone, it's Tess! We decided to do this costume as we wanted something classy but also something that hadn't been done before. The Pam Am TV show had just come out that year in Canada and we loved the retro style. It was also something that could keep us pretty warm on a cold Vancouver night going from party to party. Red lipstick and Mary Jane's… who could say no?!
Here's what you will need:
Blue blazer
Blue matching skirt
White gloves
Buttons
Blue fabric dye
Sailor hat
Felt and tin foil
Scissors
Hot glue gun

Instructions:
Step one: Changing buttons on blazer:
I chose to revamp my cheap blue blazer by adding new and vintage-style buttons. To do this, I simply unstitched the old plain blue button and added my own where needed. Since I did not want to cut new buttonholes in the blazer, I added a clip on the back to keep the button in place.

Step two: Making the Pan Am Hat
We found it difficult to find the exact air stewardess hats we wanted, so we decided to make our own using sailor hats we found at the costume store. We used blue fabric dye and ironed them into the pointy shape needed once they were dry. You can follow the dyeing steps on whichever brand you get, but we used as much dye as possible and left the hats in the dye overnight to get them to match the blazers.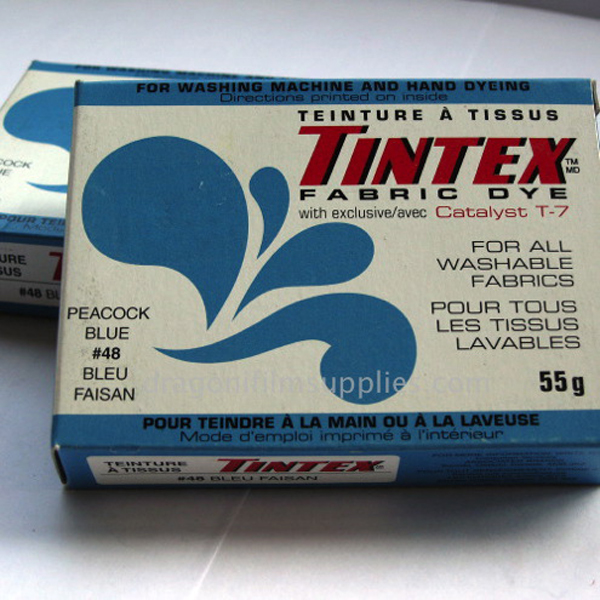 Step three: Create the Pan Am badges
To make the badge on the hat, we cut a diamond shape out of blue felt and glued it to the hat. We then drew the Pan Am symbol on paper and glued it to the felt using a hot glue gun.

Step four: Create the Pan Am pin
To make the silver wing pin, we drew the shape free hand on cardboard, cut it out and then covered the cardboard in tin foil. We then glued a safety pin to the back and pinned it to our blazers.

Step five: Putting it all together
To really get the look, pair the blazer with a matching blue skirt, white gloves and Maryjane shoes. Style your hair in 60's style waves à la Lauren Conrad. Stick to natural makeup, with winged eyeliner and red lipstick.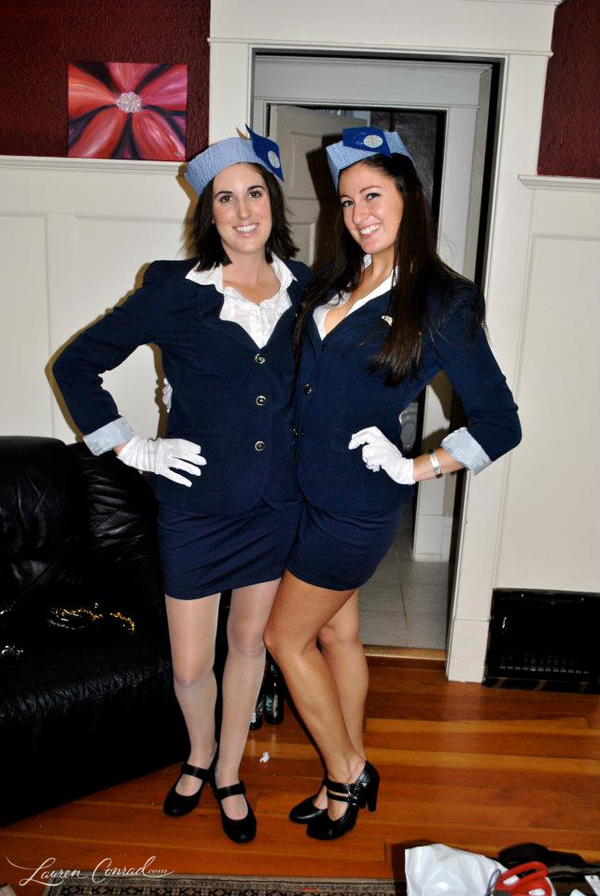 And don't forget to spend the night pointing to the emergency exits and telling everyone to sit back and enjoy the flight!
Have you ever gotten into character on Halloween?
Share your stories below! And don't' forget that I'm still taking submissions for more DIY costumes. Click here to find out how to send me your costume tutorial.
XO Lauren
P.S. Pan Am also generously offered to send Tess a blue Explorer bag to congratulate her. Lucky girl!