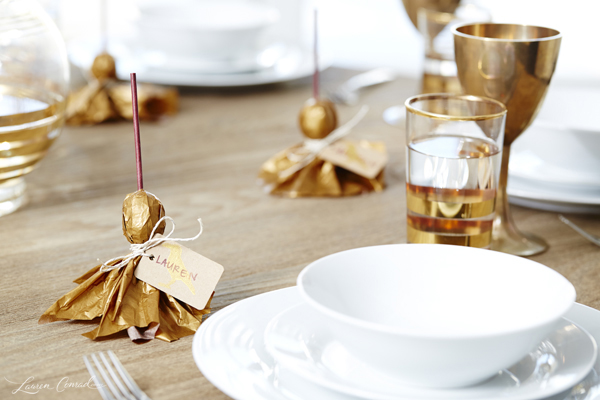 Hi everyone, it's Allison here from Team LC. I hope all of you have been enjoying the festive Halloween content we have been posting on the website this month. We have featured just about everything—from creative costumes to delicious fall recipes. And today I am going to bring your Halloween inspiration full circle with a quick and easy craft. If you are entertaining guests for a Halloween dinner party, this DIY is perfect for you. They'd also make an adorable treat to hand out to your coworkers on Halloween.
Whenever I throw a dinner party at my home, I always try to give my table setting a special touch. Whether that means decorating with bits of ladylike lace for a springtime soiree or creating an earthy green setting in the summer—I never fail to find inspiration for my tabletop. And for Halloween, Team LC and I decided to create "lollipop witches brooms." Take a peek below to find out how you can make these place cards for your own spooky table scape…
Lollipop Witches Brooms
Here's what you will need:
lollipops
brown Sharpie pen
tissue paper (we used metallic gold)
scissors
twine
name tags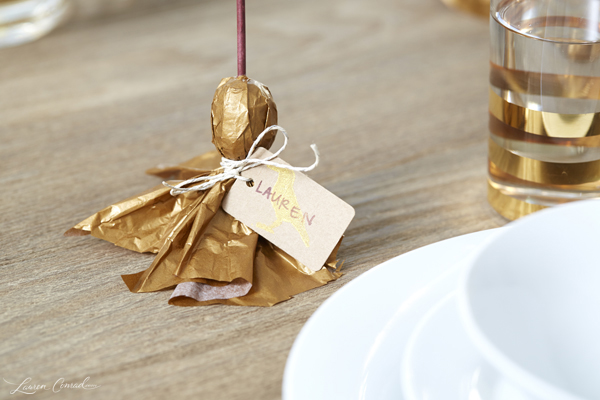 Here's how to make them:

First, take your brown Sharpie and color the lollipop sticks solid brown. This will make them look like broomsticks.
Cut even squares out of your tissue paper. We made squares that were about 4 inches by 4 inches.
Poke the lollipop stick through the middle of the tissue square, then pull the tissue down around the candy part of the lollipop.
Scrunch up the tissue then wrap twine around the base of the lollipop, securing the "broom" in place. Trim the edges of the tissue so that they are even and the broom will stand up on its own.
Tie it all off with a name place card and place it on your table!
It took a little while to fold the tissue and trim it perfectly before I liked the way it looked when it stood straight up. But, once I got the hang of the first one, making an entire table's worth of lollipop witches brooms was pretty easy!
Do you have a favorite festive DIY you like to make when entertaining?
If so, share it in the comments below.
Happy crafting!
xx
Allison
Team LC