Hey ladies! It's Cara here, from Big Girls, Small Kitchen. Whenever the fall season finally emerges with its pretty leaves and cool nights, I always like to start planning cozy parties for any all occasion: birthdays, football Sundays, and Halloween. I love to serve finger food, since it creates a casual, comfortable vibe for my friends, which clearly serves the party well.
All three of the dishes I'm sharing today are true fall classics in the Big Girls, Small Kitchen mold. They're easy to make, able to be prepped in advance, and definitely crowd pleasing. Each recipe has a little surprising tweak, too—a hint of spice or a smart technique (like chicken wings that are baked instead of fried). Invite your besties over, pour some cocktails, and enjoy…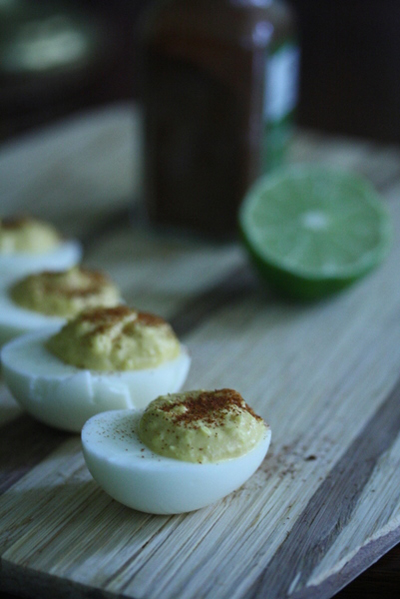 1. Sriracha Deviled Eggs
Regular deviled eggs? Not so exciting. But, since traditional deviled eggs are a delicious classic, I've done my best to dress them up for 2013. This means leaning heavily on chili sriracha sauce to add heat to the egg yolk filling. Think spicy enough that your friends may immediately reach for their drinks—but so good they'll quickly be back for more. (You can see the original recipe here.)
Ingredients
1 dozen extra-large eggs
1/3 cup mayonnaise
1 tablespoon Dijon mustard
3 tablespoons lime juice (from about 1 lime)
1 ½ teaspoons sriracha
¾ teaspoon salt
Sweet paprika, for garnish

Instructions
Cut the hard boiled eggs in half lengthwise. Over a medium mixing bowl, gently squeeze the center of the eggs so the yolk pops into the bowl. 

With a fork, mash the yolks with the mayo and mustard until smooth. Add the lime juice, sriracha, and salt, and mix until incorporated. Taste for seasoning.

Using a teaspoon, carefully scoop the filling into the cavity of each egg.

Arrange on a serving platter or cutting board, garnish with a shake of paprika and half a lime, and enjoy your spooky party!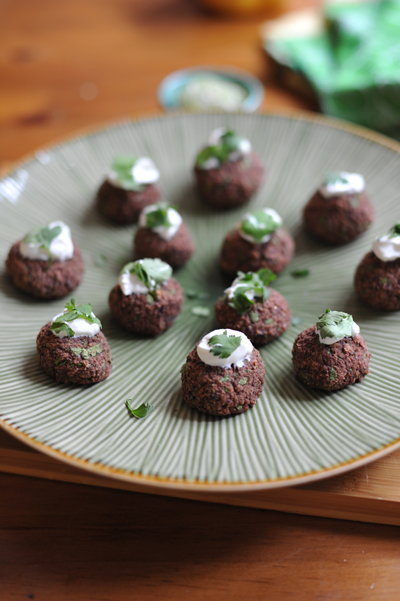 2. Black Bean Cakes with Crema
These vegetarian black bean cakes are a nice change of pace from my black bean dip, which I serve to friends all the time. Even though they contain nearly the same ingredients, there's something more elevated about shaping the dough into little cakes and serving them up on a pretty platter. I especially love how the light, cloud-like crema on top offers a perfect contrast. (You can see the original recipe here.)
Ingredients

For the cakes:
Two 15-ounce cans black beans
2 garlic cloves
½ lime, juiced
1 tablespoon sour cream
¼ cup cilantro leaves, chopped
1 cup fresh breadcrumbs
½ teaspoon cumin
½ teaspoon chili powder
¼ teaspoon cayenne
1 teaspoon salt

For garnish
¾ sour cream
Extra cilantro

Instructions
In a food processor, blend the garlic, 1 can of beans, lime juice, and sour cream until moderately smooth. Transfer to a mixing bowl and fold in the remaining ingredients. Mix until combined.
With clean hands, form the bean mixture into 1 inch balls and set aside on a plate. Chill the balls for twenty minutes or so.
Preheat the oven to 400°F. Bake the cakes on a cookie sheet for 20 minutes, or until they have crisped up (the outside will resemble falafel).
Arrange cakes on a platter, and serve room temperature with a dollop of sour cream on top and some torn cilantro leaves for garnish.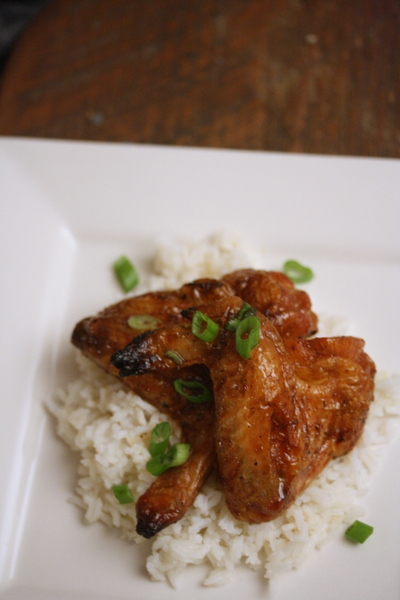 3. Ginger Honey Chicken Wings
Chicken wings can feel like a dish you never make at home, in part because they're usually thought of as unhealthy, and in part because they're usually deep-fried (not my favorite home-cooking technique). Because this version is baked instead of fried, it won't make much of a mess. The skin gets so delicious and crispy your friends might mistake these for fried wings, and a sweet and sour sauce finishes the chicken off with a bang. Just remember to put out plenty of napkins—these are a little messy! (You can see the original recipe here.)
Ingredients

2 pounds chicken wings

2 tablespoons vegetable oil

1 tablespoon minced fresh ginger

1 garlic clove, minced

2 tablespoons rice vinegar

1/2 teaspoon siracha

1/4 cup dark honey

1 tablespoon soy sauce

2 scallions, thinly sliced

Instructions
Preheat the oven to 400°F.
In a large bowl, toss the chicken wings with 1 tablespoon of oil and season with salt and pepper. Arrange the wings on a baking sheet lined with foil. Cook for 30 minutes, then turn on the broiler. Broil for 10-15 additional minutes, until crispy and cooked through.
Meanwhile, in a small saucepan, combine the remaining oil, ginger, and garlic over medium-low heat. Saute until fragrant and soft, about 3 minutes, making sure the mixture does not brown. Off the heat, whisk in the vinegar, sriracha, honey and soy sauce.
In a large bowl, toss the chicken wings with the ginger-honey mixture. Sprinkle with the scallions and serve.

Makes 6 snack servings
Which one of these flavorful fall appetizers will you make first?
I recommend starting with the ginger honey chicken wings!
XO,
Cara
Big Girls, Small Kitchen