Every Friday at the LC.com offices, we go through the LaurenConrad.com inbox and look for questions and blog ideas from our lovely readers. Recently we received a request for an anniversary gift guide, so of course we had to deliver…
Whether you're celebrating your first year together or your fifteenth, deciding what to get your guy can be a tough decision. I always put a lot of thought into anniversary gifts. My husband and I are high school sweethearts, and tied the knot a year ago. We've celebrated 11 anniversaries together thus far, so I've had a lot of practice with the gift giving. In my opinion the best anniversary gifts are ones that are shared between the two of you. After all, it is a celebration of your relationship. So, I usually try to save the clothing or gadgets for birthdays and holidays, and instead choose something that has meaning to us both. For our first wedding anniversary, I had our wedding band record the songs from our ceremony and packaged them in a cute flash drive that I decorated myself (which could also make a cute "modern mix tape!"). So if you're feeling stumped on what to get your guy, here are a few more cute ideas…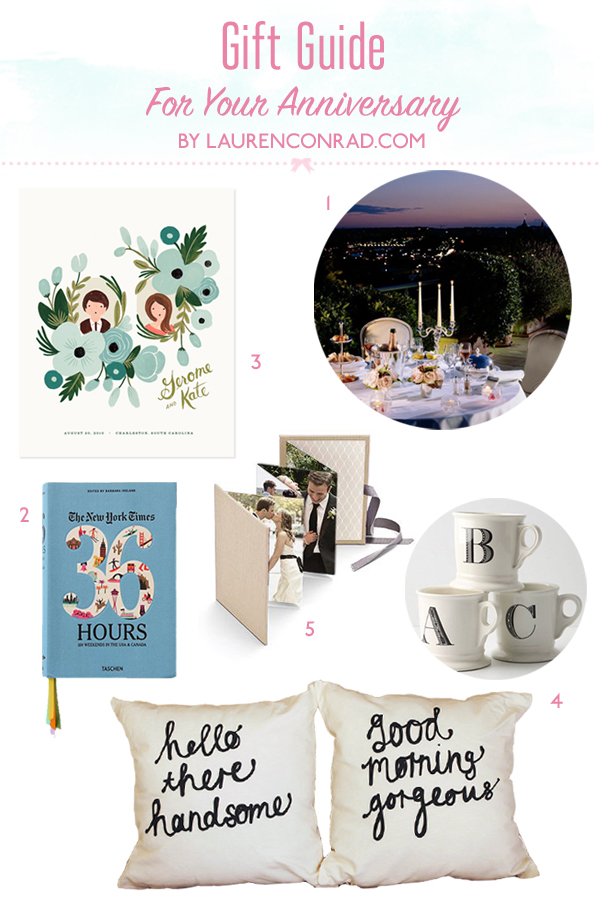 1. Go gourmet. There's something so romantic about really taking the time to appreciate a meal together (sans cell phones and other distractions). So whether your significant other appreciates fine dining, a lovingly home-cooked meal, or a casual picnic under the stars, plan a dinner date worthy of the occasion. On our anniversary, my husband and I always splurge on an amazing meal in a romantic setting. Some of our favorite anniversary spots in L.A. have included Il Cielo, Inn of the Seventh Ray and The Bazaar, but if you have any suggestions in your own city (or suggestions for our next anniversary), please share them with everyone in the comments.
2. Make memories. One of the best ways to celebrate all the fun you've had together in your relationship so far is to make new memories together. So, instead of gifting a tangible item, why not plan an experience? Whether that means buying concert, theater, or sporting event tickets, going to a cooking class, or taking a spontaneous weekend getaway, make sure to choose something you'll both truly enjoy. I also love the idea of trying something fun and quirky like a Segway tour around your city (better bring a camera for that one)! If finances stand in the way of taking a trip, make the decision beforehand not to exchange gifts and instead save that money for travel expenses. Looking for a tangible item to present along with your gift? Try The New York Times 36 Hours: 150 Weekends in the USA and Canada. Present him with the book and then let him choose a weekend destination from within its pages.
3. Commission a work of art. A custom portrait or work of art is something you'll keep forever, and it's a great conversation piece when you have guests over. If you live together it will be something you can display in your shared space, or if you haven't taken that step yet it will remind him of you every time he sees it. My husband and I have a custom Rifle Paper Co. print hanging in our home, and Team LC's very own illustrator Carrie Beth Taylor also paints custom orders. If you're looking for a custom piece without putting your faces on display, consider a folded book depicting your initials or anniversary date.
4. His and hers.His and hers items make the cutest anniversary gifts in my opinion. These 'good morning gorgeous' and 'hello there handsome' pillows by Etsy shop ZanaProducts are adorable, as would be a set of monogram mugs from Anthropologie. Plus, you score a little something for yourself this way too!
5. Print those photos. It's pretty rare these days that I actually get photos printed. So for an anniversary, I love the idea of finding a special way to display your photographs. These photo books from Pinhole Press are a sweet way to document your love story, or you can make your Instagram photos physical with one of the many cute options from Printstagram. For a gift that will turn into an instant date night activity, print a personal jigsaw puzzle that the two of you can spend the night solving together. If you find you don't have a lot of photos together, now might also be the perfect time to splurge on a professional photography session. You don't need an engagement for the excuse to take portraits together. Case in point, this absolutely stunning anniversary session spotted on 100 Layer Cake.
Do you have any anniversary gift ideas of your own?
Share them in the comments!
xo Ilana
Team LC