It's the Friday before Halloween, and I couldn't be in more of a spooky spirit. So, when I was browsing through the gallery this week and came across a hauntingly cool manicure, I knew it would take the cake for this week's Member Spotlight post…
Congrats to Polish Sickness… Your Frankenstein manicure landed you a spot as our newest Chic of the Week!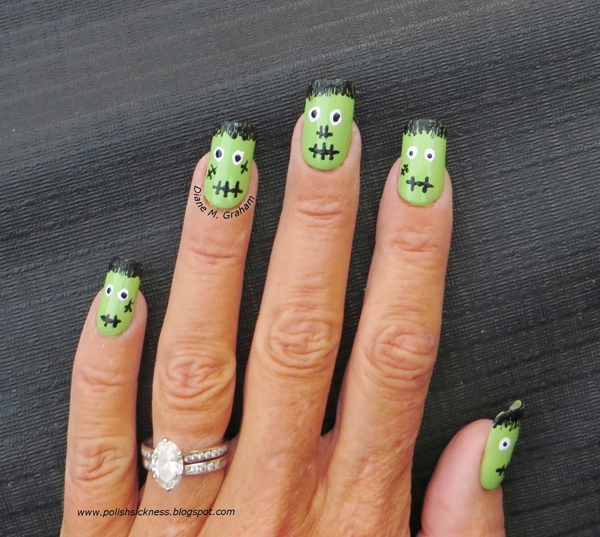 On her blog Polish Sickness, LaurenConrad.com member Diane explains that she created this manicure freehand, and it turned out exactly how she wanted it to. Now those are some skills! To replicate this manicure, start by using a green color as your base. Then, with a nail art pen or a toothpick, make the Frankenstein faces on each nail. Don't forget to outline the eyes in white and finish off the mani with a clear topcoat. Talk about a manicure that's to-die-for. Pun intended.
Congrats to our newest Chic!
To see more of her nail art, take a peek at her blog by clicking here: Polish Sickness.
Do you want to be our next Chic of the Week?
I'll be looking for some fabulously bundled up fall outfits to feature next month! Upload your outfit photos to your LaurenConrad.com profile for a chance to be featured here on the site. Click here to learn more.
xx
Allison
Team LC
P.S. For more nail art inspiration, take a peek at these posts:
Chic of the Week: Carrie's Galaxy Nails
Polished: Mixed Media Manicure
Polished: How to Do a Floral Manicure
Bridal Beauty: 6 Sweet & Simple Nail Trends