This story is from the ladies over at The Skinny-Fat Girl Diary. We are excited to have them contributing to LaurenConrad.com! In today's post, they will be sharing a diary entry featuring healthy homemade twists on our favorite Halloween candy…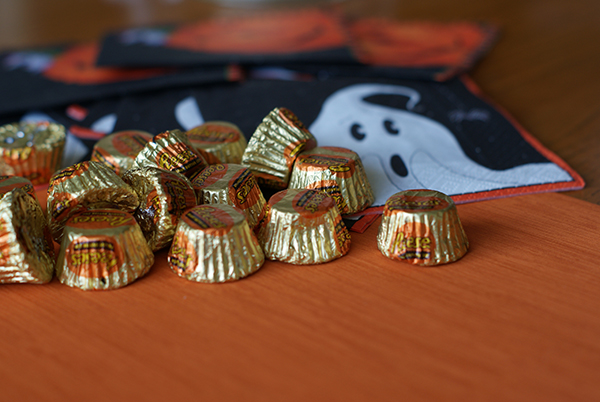 Dear Diary,
Halloween is a bittersweet time for us at the Skinny Fat Girl Diary… While we love the creativity the holiday inspires; we secretly fear how accessible candy bars, caramel corn and gummy worms become.  Even a recent trip to the doctor's office tested my resolve with a bowl of Tootsie Rolls. Don't get us wrong, we love to indulge, but we don't have the self-control to say no to sweets. This feels like an "us" issue, but we have a feeling we aren't alone…
So we came up with a solution to satisfy our sweet tooth, but without all the guilt. We gave our favorite Halloween treats a healthy makeover! Actually using ingredients that you can pronounce makes such a difference in satisfying your cravings.
We tried remaking Reese's Peanut Butter Cups, Snickers, candied apples, Mud Pies, Mounds and meringue. We say tried, because some of the attempts were an epic fail, but the ones that did turn out, turned out really well! Our three favorites were: Peanut Butter Snitches (Harry Potter fans, we are with you), Muddy Graveyard Mousse and Raw "Bones" Bars! We were overcome with the Halloween spirit, so decided only festive names would do. We just couldn't help ourselves…
Peanut Butter Snitches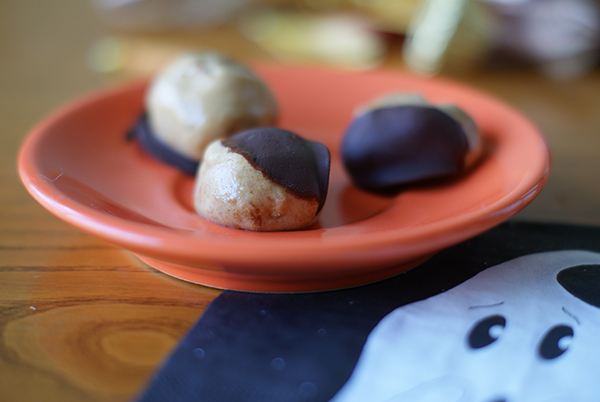 Here's what you'll need:
2/3 cup vanilla protein powder, preferably vegan
1/3 cup powdered sugar
3 tablespoons coconut oil
1 ½ cups reduced fat creamy peanut butter
½ teaspoon of salt
1 ¼ cups Fiber One cereal
6 ounces dark chocolate (70% cacao) chopped

Instructions:
Add the first six ingredients together in a food processer. You may have to melt the coconut oil in the microwave to give it a liquid consistency for about 45 seconds. If you don't have a food processor an electric mixer will work as well, but it won't be as smooth.
Cover a baking sheet with parchment paper. Shape the peanut butter mixture into small balls; you should have enough for about 20. Place the balls on the baking sheet and place in the freezer for 15 minutes.  After 15 minutes, pull them out of the freezer and reshape in your hands, then place back in the freezer for 15 minutes.
Place chopped chocolate into the microwave for about 45 seconds, take out, and stir, place back into the microwave for another 45 seconds, repeat until chocolate is completely melted.
Remove the peanut butter balls from the freezer. Using a fork, dip the balls into the chocolate. Feel free to cover them with as much chocolate as you want. Place the chocolate balls back in the freezer for 15 minutes, or until the chocolate hardens. Serve and eat immediately.
Muddy Graveyard Mousse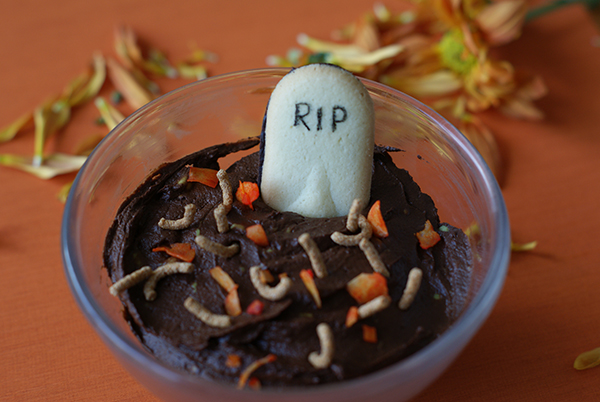 Here's what you'll need:
2 ripe avocados
1 tsp of cayenne pepper
½ cup of agave syrup
½ cup of cocoa powder (try chocolate protein powder or ovaltine vitamin rich as a substitute)
1 ½ teaspoons of vanilla extract
1 ½ teaspoons almond extract

Instructions:
Blend all the ingredients together.
Add a Milano cookie as a tombstone and use icing to write RIP
Finish with sprinkles of sliced coconut, dyed with orange food coloring and Fiber One cereal. This will add the look of leaves and worms to your graveyard!
Raw "Bones" Bars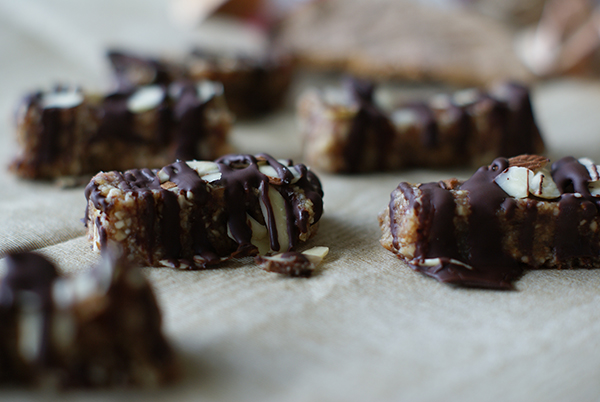 Here's what you'll need:
2 dates
2 cups almonds
1 tsp vanilla extract
1 Tbsp coconut oil
70% cacao dark chocolate

Instructions:
First blend the following ingredients together, using a food processor: dates, 1 cup of almonds, vanilla extract and coconut oil.
Once coarsely ground, mold the ingredients together into a rectangular bar shape and place in freezer for about 10 minutes.
Melt a bar of 70% cacao dark chocolate in the microwave for 45 seconds, take out and stir. Repeat this process until the bar is completely melted.
Add 1 tablespoon of almond milk to the melted chocolate to thin the mixture and mix until smooth.
Drizzle the bars with the dark chocolate mixture and use the rest of the almond slices as garnish!
Enjoy your Halloween… and remember, the SFG "trick" of Halloween is indulging in healthier "treats!"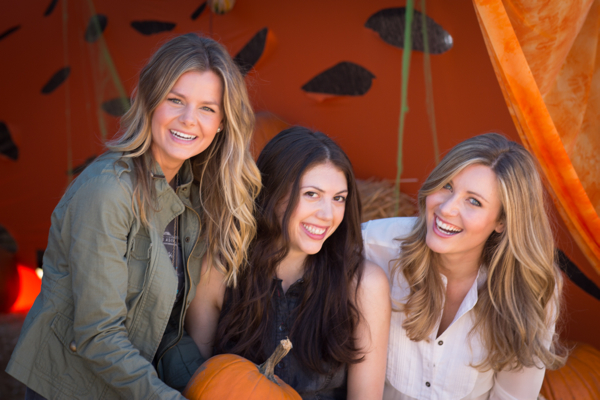 Which homemade candy are you going to try first?
XO Team LC
P.S. Check out our festive fresh fruit Halloween treats for more healthy Halloween ideas.