I was so pleased to see all of your delicious submissions for my Fall Flavors Recipe Contest. There were so many pumpkin, squash, and cinnamon recipes that it was close to impossible to only chose three winners. However, I did narrow it down to three great recipes in the appetizer, entre and dessert categories. I am excited to give these dishes a try, and I hope they inspire you to get cooking in the kitchen this fall as well.
Without further ado, here were the three winning recipes of my Fall Flavors contest….
Appetizer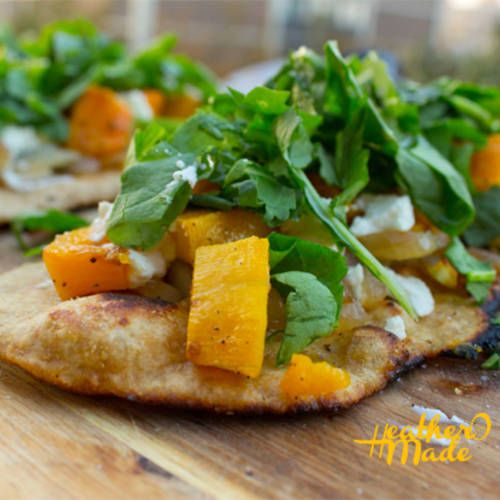 Roasted Butternut Squash & Caramelized Onion Flatbread with Goat Cheese & Greens
by MRSHOH
This dish would be perfect for an appetizer to share with friends or an entree if you eat it all by yourself! It has the right amounts of sweet and savory going on with crisp and creamy textures as well. It's also hearty enough that you won't miss the meat in this vegetarian flatbread. If you're planning to make this recipe for a party, I recommend preparing the squash and onions ahead of time and refrigerate until party time. Then just heat up the oven and prep your flatbreads in no time at all. If you like this recipe, check out heatheromade.blogspot.com for more!
Ingredients
2 – 3 pieces of naan bread (Trader Joe's makes some great naan you can find it in the frozen section)
2 cups butternut squash, cut into 1 inch cubes (if you're short on time buy it precut)
1/2 cup goat cheese, crumbled
3 sage leaves, julienned or cut into thin strips
2 medium onions, sliced
2 cups baby greens, chopped (I used baby spinach and baby kale)
6 tablespoons olive oil
1 tablespoon salt
1/2 tablespoon pepper

Instructions
Pre-heat your oven to 425 degrees.
If you're using a whole butternut squash, use a veggie peeler to peel the rind off and discard. Using a spoon pull, out all of the seeds.
Cut the squash into 1-inch cubes (try to make them all the same size so that they cook at the same rate).On two sheet pans arrange the chunks of squash into one layer on each pan (you don't want them to be overcrowded or else the squash will steam – not roast).
Drizzle with a couple tablespoons of olive oil on each pan. Season with salt and pepper and toss it all together so each piece is coated and seasoned.
Roast the squash in the oven for 30-40 minutes or until the squash is fork tender.
In the meantime, heat 1 tablespoon of olive oil in a skillet, and add in sliced onions and sage. Season with salt and pepper. Caramelize the onions over low-medium heat for about 20 minutes. The onions should turn a brown color but the texture should be soft not crispy.
Remove the cooked squash from the oven (but leave the oven on). Reduce the oven to 350 degrees.
Arrange naan bread on a pizza stone or sheet pan. Working in layers, add the onions, squash and crumbled goat cheese on each piece.
Bake in the oven for about 10 minutes or until the goat cheese is soft and the naan is crispy.
Remove flatbreads from the oven and arrange on a serving platter or cutting board.
With a knife, smear the warm goat cheese over the squash and onions. Top each flat bread with chopped greens, salt, pepper & a drizzle of olive oil.
Use a pizza cutter to cut rustic triangles of the flat bread then serve hot or at room temperature.
Makes 4 servings
Entrée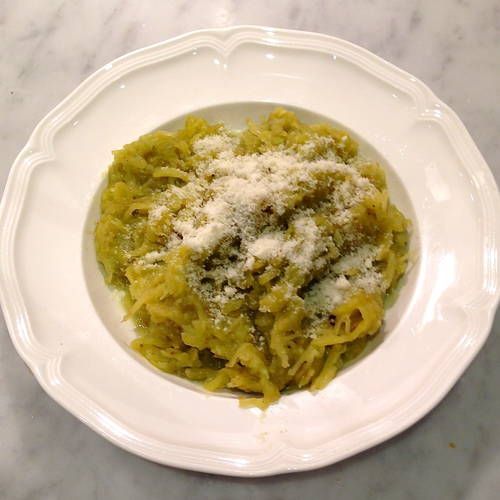 Spaghetti Squash with Creamy Avocado Sauce
by Carly Annette
Craving a warm, comfort food-style meal without the guilt? Give spaghetti and creamy pasta sauce a healthy makeover by using fruits and veggies! The flavor of spaghetti squash is perfect for fall, and who doesn't love a good excuse to cook with avocado? Plus, this dish may be light, but it's definitely satisfying.
Ingredients
2 medium spaghetti squashes
3 tablespoons olive oil
Salt and pepper to taste
2 small ripe avocados
1/4 lemon, juiced
2 cloves of garlic
Grated parmesan cheese
Instructions
Preheat oven to 375 degrees.
Cut each spaghetti squash in half. This can be tricky—I recommend using a large, sharp knife and going in a sawing motion to cut them.
Scoop the seeds out of all four squash halves.
Use a pastry brush to lightly coat each half with 1 tablespoon (total) of olive oil.
Season with salt and pepper, and whichever spices you desire. Allspice is a good option for bringing out the flavors in the squash.
Place the halves facedown on two cookie sheets and bake for 45 minutes.
When the squash is almost ready, combine the avocado, lemon juice, garlic, salt and remaining 2 tablespoons of olive oil in a food processor. Pulse until smooth.
Use a fork to scrape all of the spaghetti-like strands from the squash into a large bowl. Add the avocado sauce on top and toss to mix in thoroughly.
Top with a hearty sprinkle of parmesan cheese and enjoy!
Makes 4 servings
Dessert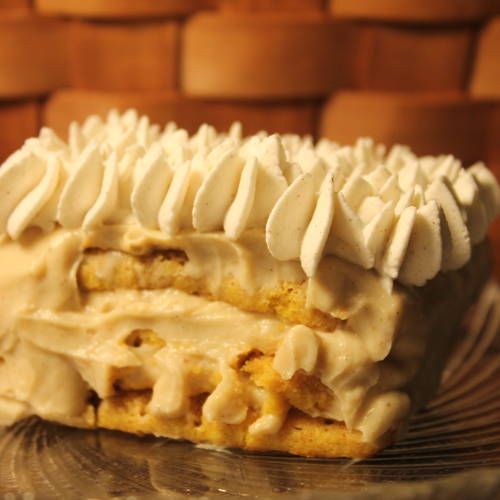 Pumpkin Tiramisu
by Steven Lopez
This is a twist on a traditional Tiramisu. Enjoy!
Ingredients
For the pumpkin lady fingers (make these first)
1/2 cup cake flour, sifted
3 large egg yolks, room temperature
6 tablespoons white granulated sugar, divided
1/2 teaspoon vanilla extract
1/3 cup canned pumpkin
1/8 teaspoon clove
1/8 teaspoon nutmeg
1/8 teaspoon cinnamon
3 large egg whites, room temp
1/8 teaspoon cream of tartar

For the Tiramisu
28 pumpkin lady fingers (make these first)
2 cups milk, divided
3/4 cup granulated sugar, divided
1/4 cup All-purpose flour
6 egg yolks
1/4 cup Marsala
2 teaspoons vanilla extract
1/4 cup unsalted butter, cut into small pieces
8 ounces Mascarpone cheese, room temp
1 teaspoon pumpkin pie spice
1 1/2 cups brewed coffee
1/3 cup granulated sugar
1/4 cup Marsala
Instructions
For the pumpkin lady fingers
Preheat oven to 350 degrees.
Line baking sheets with parchment paper.
With electric mixer, with the paddle attachment, beat the egg yolks and 3 tablespoons white sugar on high speed for about 5 minutes or until the mixture becomes thick and pale yellow.
Beat in the vanilla extract, pumpkin, cloves, nutmeg, and cinnamon
Sift the cake flour over the batter. Important: Do not fold or mix yet!
In a separate bowl with electric mixture with a whisk attachment, beat the egg whites until foamy. Add the cream of tartar and continue to beat until soft peaks form, then add the rest of the white sugar.
Continue to beat until stiff glossy peaks form.
Fold the egg whites into the batter.
Transfer mixture to a pastry bag and pipe 3-inch long lady fingers, 1 inch apart from each other.
Bake for 8-10min, then cool completely before preparing the rest of the tiramisu.
For the Tiramisu
Put 1 3/4 cups milk and 1/2 cup sugar in a medium sized saucepan.
Over medium heat, bring to a boil stirring occasionally.
In a heatproof bowl, whisk together the remaining 1/4 cup milk, 1/4 cup sugar, flour, and egg yolks.
When the milk comes to a boil, gradually whisk it into the egg yolk mixture.
Transfer mixture into a clean large saucepan and cook over medium heat, stirring constantly, until it comes to a boil.
When boiling, continue to stir for another minute or two, until it thickens. Remove from heat and strain into a large bowl.
Whisk in the Marsala, vanilla, and butter. Immediately cover custard with plastic wrap and refrigerate for at least 2 hours.
Once cool, remove from refrigerator. In a separate bowl, beat mascarpone cheese until smooth, and fold the custard into the cheese.
In a separate bowl, mix brewed coffee, sugar, and marsala. (for dipping the lady fingers)
To Assemble the Tiramisu, Use a loaf pan and have the lady fingers, coffee mixture, and custard ready.
Dip the lady fingers into the coffee mixture and place them side by side in a single layer in the pan. Spoon 1/3 cup of the custard over the lady fingers and keep layering until all the lady fingers are used.
Cover with plastic wrap and let chill in the fridge for about 6 hours or preferably overnight.
Top with homemade cinnamon whipped cream! (Beat with an electric mixer 1 cup whipping cream till stiff peaks form, add 3 tablespoons powdered sugar, 1 teaspoon vanilla, and 1/2 teaspoon cinnamon.)

Makes 8 servings
I don't know about you but these three recipes have me wanting to host a fall dinner party sometimes in the very near future. Thanks to everyone who submitted their recipes! I will be featuring some more of my favorites in the next few weeks to come, so keep an eye out.
What's your favorite ingredient to cook with in the fall?
I love anything with squash!
XO Lauren