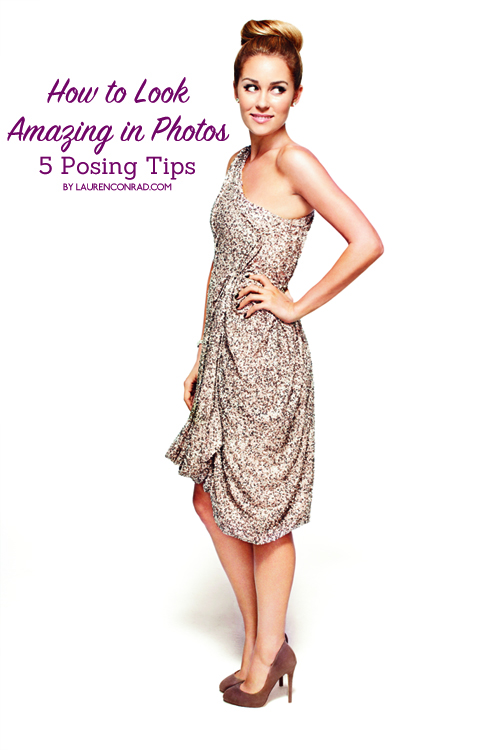 Whenever I have just a few free minutes, one of my favorite ways to spend that time is by reading the messages in my LaurenConrad.com inbox. I receive so many smart and thoughtful questions, and today I wanted to answer one LaurenConrad.com member's question that I thought everyone would find interesting. Here it is:
I've started to attend charity and networking events around my city, and afterward I see the pictures pop up. I love going to these events, but I hate the way I've been posing. Any tips on how to pose for the camera? Best angles? Thanks!
What a great question! Let me start off by saying that even if you're not walking the red carpet or attending fancy charity galas, knowing how to pose will still come in handy. Whether you're appearing at events where you'll be photographed, getting ready to take engagement or wedding portraits, or simply spending the evening with your Instagram-obsessed besties, knowing how to pose is a useful skill to have. And after years of attending events and doing magazine photo shoots, I can tell you that being photogenic involves a lot more than good genes. Here are a few posing tips I've learned in my own career:
Flatter your face. Keep your chin cocked slightly up and your neck extended for the most flattering angle for your face. You can see a good example of this on my Allure cover.
Stand at an angle. Stand with your hip cocked in at a 45-degree angle to the camera. This will slim your waistline and flatter your figure.
Slim your limbs. Arms often look bigger in photos when they are pressed against your torso, but placing your hand on your hip a la my Marie Claire cover will make them appear thinner.
Know your light. If there's bright, artificial overhead lighting it will cast unflattering shadows on your face. Look for soft, diffused light when being photographed.
Know your angles. Make sure your photographer is standing at eye level or slightly above you. Shooting from below will always leave you with unflattering photographs.
I hope you learned something new and feel a little more confident in front of the camera!
What topic would you like to see me cover in my next Ask Lauren post?
Sound off in the comments or shoot me a private message.
XO Lauren
Photo: Lauren Conrad Style