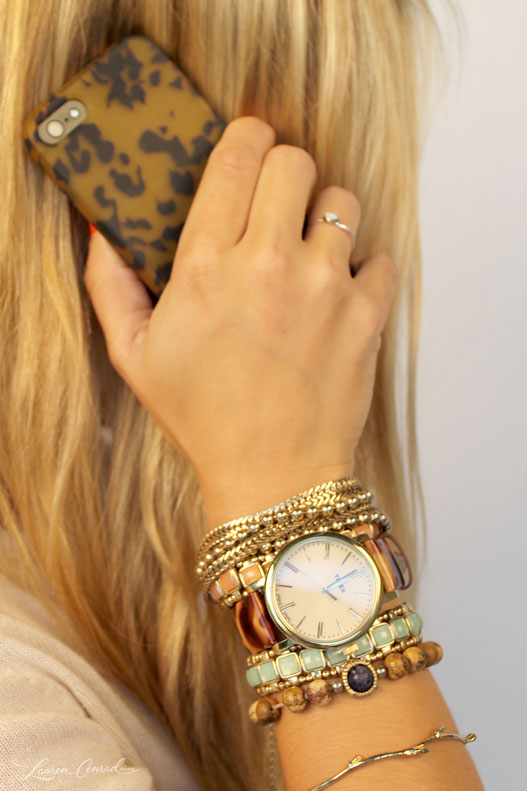 The best way to create the perfect arm party is to start with one main, statement piece and build from there. And today, that statement piece comes in the form of a classic tortoise Timex® watch that goes with just about everything. Mixing and matching our wrist wear is a topic we've covered before, but this gorgeous Timex watch inspired us to brush up on our arm party skills. This timepiece puts a modern twist on the classic tortoiseshell motif, blending neutrals with gold tones. The patent leather strap perfectly complements the white and gold watch face, if we do say so ourselves! Here are the steps we took to create this arm party…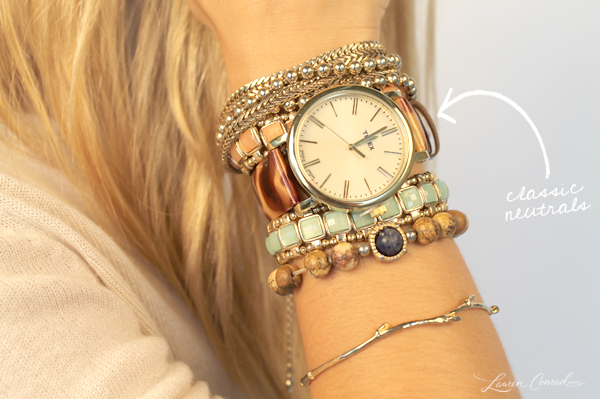 We started with our Timex Originals Classic Round tortoise watch, which goes with just about everything.
We piled on a layered gold beaded bracelet that brought out the metallic tones in this Timex watch.
Then, we added a light green bracelet and a light peach bracelet for a natural pop of color that kept the mix interesting yet unified.
We included a natural beaded bracelet that gave the classic watch a bit of a bohemian feel.
And lastly, a delicate gold tree branch bracelet keeps this arm party ladylike yet eclectic.
We were inspired to create this look after seeing the neutral color schemes on the fall 2013 runways. The Timex Originals Classic Round tortoise watch is the perfect on-trend piece to add to your jewelry collection. With almost 160 years of watchmaking tradition, Timex is one of the leading watch brands in America. Timex continues to launch new styles and collections that draw on both the company's heritage as well as the latest looks in fashion.
There are just almost too many stylish, sophisticated, and sporty Timex designs to count. And we are inspired to style each and every look this season. Look out for more Arm Party Inspiration posts to come, and let us know how you would style your wrist wear as well.
What bracelets would you pair with the Timex tortoise watch?
Tell us about your arm party below!
XO Team LC
Today's post is proudly sponsored by…


Photo: laurenconrad.com