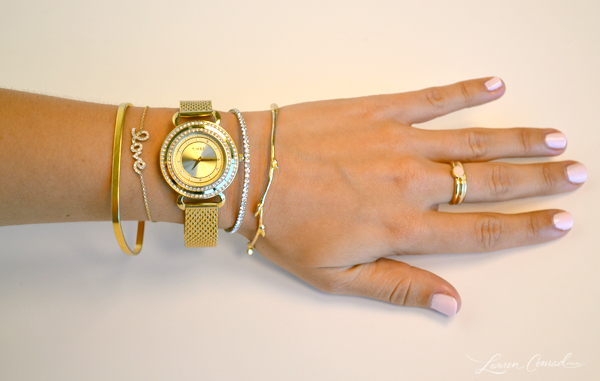 We hope you have all been liking our weekly Arm Party Inspiration posts. These arm parties have been fun to style, and we keep coming up with fresh new ideas, thanks to all the gorgeous Timex® watches. Today's arm party was inspired by the Timex Classic Crystals gold tone watch. This watch is one of our personal favorite styles because it is elegant and dressy, but it can be an everyday piece as well. We chose to go the dressy route by adding some sparkle and shimmer into the mix. Take a peek below to see just how we put together this gilded in gold arm party…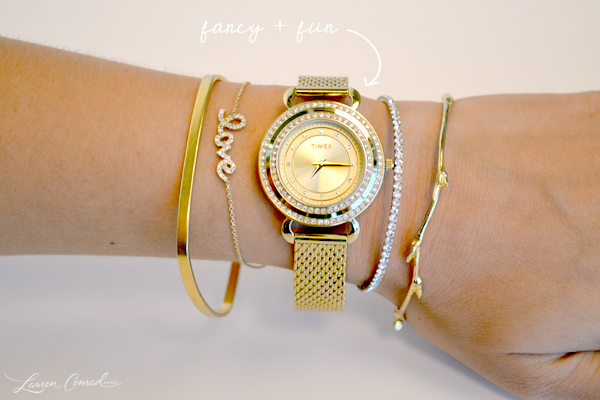 We used the Timex Classic Crystals gold tone watch as the foundation of this arm party. It's so beautiful that it could really stand alone, but we wanted to spice things up a bit…
So, we started with a simple gold bangle that complements the gold tones in the watch.
We added a pretty little love bracelet that gave this arm party a delicate and feminine touch.
Then, we included a pave crystal bracelet to bring out the sparkly crystals in the Timex watch.
We threw on a branch-inspired gold bracelet to add a natural element to the composition.
And lastly, we added a set of two stackable rings that kept the overall look light and elegant.

The Timex Classic Crystals gold tone watch is the perfect timepiece if you are looking to invest in a classic staple. It will never go out of style, and it is the perfect feminine piece to add to your jewelry box. The fancy, sparkling style was achieved by details like the Genuine Swarovski® Crystals accenting the dial, the intricate stainless steel mesh band, and the timeless gold tone of the watch.
If you liked this arm party, look forward for more to come (and be sure to check out our Tortoise with a Twist post). To create your own arm party with one of Timex's fabulous watches, head on over to Timex.com to browse your favorite styles.
What type of arm party would you like to see next?
Stay tuned—we just might be featuring one that fits your style.
XO Team LC
Today's post is proudly sponsored by…


Photos: laurenconrad.com